The phenomenal tandem of Alden Richards and Maine Mendoza is almost reminiscent of the loveteam of Nora Aunor and Tirso Cruz III in the '70s.
AlDub dominates the social media platform today just as Guy and Pip had then conquered the silver screen.
The slight difference was that the die-hard fans of Nora and Tirso were more physically involved.
If you've heard the stories about the "Lucky 12" and "Operation Kumbento," you would understand why they were often referred to as "classic!" by veteran entertainment writers.
Clueless? Well, each time the couple would have a lovers' quarrel, the late Inday Badiday—leader of Lucky 12—would yell "Operation Kumbento" on her TV show which means fans must find a way "para magkabalikan sina Guy and Pip."
Read: Superstar Nora Aunor's Urban Legends Pafrt 2: The Legend of the Lucky 12 and Operation: Kumbento.
AlDub is a totally different story.
Alden and Maine are not a couple at all. They have not had an ordinary conversation as most love teams do.
Their love story, in fact, is quite weird.
Still, it has the power to hypnotize the viewing public to a standstill once the clock strikes 1 P.M. when the AlDub Kalyeserye continues with its madcap saga.
Naysayers were too quick to judge, "Hindi magtatagal ang AlDub na iyan."
But they've been eating their words.
More than three months since a camera inadvertently captured the spark between Alden and Yaya Dub, the two—as a tandem or individual—have been setting one record after another on social media.
Thanks to AlDubnation, which has repeatedly proven that fans can make things happen.
Without a doubt, AlDub is super, super sikat.
Not convinced? We give you 20 facts, signs, and proofs.
1. Twitter power!
Each major development between the two sets a trending record on Twitter:
- 2.5 million tweets last August 24 for #AlDubAgainstAllOdds
- 3 million tweets last August 29 for #AlDubMaiDenHeaven
- 5.8 million tweets last September 5 for #ALDUBBATTLEForACause
- 6.35 million tweets last September 12 for #ALDUBTheAbduction
-12 million tweets last September 19 for #ALDUBMostAwaitedDate
- 25.6 million tweets last September 26 for #ALDubEBforLOVE
In this day and age, those numbers spell S-T-A-R P-O-W-E-R!
Did we mention AlDub "kilig" moments trended in over 60 countries?
2. Followers pa more!
In three months, Alden's Twitter followers quintupled—from 500,000-plus in July 15 to 2.13 million as of October 14.
Maine Mendoza's 250,000-plus followers last August 10 is now 2.05 million, making her the fourth (next to Taylor Swift, Katy Perry, and Ellen DeGeneres) on the list of "fastest-growing celebrity profiles on Twitter worldwide" to date.
That's according to socialbakers.com, "a provider of social media analytic tools, statistics and metrics for Facebook, Twitter, Google Plus and YouTube."
Even Anne Curtis, who is the most followed Filipino star on Twitter (she has 8.2 million), didn't have that growth curve in less than three months.
3. Like pa more!
Kathryn Bernardo remains strong on Instagram, where she has more than 2.5 million followers; Maine has 1.4 million.
In a month's time, Kathryn's account increased by 100,000; Maine's increased by 400,000.
Daniel Padilla's account was hacked last April. His new private account has so far generated over 321,000 followers.
Alden has 1.2 million followers.
James Reid and Nadine Lustre, a.k.a. JaDine, have 1.2 million followers each.
But as far as engagement is concerned, AlDub get the top two spots. This means that their posts have been attracting the most number of likes and comments.
This writer has been monitoring all their accounts since the last week of September.
But based on their five most recent posts alone, Alden's account averaged 179,000 likes and 11,503 comments.
When he posted their first picture together, almost 300,000 liked it and 23,138 commented on it.
Maine's averaged 160,000 likes and 8,426 comments.
Next to those numbers were Kathryn's, who averaged 65,000 likes and 1,141 comments, followed by those of James with an average of 52,000 likes and 2,030 comments.
4. Admit it, your newsfeed on Facebook and timeline on Twitter have something about AlDub weekly.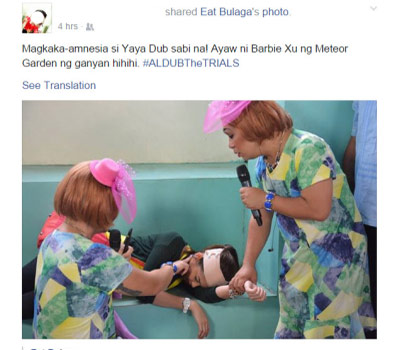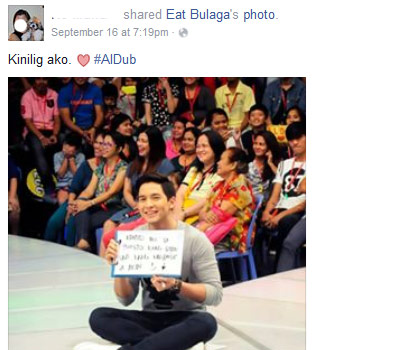 5. Everything related to AlDub becomes a conversation piece.
Their "first encounter" in Candy Fair, Maine's fainting spell, their matching rubber shoes, the plywood that separated them on their first meeting, the long table on their first sit-down date, and their playlist—all these actually hit the headlines.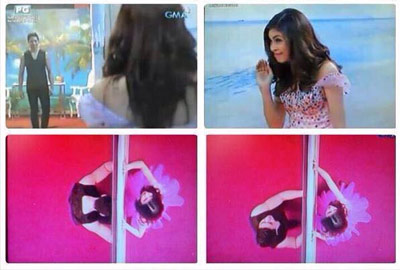 6. Every development—first date, first time Maine spoke, first picture together—in their weird relationship is a major event.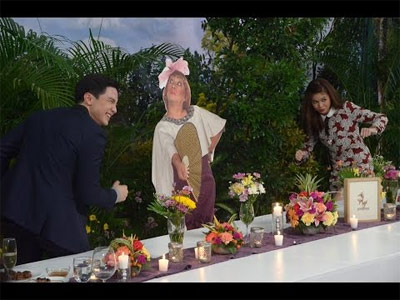 What if Yaya Dub finally speaks and say, "I love you, Alden?"
What if their reel love becomes real?
Pandemonium, most probably!
7. AlDub set a trend, is there anyone who hasn't caught on their pabebe wave?
September 26 marked the National Pabebe Wave Day, and it was participated in great numbers by stars, fans, including foreigners!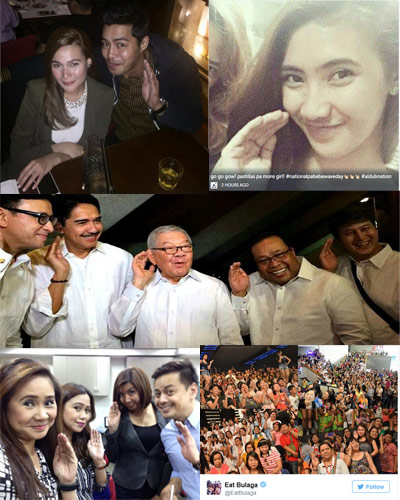 8. Maine has made Dubsmash so cool!
She totally defied the artista-laging-maganda norm.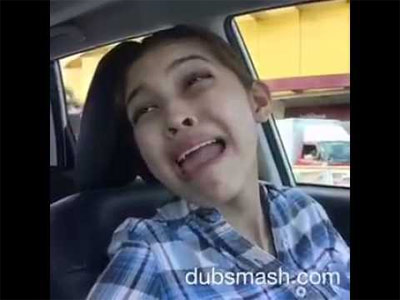 9. Now those throwback photos with either Alden or Maine have value on social media.
10. Fellow celebrities are hooked on AlDub or Alden or Maine or their kalyeserye.
Regine Velasquez and her son Nate, Megan Young, Georgina Wilson, Lani Mercado, Tom Rodriguez, Carla Abellana, BB Gandanghari, Sheena Halili, to name a few, are self-confessed fans.
Kris Aquino admitted to watching AlDub.
Even Barbie Hsu of the Meteor Garden fame got curious. On Twitter, she asked, "What is AlDub it's trending everyday?"
11. #Affectedmuch effect
Do or say something the fans will not like, you will feel their wrath.
Ask Kris Bernal, Lea Salonga, Vice Ganda, including a few entertainment writers who wrote "negative stuff" about AlDub.
Some members of the AlDubNation also got upset when PEP.ph (Philippine Entertainment Portal) released Maine's disguise photo during the Lifehouse concert. They eventually apologized, and deleted their negative comments.
12. AlDub's ripple effect on Eat Bulaga!
The Kalyeserye now owns at least one hour of Eat Bulaga!'s airtime daily.
Have you noticed the noontime show's overload of TV commercials?
Plus its presence on social media is stronger than ever.
On Twitter, the show has more followers (1.58 million) than ABS-CBN (663,000) and GMA (650,000).
On Facebook, it is next to ABS-CBN (11.1 million) with 10.3 million, but ahead of GMA (6.84 million).
13. Eat Bulaga! ratings soared.
So far, it has bagged 10 out of 10 highest-rated episodes in 2015.
With the AlDub kalyeserye, it has registered 45.7 percent, the highest this year, knocking out the ratings of Manny Pacquiao's fights.
The data came from AGB Nielsen.
14. It's just hard, no, not hard but quite impossible to get a schedule with Alden these days.
And we heard the Cebuanos went super wild the last time he visited them.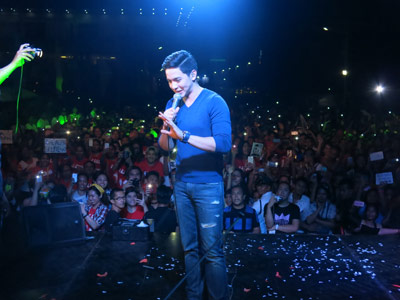 15. Maine had to disguise herself when she watched the Lifehouse concert last October 8.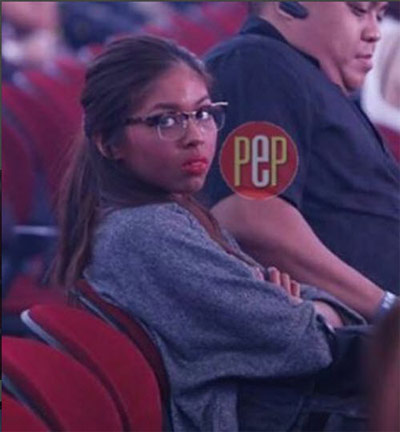 READ #PEPspotted: Yaya Dub at Lifehouse concert... in disguise
We wonder if she screamed or sang along with the crowd the dubsmash way.
16. Lakas maka-good vibes ng AlDub.
Joey de Leon's following on social media has also grown because of the tandem.
Tito Sotto, currently number one in senatorial preference surveys, said in his interview with GMA News Online last September 30, that the AlDub phenomenon "contributed to the rise in percentage" of the results.
"It's a bonus I could say.... The AlDub phenomenon most probably contributed to the rise in percentage," Sotto told GMA News Online. - See more at: http://www.gmanetwork.com/news/story/538997/showbiz/chikaminute/aldub-helped-in-getting-better-survey-results-says-tito-sotto#sthash.tF5aIspN.dpuf
Sam YG and Wally Bayola's PEP interviews about AlDub were both most-read, and that's because there's been a clamor for some insider's info about Alden and Maine.
Brian White suddenly has a scheduled concert in Manila.
17. Brands ride on with the AlDub phenomenon.
To date, the two have been inking endorsement deals left and right.
There's Talk 'N Text, a fast-food chain, a retailer brand, a household item, and a milk brand.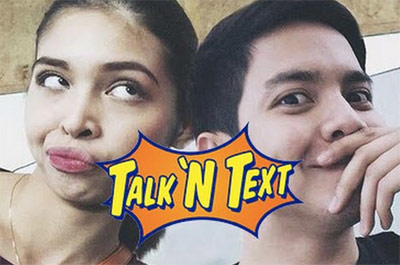 Individually, Alden and Maine are also among the most-sought after endorsers to date.
The smartphone being endorsed by Maine reportedly went "out-of-stock."
Grab Taxi even used GRAB4ALDUB as a promo code.
18. Mababaw or not mababaw? Fans do not seem to mind. What they have for the two is "unconditional" support.
Michael V has described the kalyeserye "absurdly satisfying."
There is zero dialogue between the main characters, it's all Dubsmash. The script has its flaws, but who's paying attention?
All that pa-cute is actually entertaining.
Eat Bulaga! has "accidentally" (as big boss Tony Tuviera put it) cracked a formula that does away with hype and cheesy lines, capitalizing instead on the chemistry of AlDub and the talents of JoWaPao—Wally Bayola (as Lola Nidora), Jose Manalo (as Tinidora), and Paolo Ballesteros (as Tidora).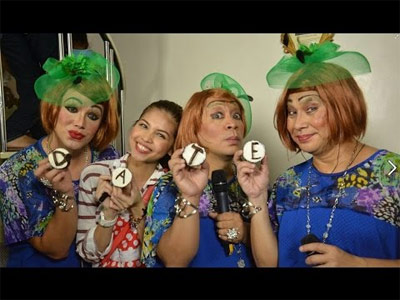 19. Isn't AlDub a catalyst?
It has introduced a new genre, given rise to a new breed of fans who act as the tandem's publicists, and shaken the competitor's format.
Noontime viewing suddenly becomes more exciting, and is expanding to social media.
20. Lotsa AlDub projects
The immediate future is bright for the two.
In a poll conducted by PEP on Facebook, 72 percent of 2,155 said they will watch the first AlDub film, an entry to the Metro Manila Film Festival.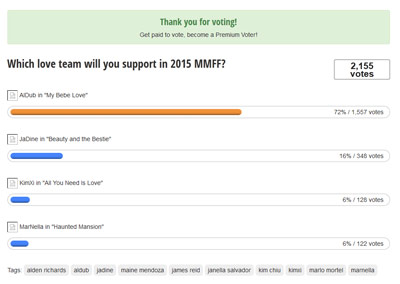 Alden and Maine are set to have their first serye next year.
But how long will the AlDub phenomenon last?
Marami pang aabangan (like their reel love turning into real?).
That is, if the Eat Bulaga! writers, the film producers, and the people behind their projects will play their cards right.
AlDub can influence everything—trending topics, ratings, product sales, playlist, career of stars and politicians, to name a few. And for all of us who live through this era can later on describe all these as "epic!"
Threats, of course, will be part of it, like what will happen if Maine is stripped of her mysterious aura? What if they fall for other people?
Well, all good things come to an end sooner or later.
Whether Alden and Maine can sustain the adulation of their fans for much longer is a question to ponder.
The pressure is already on for the next super sikat stars. They have very big shoes to fill.