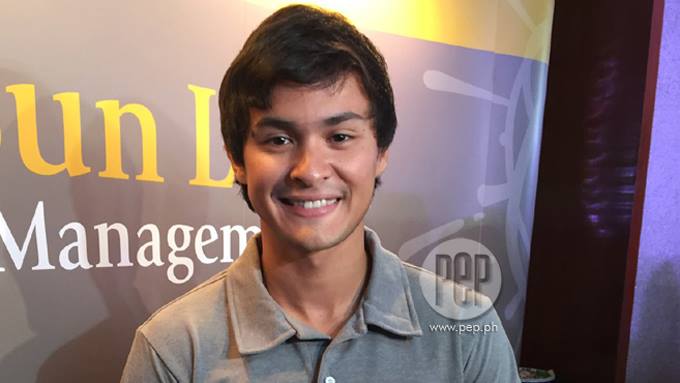 IMAGE Llhonette Beltran
---
Matteo Guidicelli has one major requirement before settling down: financial stability.
"Me as a person when the time comes, I wanna be comfortable enough and I wanna give what my family deserves," he explained at his launch as the ambassador of Sun Life's Slam The Scam campaign on November 4.
"I wanna be prepared for those days.
"Five to ten years from now, I wanna have a family.
"I wanna live with my somebody to build my own family."
Matteo said he started saving his own money at the age of 16 years old.
With the support of his family, the 25-year-old star has already invested in properties, life insurance, business in Cebu, and is currently putting up a restaurant.
Are his savings enough to raise a family of his own?
"Puwede naman, puwede, but I am not contented yet," he answered.
"I have savings kumbaga hindi naman sobrang laki, sana malaki!
"That's what I am getting ready for, a happy family like I can give my wife what she wants, a decent house, happy environment to live in.
"Siyempre, you have to be very very comfortable. You have to be comfortable when you have a family, when you are really ready, di ba?"
ROMANTIC BF. As a boyfriend, he is not the galante type who would give expensive material gifts.
But he makes an effort writing "a letter, a handwritten letter that's five bond papers long. Seryoso."
He clarified, "But it doesn't mean I have not given a bag or anything.
ADVERTISEMENT - CONTINUE READING BELOW
"Tamang-tama na date din. Siyempre kung deserve niya lahat [referring to his girlfriend Sarah Geronimo], ibibigay natin lahat, di ba?"
FINANCES. Matteo revealed he's been saving up for the future.
"It's not about just now, it's for ten years from now, 20 years from now.
"Siyempre in showbiz we earn money for every day we work, and the money we earn is not a joke.
"This is a blessing, but we work hard for it so we want really to save money the proper way and eventually not lose it."
According to him, his parents taught him to start saving at a young age.
"I used to sell lemonade in school, lemonade iced tea," he recounted.
"I do garage sales before, all the little things.
"I used to be hands-on with everything, I have notebook pa nga, I have a bank book before kahit one hundred pesos nalalagay, ganun.
"I do garage sale hanggang ngayon kahit pakonti-konti. I am even happy to see the people buy things from me in a cheaper, lower cost."
And if you want to spend your money wisely, Matteo gave a piece of advice: "You have to really be realistic with yourself on how much you earn and how much your income is.
"From there, prefer on what you need or what you want.
"You really have to work hard in every thing you really want to get.
"You have to build credibility for yourself also and have that respect that everybody needs.
"It's not gonna take for just overnight, it's years, days, it's gonna take time."
ADVERTISEMENT - CONTINUE READING BELOW