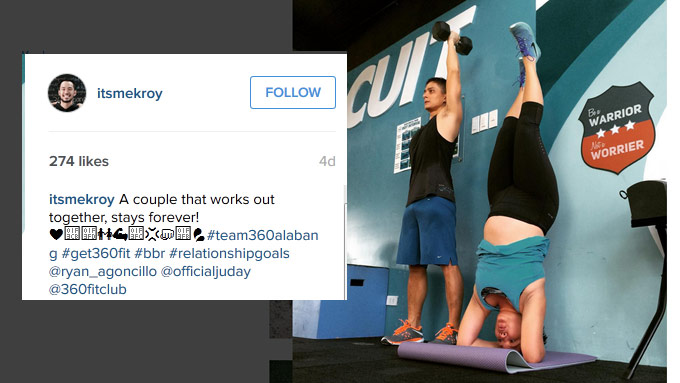 IMAGE @itsmekroy on Instagram
---
Just because Judy Ann Santos is already in her third trimester of her pregnancy doesn't mean she can no longer go to the gym.
With the supervision of professionals, Judy Ann does yoga headstand, while her supportive husband lifts weights at the 360 Fitness Plus in Alabang, Muntinlupa.
Cool and fit couple!
To those who are worried about her yoga position, Juday wrote, "Hindi bago sa buntis ang paghe-headstand.
"It is totally safe most specially kung suhi ang baby. The pose alone allows the baby to move to its proper position.
"But of course when doing headstands you must be supervised by professionals.
"Hindi ko po siya ginawang mag-isa, don't worry.. but thanks for the concern.. Nakakataba ng puso. #pregnantandstrong."
According to a fitness instructor, headstand also relieves varicose veins or swollen feet/ankles, and assists thyroid function.
It also brings fresh blood and oxygen to the body.