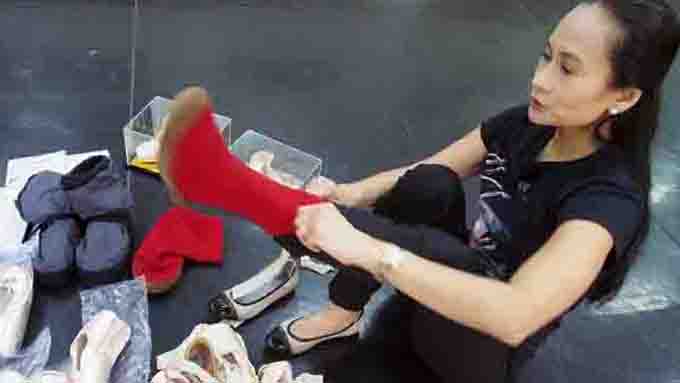 ---
A ballerina without good pair of pointe shoes is like a writer with a virus-riddled laptop. Both are disasters waiting to happen.
That's why it took prima ballerina Lisa Macuja-Elizalde all of four years to find the pair of ballet pointe shoes with which she can do those amazing pirouettes and mind-boggling pirouettes in.
"The best equipment any ballerina can have to make her job easier is a comfortable, and reliable pair of pointe shoes, especially if you're a classical ballerina," she explained to PEP.ph (Philippine Entertainment Portal) in an interview at her home-based dance studio last Wednesday, November 4.
Lisa also points out that a ballerina goes through "many months or years of experimentation" shopping for the most comfortable or best pair of pointe shoes.
Her own search for that perfect pair of pointe shoes was long and hard. But Lisa didn't complain. She knew it was a journey she had to take for the sake of the art she loves so much.
It all started when Lisa met renowned shoe expert Jan Pivecka (after whom a foundation is named) in Manila after she performed at the Cultural Center of the Philippines in 1988. One of Pivecka's best friends was German shoemaker Karl Martin.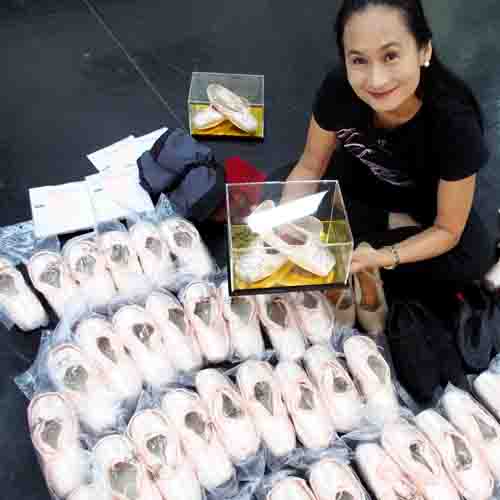 ADVERTISEMENT - CONTINUE READING BELOW
When Pivecka asked for —and got–Lisa's old pair of pointe shoes, he brought it to Germany and showed it to Martin.
'I met this ballerina in the Philippines. She studied in Russia, and she dances in these [a pair of Japanese-made pointe shoes]," Lisa recalls Pivecka's story about what he told Martin.
One look at Lisa's shoes, and Martin gave a far-from-flattering verdict.
"These are really bad shoes. I think she will dance better if she danced in one of my pointe shoes," Lisa remembers Martin's words as told to Pivecka.
That's how Martin created his first two pairs of size 5 pointe shoes for Lisa.
After she tried it on, the prima ballerina couldn't go back to her old pair of pointe shoes anymore.
"They [Martin's shoes] were superior talaga. They were very comfortable. They made me steadier on my feet and helped me dance better."
Lisa ordered a lot of Martin's Eva pointe shoes made especially for her. She merrily danced in them wherever and whenever her talent took her.
Her love affair with Martin's shoes lasted almost 20 years –from 1988 to 2006.
SEARCH FOR THE BEST SHOES. The love affair had to end because Martin passed away and his children sold the business to a Chinese company called Sansha.
The new owners, Lisa relates, relocated the ballet shoe factory from Germany to Prague. And the old employees, she adds, either retired or got laid off because they didn't want to uproot themselves from Germany and work away from home.
ADVERTISEMENT - CONTINUE READING BELOW
"They [Martin's old employees] burned the technology, including my [shoe] mold. When I was running out of Eva pointe shoes, I tried to order from Martin's.' They directed me to new Prague office.
"They were never able to recreate the shoe I wanted. I had to return two shipments," says Lisa, a hint of sadness in her voice.
Losing an excellent shoemaker is big deal for any ballerina, more so someone like Lisa.
Meanwhile, she suffered injuries in her ankle and plantar fascia, a tissue which supports the arch of the foot. Lisa surmised the trouble started when she wore an ill-fitting pair of pointe shoes.
She had to search far and wide to look for Eva shoes. Her husband, broadcasting magnate Fred Elizalde, was so bothered, heasked his purchasing officer at the Manila Broadcasting Company to look for Eva shoes.
Problem was, Lisa's size is too small, and they couldn't find a ready-made pair of pointe shoes for her.
"I finally gave up trying to source pointe shoes from Martin and Sansha. Fred's purchasing officer recommended that we directly liaise with the maker trying to duplicate my shoe for Sansha. We went straight to the maker, which happened to be Mark Suffolk," Lisa relates how her quest for comfortable pointe shoes finally ended.
She'd discuss her needs with the London-based makers of Suffolk shoes via Skype. They'd send Lisa a prototype pair of pointe shoes.
She'd dance in them, and tell them what adjustments must be done.
ADVERTISEMENT - CONTINUE READING BELOW
Suffolk got her drift, and Lisa is happy. Today, she has a steady supply of those peach-colored Suffolk pointe shoes for her student dancers at Ballet Manila.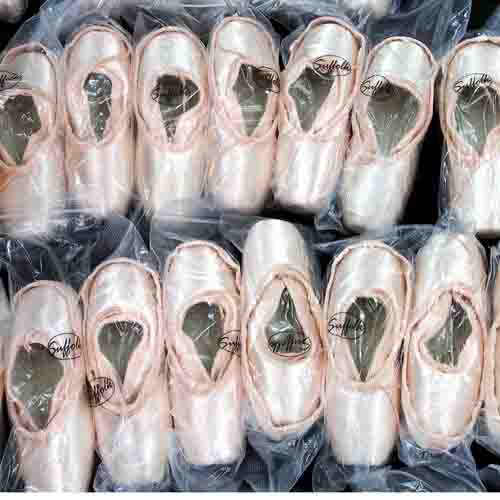 TAILOR-MADE SHOES. Lisa trains her dancers to make their pair of shoes their own by enlarging them, putting their own ribbons at the edges, and other ways to make it as comfortable as can be.
"We all sew pointe shoes as part of every ballerina's training. Every ballerina will have a different pointe shoe story and a different method of creating pointe shoes," Lisa states.
She herself as her handy little hammer which she pounds on her pointe shoes to make it softer and more pliable.
This is no spoiled prima ballerina, mind you.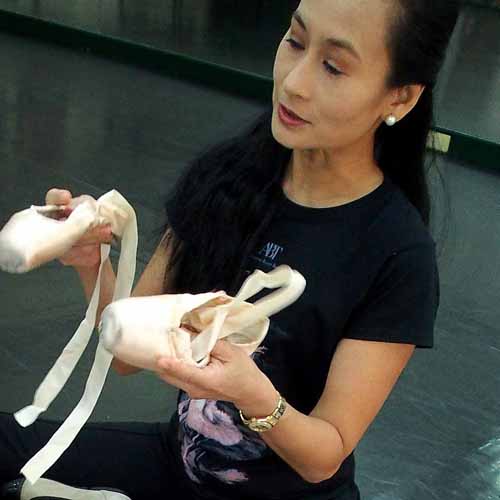 ADVERTISEMENT - CONTINUE READING BELOW
Lisa has her own rolls of long ribbons which she cuts to a desired length and attaches to her pointe shoes.
Needless to say, all her student dancers do the same.
The knack for improvising and creating is passed on to the next generation of dancers, who will carry on Lisa's legacy of discipline and love for her craft.
For all we know, the next international prima ballerina could be twirling in these improvised pointe shoes she herself fashioned for herself alone.
When that day comes, no one could be prouder than Lisa, devoted teacher and believer in what young dancers can do for themselves, and hopefully, for the country.