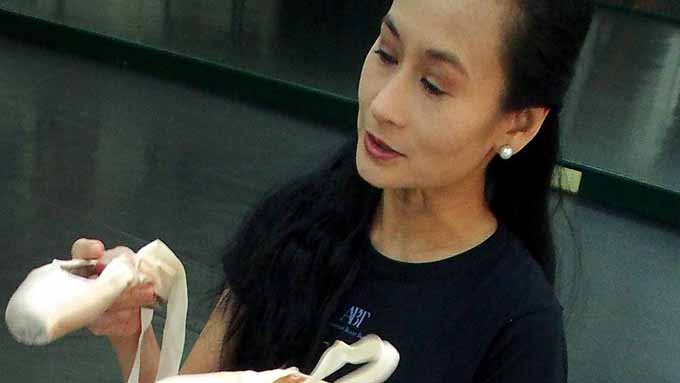 ---
Not all of Lisa Macuja-Elizalde's student dancers can afford the tuition that goes with training under the country's first-ever prima ballerina.
Not all can fork out the peso equivalent of $50 to $80 per pointe shoe and spend a lot more after, because these pairs of shoes, according to Lisa, aren't meant to last.
"They're made for comfort," she explains.
So ballerinas must buy a new pair of pointe shoes weekly or monthly because all those dancing, on stage and during rehearsals, result in a lot of wear and tear.
"When I'm dancing Swan Lake, I use one pair per rehearsal," Lisa reveals.
It can be costly for those who can't afford to buy shoe after shoe after shoe.
SHOES FOR A CAUSE. So Lisa sells her old pairs of pointe shoes (some of them autographed) and uses the proceeds to send poor but deserving dancers to her school in Pasay City.
Lisa started selling her pre-loved pointe shoes 20 years ago, when she founded her classical ballet institution, Ballet Manila.
She has since sold around 50 to 100 pairs of shoes to send over 50 scholars under Ballet Manila's Project Ballet Futures, which gives free ballet education to grade school and high school students from public schools.
Scholars not only get ballet lessons from Lisa herself. They also have a steady supply of ballet shoes and apparel, milk, vitamins, and nutritious meals to build their stamina during rigorous training.
"If it's auctioned out, like for World Wildlife [a charity organization that bats for environment conservation], I just donate," says Lisa.
ADVERTISEMENT - CONTINUE READING BELOW
No wonder she's known as the "Ballerina of the People."
Lisa doesn't mind giving back for all the blessings she has: a solid reputation as a person and prima ballerina and a family that supports her all the way.
PINNOCHIO. These days, Lisa leaves the pointe shoes for her students to use, and slips into her teaching shoes more and more often.
Lisa likens her teaching shoes to rubber shoes.
"They can move this way and that, and it's nicer to teach in," Lisa says while bending her teaching shoes.
Besides, she adds, teaching in ballet pointe shoes is hard on her joints.
"When I demonstrate something, there's no support. Mas malambot ang rubber soles."
Lisa is sharing what she learned throughout her storied dancing career to the next generation of ballerinas.
She guided all the dancers in Ballet Manila's Pinnochio, her company's third offering for its 20th performance season.
The well-loved story about a puppet who dreams of becoming a real boy, goes on stage on November 27, 28, and December 5, at 8 p.m., and November 29 and December 6, 3 p.m, at Aliw Theater in Pasay City.
It upholds values of friendship, honesty, and family.
"The story is very visual with settings very well suited for dancing," says Lisa, who tapped singer-actress Tippy dos Santos as storyteller.
Schools, companies and organizations can get specially-priced tickets to Pinnochio for fund-raising and other holiday events.