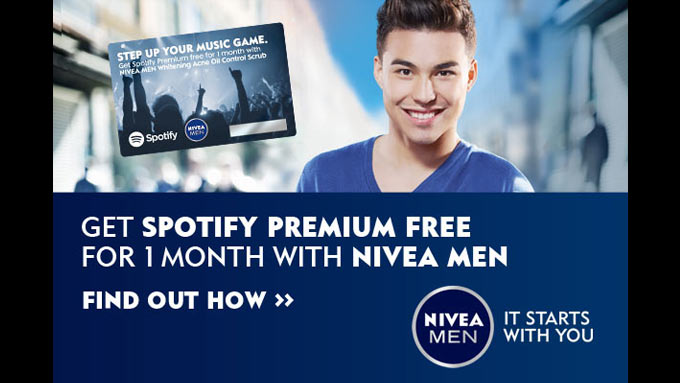 ---
Admit it: at one time or another, you have wished for music to play in the background during the most pivotal moments of your life—just like the movies.
For instance, Bender's iconic fist pump won't feel as empowering if 80's rock band Simple Minds wasn't heard singing "Don't You (Forget About Me)" at the end of the hit film The Breakfast Club.
Even TV has such moments.
Can you imagine touted Pambansang Bae Alden Richards serenading Maine Mendoza's Yaya Dub with something other than Bryan White's "God Gave Me You" or Ed Sheeran's "Thinking Out Loud"?
STEP UP WITH MUSIC. You may not have music play suddenly in the background in real life, but you can still listen to songs to help you step up your game.
Whether you're chillin' at home, commuting to school, or preparing for a meeting, there's a song perfect for every moment!
GET PUMPED UP. Going on a quick jog before heading to work? You may want to get your inspiration from Bill Conti's "Gonna Fly Now," the renowned theme from boxing film Rocky.
To keep you going on another lap, try moving along to OMI's groovy "Cheerleader" or Walk the Moon's catchy "Shut Up and Dance."
GET THROUGH THE DAY. Doing your routine in the office for eight hours daily can be tiring. The best remedy? Either spice things up or keep it calm with a bit of tunes!
If things become too dragging and you need to keep yourself energized, try listening to Twenty One Pilots' "Stressed Out" or Florence + the Machine's "Ship to Wreck."
ADVERTISEMENT - CONTINUE READING BELOW
GETTING TO THE WEEKEND. Who doesn't love the weekend? To set the pace to your much-needed rest, you could give Foster the People a try. "Pumped Up Kicks" can particularly help you breeze through Friday.
If you're having a weekend getaway though, you can run "for the thrill of it" with Empire Sun's "Walking on a Dream,"
SHOP AND PLAY MUSIC. Enjoy these songs and more with NIVEA MEN's six personalized Spotify playlists uninterrupted!
In fact, NIVEA MEN is the first male skincare brand in the Philippines to partner with Spotify.
You could also get a month's worth of Spotify Premium subscription for free! Just buy a 100g or two 50g NIVEA MEN Whitening Acne Oil Control Scrub with any NIVEA MEN Face or Deo item.
Just present your proof of purchase to a NIVEA MEN representative in participating stores to claim your Step Up Your Music Game scratch card. The promo runs from October 23 until supplies last!
On how to step up your music, read more here!