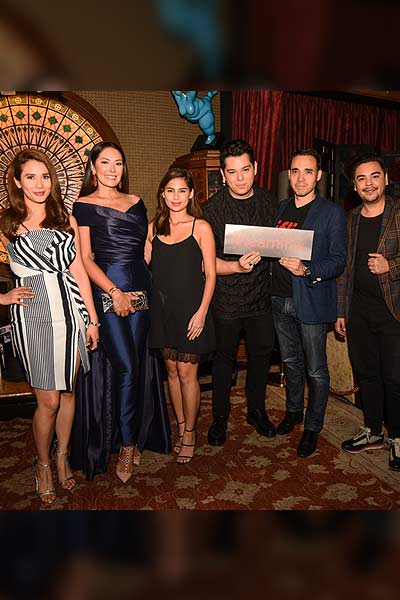 ---
ADVERTORIAL
The holiday break is coming!
It's the perfect time to curl up at home and catch something on your to-watch list that's long overdue.
But if you still need suggestions on what shows and movies to see, take it from these celebrities, who are all too familiar with entertaining people.
GO ASIAN. Did you know that Karylle loves Asian shows?
The It's Showtime host says if you want to tickle your funny bone, indulge in the hundreds of episodes of the popular South Korean variety show Running Man.
The series revolves around Korean celebrities taking on hilarious challenges.
While the show has seven mainstay hosts, it features tons of guests that range from Hallyu stars Bae Suzy and Kim Soo Hyun to top KPop act BIGBANG.
Apart from Running Man, Karylle also enjoys the Malaysian comedy show Kopitiam.
It's currently off the air, but the series had a good seven-season run.
ADVERTISEMENT - CONTINUE READING BELOW
Just think of the American sitcom Friends, but in an Asian setting. You don't have to worry about reading subtitles for this one though, since the show is in English format.
Of course, Karylle loves local shows as well.
Worth recommending, she says, are Encantadia and Etheria, the epic telefantasyas she starred in a decade ago.
Why hold a marathon of those now?
Apart from both fantasy series letting you in interesting worlds, watching those could serve as your primer when Encantadia makes a small screen comeback in 2016.
Outside the region, the singer shares, one of her favorite series to watch is the American comedy UnREAL, which follows the story of a TV producer who is forced to manipulate a dating show to rack up ratings.
ROMCOM IS THE WAY TO GO. Karylle's Encantadia and Etheria co-star Iza Calzado, meantime, is a film junkie.
Particularly, she recommends movies that can tug at one's heartstrings.
ADVERTISEMENT - CONTINUE READING BELOW
If you're having a marathon, Iza says you should not forget to include the much talked about Before trilogy.
It comprises the Ethan Hawke and Julie Delpy-starrer films Before Sunrise, Before Sunset, and Before Midnight. A film series that can be finished in one sitting, all three movies will get your inspiration going, thanks to Jesse and Celine's talks about life, love, travel, and everything in between.
As for TV shows, Iza suggests you watch Impostora—the 2007 thriller-drama she was part of.
There, she played the other half of the twins separated from birth alongside Sunshine Dizon. She guarantees the show's family drama will bring you to the edge of your seats.
Another thriller—a political one this time—that the actress suggests is the popular American series Scandal.
But if you prefer some laughs, Iza says you shouldn't miss out on 2 Broke Girls.
TRY INDIE. Having starred in some of them herself, Jasmine Curtis Smith recommends you give indie films a try.
ADVERTISEMENT - CONTINUE READING BELOW
Her top picks include Ang Huling Cha-Cha ni Anita, a coming-of-age film that follows a 12-year-old girl falling in love with an older woman; Mariquina, which focuses on the shoemaking business in Marikina, as told through the relationship of a businesswoman and her estranged father; and the psychological thriller Puti, which was topbilled by Jasmine.
GET YOUR ADRENALINE FILL. Go big, says actor and businessman JM Rodriguez, who suggests you do a marathon of action and adventure shows and flicks this holiday break.
For JM, if you're willing to spend all your free time on watching, you might as well catch Mr. Robot, an American series about a security engineer who moonlights as a vigilante hacker for an anarchist known as Mr. Robot.
The holiday break is the perfect time for you to complete the show's first season, in anticipation of its return in 2016.
If you're short on time though, JM recommends you to follow secret agent Ethan Hunt's adventures in the Mission: Impossible film series instead.
ADVERTISEMENT - CONTINUE READING BELOW
REVOLUTIONARY CHANGE. Aside from being topnotch celebrities, Karylle, Iza, Jasmine, and JM have another thing in common: their premier choice for entertainment, iflix.
That's why they partnered with the leading Internet TV service in Southeast Asia as celebrity investors.
Also joining iflix's roster of celebrity shareholders are Gutierrez siblings Ruffa, Raymond, and Richard.
As partners, the celebrities will be developing projects for original productions on iflix soon. So that's another thing to add to your to-watch list.
Karylle shares, "I am so proud to be part of the iflix family. They are doing an incredible job changing the way people are entertained throughout the Philippines, Asia, and soon—the world."
Catch the recommended shows and movies of Karylle, Iza, Jasmine, JM, and more, right at your fingertips with iflix.