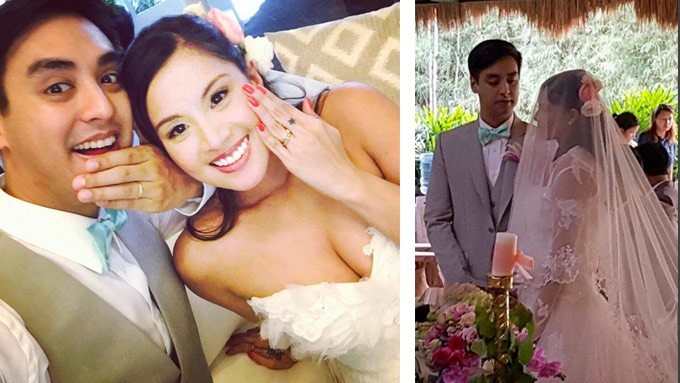 ---
Local musicians Ali Alejandro and Lougee Basabas tied the knot on December 13, at Balesin Island Club.
Lougee used to be the former lead singer of Mojofly, where Ali was the drummer.
The groom is the son of Hajji Alejandro with the late Rio Diaz-Cojuangco, and the brother of Rachel Alejandro.
The bride was once an Eat Bulaga! co-host.
Simple but colorful, the wedding danced to its own rhythm.
Here were the top seven hits at the #AliGeeWedding:
1. Their first kiss as husband and wife plus Ali's smile when he embraced his wife.
2. Koalas as cake toppers.
Lougee calls herself a "koala krusader."
And the well-loved Australian animal has become the couple's term of endearment.
Ali posted this photo on Instagram a day before the wedding, and tagged Lougee.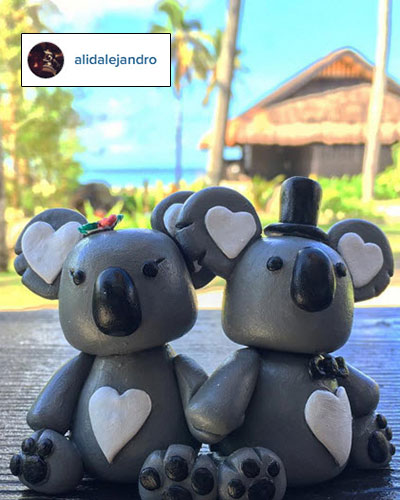 ADVERTISEMENT - CONTINUE READING BELOW

He wrote: "1 day left before i marry the girl who means everything to me.
"My other half and my best friend." For the longest time."
3. "Organic."
The bride is a vegan, and made sure her big day will somehow promote her advocacy.
4. Flowers arranged by the matron of honor Tuesday Vargas.
4. It was a destination beach wedding!
ADVERTISEMENT - CONTINUE READING BELOW
Rachel Alejandro posted on her Instagram the passport-inspired wedding invitation.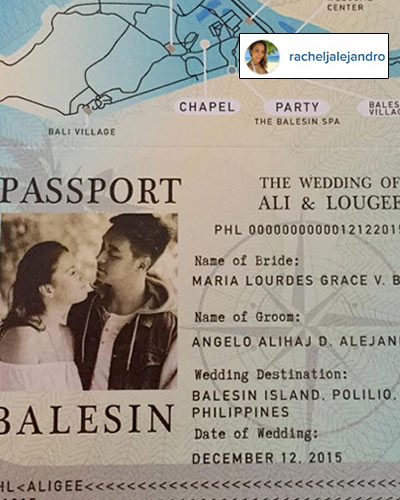 6. Bride's diet
Rachel's The Sexy Chef sponsored the Pounds Away diet of Lougee—whose pre-wedding meals had all food groups (including rice), and is fortified with "Fat-fighting 4 Nutrients (calcium, fiber, Omega 3 fatty acids, and Vitamin D).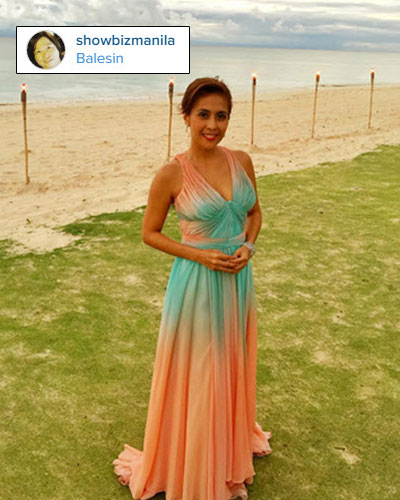 ADVERTISEMENT - CONTINUE READING BELOW
7. The first duet as husband and wife
Ali and Lougee entertained their guests with their version of Billy Joel's "For The Longest Time."
Congratulations and best wishes to the newlyweds!