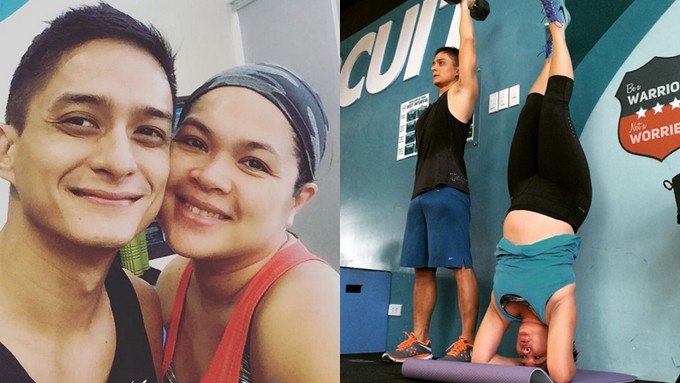 ---
Judy Ann Santos is due to give birth to her second baby with husband Ryan Agoncillo soon, but the supermom is still sweating it out at the gym!
At the press launch of Cash Cab Philippines, Ryan told PEP.ph (Philippine Entertainment
Portal) and other members of the press there's no need to worry because it's part of Juday's preparations for the arrival of baby Luna.
"I married a superwoman. She's a superhero," he proudly remarked.
"You know what, every pregnancy is different, and as we get older, we also prepare ourselves.
"You know that we are very fit, as we get older we want to get ourselves to be fitter for our jobs right?
"And being pregnant women, she has to make herself stronger.
"She had Lucho five years ago, she was a lot younger then and her preparations include Yoga.
"So now we've advance throughout the years, and we have to make ourselves stronger this time around."
ADVERTISEMENT - CONTINUE READING BELOW
MARRIAGE. After six years and having two wonderful children, countless life lessons are what keep them going strong and happy in their marriage.
Ryan related, "Ito lang naman ang natutunan sa mga mahal namin sa buhay, sa mga magulang namin.
"From my brother, from my parent, sa parents din ni Juday, sa mga kapatid niya.
"A bit and pieces from friends and family."
They've also grown as a couple.
Ryan cited their fights as an example. "It's not about personalities anymore, more other things than about ourselves lately.
"They say it's a cycle, as we grow when we get to forty, siguro magtse-change.
"It's about circumstances for now."
AS A FATHER.No matter how busy he is, Ryan makes sure he spends quality time with Yohan and Lucho.
"I like spending time with them, I like talking to them.
"I don't yet have figured it out how am I as a dad, I hope I am doing well," he said with a laugh.
ADVERTISEMENT - CONTINUE READING BELOW
Is he and Juday planning to have more babies?
Ryan answered, "We started not really thinking of how many kids we have.
"And then when we had two, my wife all of a sudden was like, 'Hey you know what, let's go for another one.'
"Aangal pa ba ako?"
"Na-bless kami ulit with third child, and we'll see if the third child is a game changer because this is the time that the kids form their own world apart from their parents, we are preparing for that."