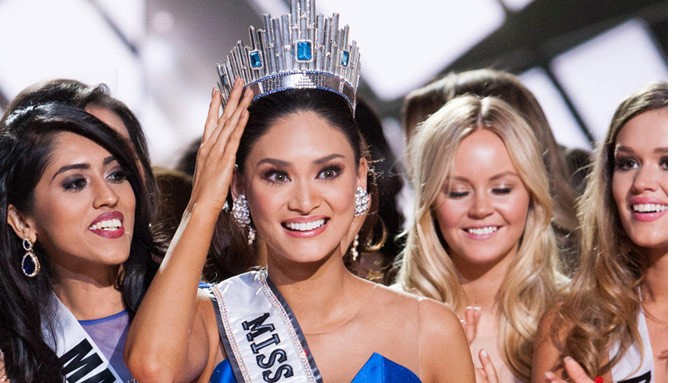 ---
If the World Cup season puts Europeans and Latin Americans in a frenzied state, the Manny Pacquiao??s boxing bouts and the Miss Universe beauty pageant pump up the Filipinos no end.
For the latter, in the recent years, aside from tuning in to the telecast, Pinoy fans actively participate in online voting to support the country??s representatives.
On social media, we say "good luck" to our bets, quote their answers, and express how we feel about their national costumes and gowns.
Undeniably, the 64-year beauty competition has become a tradition of sorts, thus, super relate ang Pinoys.
In fact, two pageants were staged here??Miss Universe 1974, which was won by Miss Spain Amparo Muñoz, and Miss Universe 1994, which was won by Miss India Sushmita Sen.
The very first Miss Universe Armi Kuusela of Finland didn??t get to finish her reign because of her marriage to Filipino businessman Virgilio Hilario.
ADVERTISEMENT - CONTINUE READING BELOW
We have been competitive.
In terms of overall ranking for the countries with the most number of wins, we currently occupy the fourth spot in a tie with Sweden. On top of us are Puerto Rico with five victories, Venezuela with seven titleholders, and the United States with eight wins.
One of the Puerto Rican beauty queens, Miss Universe 1993 Dayanara Torres fell in love with the country when we hosted the pageant??in which Philippine bet Charlene Gonzalez landed in sixth place.
The two beauty queens fell in love with the same guy Aga Muhlach, who has been married to Charlene for 14 years now.
The country??s first entry, according to Wikipedia, was in 1952.
Two years later, our representative Maria Blesilda Ocampo made it to top 16.
In 1963, Lalaine Benette finished third runner-up.
Three years later, Gloria Diaz won the Miss Universe title and the crown, the first for the Philippines.
ADVERTISEMENT - CONTINUE READING BELOW
In 1975, we wowed the universe again with the victory of Margarita Moran.
After a long time, in 1999, Miriam Quiambao finished first runner-up, and we gave her a rousing cheer for reviving our hope for another Miss Universe.
That hope would be dashed again and again for many years until came another first runner-up Pinay, Janine Tugonon in 2012.
But from 2010 to 2013, we have been part of the top five.
Ma. Venus Raj, who was almost dethroned by the Binibining Pilipinas Charities due to irregularities in her residency documents, won fourth runner-up.
In 2011 and 2013, Shamcey Supsup and Ariella Arida both won third runner-up.
Out of the 60 times we joined Miss Universe, we made it to top fifteen 20 times.
PIA??S VICTORY. As celebrated as the goof-off that announced it to the world was dissed, the victory of Pia Wurtzbach was proof that, indeed, ??every cloud has a silver lining.??
If not for her astounding ??never-give-up?? attitude, Pia would not have made it to the pageant in the first place.
ADVERTISEMENT - CONTINUE READING BELOW
In the entire history of Miss Universe, she is one of only three beauty queens??Miss Universe 1997 Brook Lee and Miss Universe 1998 Wendy Fitzwilliam??who won the crown at the age of 26.
For Pia??s part, she had to join the local Binibining Pilipinas pageant thrice. She finished first runner-up in 2013, and made it to top 15 in 2014.
When she finally won the Miss Universe Philippines title this year, some bashers pointed out that she??s a ??downgrade?? from Mary Jean Lastimosa, last year??s title holder who made it to Miss Universe??s top 10.
Pia was then quoted as saying, ??How am I a downgrade when? I was chosen by the judges that night.
??And it??s not fair to judge me this early on in the competition because they??re comparing me to somebody who already competed in Miss Universe, who??s already ready physically, mentally, lahat, handang-handa na si MJ.
ADVERTISEMENT - CONTINUE READING BELOW
??So, I understand people who really want to win the crown.
"I want to win the crown also, but siguro bigyan muna natin ako ng panahon para mag-prepare bago natin tingnan kung ano yung chances natin sa Miss Universe."
Her being #confidentlybeautiful was a reminder that we can beat the odds. She did, so can we.
And she kept her promise.
What did she tell us when Manny Pacquiao??s loss to Floyd Mayweather broke the nation??s heart?
On Instagram, she posted, ??Kalma lang, guys. Ako bahala. Babawi tayo sa Miss Universe???
If that didn??t give you goosebumps, what would?
During the preliminary competition, she was stunning in her red Oliver Tolentino gown, a last-minute decision when the gown she was supposed to wear didn??t fit her well.
Such incident would have shattered the nerve of any beauty contestant.
But our bet, she was not just another candidate.
ADVERTISEMENT - CONTINUE READING BELOW
And checking her posts on Instagram??she had so much fun during the training and didn??t seem nervous at all.
But one of her most remarkable moments was when host Steve Harvey announced that he made a mistake, and that Miss Philippines was the actual winner. Did you see the look on her face?
While her kababayans were already cheering and screaming their hearts out, Pia looked so poised and pretty, trying to absorb what was happening.
Gracefully, she went to the center of the stage, then walked towards Miss Colombia Ariadna Gutierrez, who was then surrounded by other candidates.
Everything was so awkward, but Pia handled the situation ??with a heart.??
It was an uplifting and inspiring victory.
After 42 years, another Pinay shone, making the Pinoys proud and happy.
Prior to the coronation night, she posted a message on Instagram.
Here??s the abridged version:
??I can't believe it.
ADVERTISEMENT - CONTINUE READING BELOW
??I started training November 2012 and now it's December 2015. It took so long for me to earn this sash with 3 attempts in Miss Philippines?
??Thank you to everyone's who's trained me, took care of me & helped me. I'd also like to say thank you to those who challenged me.
??Deciding to join Binibining Pilipinas was the best decision I've ever made.
??And wow, what an honor it is to represent our country in the most prestigious pageant ever.
??This may very well be the highlight of my life. Absolutely no regrets.
??Finally guys, and of course most importantly, I hope I inspired you.
"Never give up on your dreams and believe that dreams do come true!
??Walang susuko! Ang Pilipino, palaban. :)??
Thanks, Pia, your victory is like finding the best and brightest topper for our Christmas trees this year!