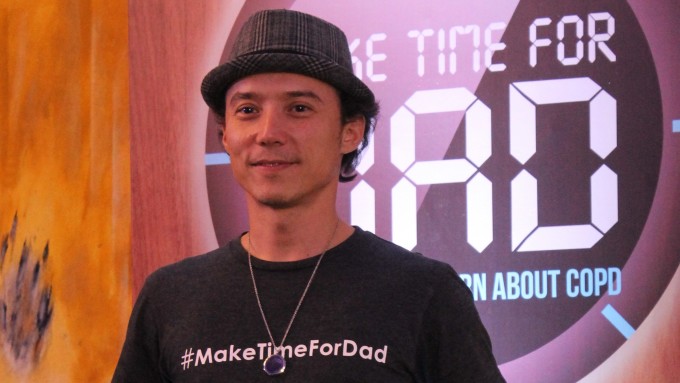 ---
It has been three years since Dolphy, the King of Comedy, passed away, but his son Epy Quizon can still vividly recall the last few episodes of his father's life.
"From him understanding every time you say 'I love you' to him not hearing at all, so that, and then, of course, sometimes you see him there but you can't hear words coming out of his mouth.
"There were, like, ten episodes where we were like, 'Come to the hospital!'
"We would all panic, we would wake up in the middle of the night, rush to the hospital, we get there, then all—there was this monitor that had the blood rate, the heart rate—and then you would see that falling.
"Some were going up, some were going down. Everything...were bad signs that he was not gonna make it. Suddenly it would correct!
"So we go home, we try to sleep, we get another call, 'Go to the hospital! It's happening, it's happening!' So we all rush to the hospital again without sleep.
ADVERTISEMENT - CONTINUE READING BELOW
"And then everything will normalize again and we go back home.
"So, we end up after several episodes, we end up sleeping in monobloc in the hospital.
"I'm not gonna go home anymore, I'm gonna be here whatever happens. So for a month, we were sleeping in monobloc and all that."
To the public, Dolphy personified Philippine entertainment.
His larger-than-life persona defined a period in the industry where comedy was both witty and uplifting.
This passion to entertain was never hindered even when he was diagnosed with Chronic Obstructive Pulmonary Disease or COPD.
According to the Department of Health, COPD is a progressive lung disease that causes difficulty in breathing and leads to death.
It is the seventh killer disease in the country, and with the National Statistics Office reflecting 17.3 million adult smokers in the Philippines, this ailment has become a real threat.
Epy and his brother Eric Quizon had joined GlaxoSmithKline and the Philippine College of Chest Physicians last November on their new campaign #MakeTimeForDad to encourage families to take action and to spread the awareness of COPD.
ADVERTISEMENT - CONTINUE READING BELOW
This campaign also tugged the Quizon brothers on a personal level as they chose to participate once more in the cause to honor their father.
Epy said during its launch, "It's hard to build a bond, when the person's not with you anymore.
"But it's so easy to build a bond when the person is still there.
"So let's build that bond as early as now, today. What's stopping you from saying I love you today?"
THE CAPTAIN OF THE SHIP. Epy described the impact of their loss as a ship gone astray.
"You know, if we're all in one ship right now and the captain of the ship suddenly deteriorated, falls as we are traveling, wouldn't you be scared?
"That's exactly our feeling.
"Our El Capitan, our Commander-in-Chief was deteriorating right before our eyes, so that was really the fear of the whole family."
ADVERTISEMENT - CONTINUE READING BELOW
Other than being the clan's captain, Dolphy was also Epy's confidante.
He continued, "Every time I have a problem, I call my father. Every time I hear his voice, 'hello' pa lang okay na.
"May kakampi ako, di ba?
"He's there. My father is there, my commander-in-chief is there. The captain of the ship is there.
"He can bail me out any day even if I don't ask for bailing out, but you know, in my mind… you know… knowing that he is there.                                                                                                                         
"He's not really loud, but he's larger-than-life.
"Everything that comes out of his mouth, his brain... his presence itself, his charisma... it's larger-than-life.
"And then suddenly, 'yon nga, mawawala siya."
KEEPING THE MEMORY. When Dolphy passed away, each member of the Quizon family had their own versions of a tattoo to commemorate Dolphy.
Epy chose to put his symbolic tattoo on his hand as a conscious decision so that every gesture would be partnered with his father giving the same gesture.
ADVERTISEMENT - CONTINUE READING BELOW
Another way of Epy to literally keep a piece of his father with him was a locket he assembled for his daughter, "It's a locket that has D for 'Dad' or 'Dolphy' and his hair. I don't usually wear it, but I wore it to show that he is encapsulated here."                                          
But when it came to words of wisdom, Epy recalled a humbling period in his career when his dad sat him down for a reality check.
"Iyong medyo parang nanalo ako ng mga awards 'tapos medyo parang yumabang ako, e.
"Nagkaroon ba ako ng confidence, iyong mali lang iyong pagtrato ko sa confidence na 'yon.
"Talagang inupo ako sa tabi nya, sabi niya sakin, 'Sarap lumipad, noh? Pero kapag nararamdamang lumilipad ka na, tumigin ka sa lupa. Kapag hindi nakasaid ang paa mo sa lupa, ipako mo.'
"So 'yon, one of the biggest lessons na tinuro sa 'kin no'n."
ADVERTISEMENT - CONTINUE READING BELOW