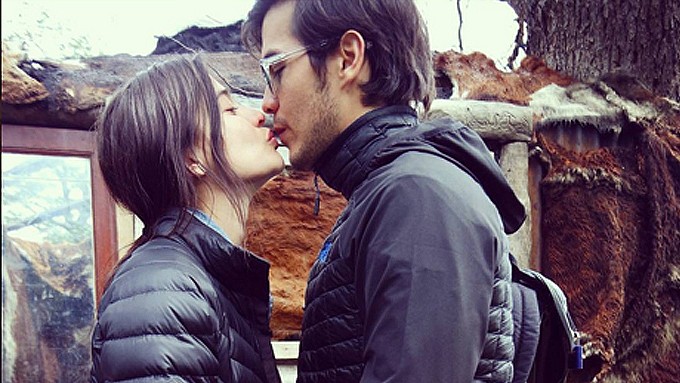 ---
Anne Curtis had a year-long celebration of her 30th birthday last year, and wrapped up her #ANNEventures for 2015 at the picturesque snow-capped mountain range of Laguna Torre in El Chalten, Argentina.
Joining the host/actress was her close friends/ "hiking crew"—newly-married Solenn Heussaff, Isabelle Daza, Georgina Wilson, and their respective beaus—and, of course, her boyfriend Erwan Heussaff.
Prior to this trip to Argentina, where Solenn's wedding took place, Anne and Erwan toured Chile.
And prior to the couple's holiday adventures, the couple have been seeing the world together.
February 2015: Amanpulo, Palawan
For her birthday, the Kapamilya actress and her loved ones went to Amanpulo in Palawan to unwind.
She captioned this as "Sea babies"
May-June 2015: France-Turkey-Austria
This trip was filled with the couple's candid moments.
Erwan and Anne started their European adventure in Paris, France together with Solenn and Nico.
They then went to Bretagne where Anne posted their couple #OOTD by the beach...
And then Provence where they attended a wedding.
Look at those lovely smiles!
After France, they flew to Turkey, and their first stop was Istanbul.
They photographed themselves under the beautiful architecture of the Hagia Sophia.
They also went to Cappadocia, where they flew on a hot air balloon and savored the beauty of Turkey from the skies.
The last leg of this European trip was in Vienna, Austria.
Anne took cue from the romantic film Before Sunrise and recreated with Erwan one of its iconic scenes  in one of the film's locations in the city.
December 2015: Chile-Argentina
Anne was excited to sit by the home of her all-time favorite poet, Pablo Neruda.
In her lengthy caption, she talked about one of Erwan's first gifts to her and it had a quote lifted from one of Pablo Neruda's poem.
It said, "Merci Mon Amour for coming today.
ADVERTISEMENT - CONTINUE READING BELOW
"I recall one of the first gifts you ever gave to me was a custom painted french commode with a piece of a verse that I love from one of my favourite poems - If You Forget Me
"ah my love, ah my own,
"in me all the fire is repeated,
"in me nothing is extinguished"
Anne also captioned their adorable jump shot with: "It's always nice to find someone who is as silly and as crazy as you are."
And in Argentina, where they hiked the mountain ranges around them, Solenn got to snap a photo of the couple's kilig moment.
Relationship goals 2016!