On February 4, siblings Daniel and Vanessa Matsunaga were launched by PAWS (Philippine Animal Welfare Society) as the ambassadors of the spaying/neutering campaign.
Held at the pet-friendly Sobremesa restaurant, in The Sapphire Bloc, Ortigas Center, the importance and benefits of this relatively-new practice were underlined to encourage animal lovers to have their pets undergo the surgical removal of their reproductive organs.
Vanessa said, "You know, a lot of people think only the stray dogs or the aspins should get neutered, so that they don't get breed or something like that.
"But that's not the case because responsible breeding is very important especially in this country..."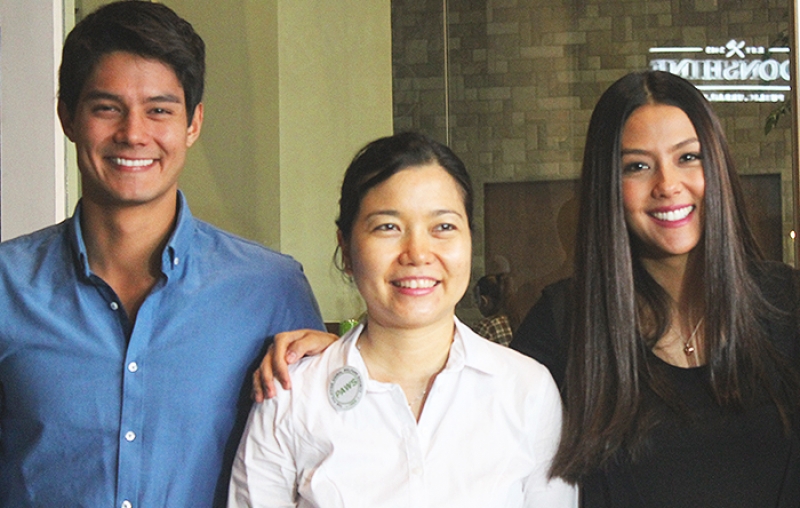 Daniel Matsunaga and Vanessa Matsunaga with PAWS Executive Director Anna Cabrera (Photo by: Francesca Ganal)
WHAT IS SPAY / NEUTER? Spaying is the procedure done on female dogs and female cats, while neutering is the procedure for male dogs and male cats.
Some of the male pet owners dismiss the idea of neutering because it sounds as if his pet is being emasculated, but this procedure primarily helps prevent reproductive cancer from developing.
This practice, which controls the population of dogs and cats, also lessens the pet's aggressive behavior and the probability of them to stray.
The latter ultimately helps PAWS to succeed on its main objective: eliminate animal cruelty.
With the task of debunking the misconception—especially with the practice being perceived as emasculation, PAWS and its executive director Anna Cabrera took the time to find celebrities who understand the importance of spaying and neutering, and who embody the ideal image of masculinity and femininity.
Daniel and Vanessa fit the bill.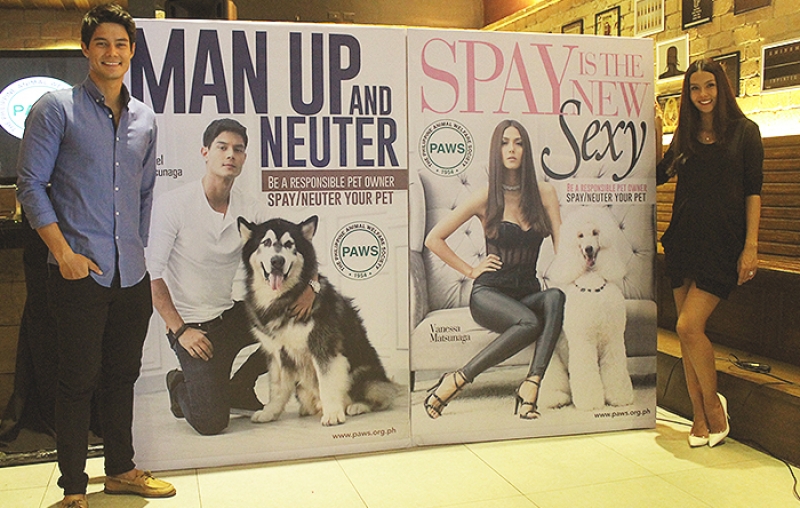 Daniel and Vanessa unveil the spay/neuter campaign ads (Photo by: Francesca Ganal)
TREAT DOGS AS HUMANS. For his part, Daniel put emphasis on the tragic fate of some animals.
He said, "Two hundred dogs per month, they die… And it's really… to see all of those dogs that could be, well, [in a] nice house,
"And then they don't have anything, and then they end up die because of our behavior, our human behavior.
"So we can change to a better thing.
"We should treat them as brothers and sisters.
"They should be treated as humans, and we can save lots of dogs by doing that.
"So it starts with our own actions, and we should spread that to other people."
Vanessa recalled the time they first heard about the spay/neuter, "Actually, we neutered our pets back in Brazil about five to six years ago.
"Even though they were father and son, even if they were together and everything, it's just the nature of male dogs.
"They fight over territory, they fight over this and that. They catch a scent and they have sexual urges, and then they get into a fight over that.
"So my husband introduced me to the idea, and we neutered them and we saw a huge difference in their behavior.
"They stopped marking their territory.
"Of course, we have cats here too which is a bigger...more complicated because they're a huge bigger breed and they get into a fight, it's really bloody.
"We neutered them, we spayed them, and we see the difference in behavior.
"We see how happier they are, and also, for us, it's a relief so it's pretty interesting that effect of that.
"And of course, preventing future diseases to happen.
"We have a dog back then, Kara, she developed pyometra which is the infection of the uterus.
"Every dog is prone to that. It's not because the dogs are not well taken-cared of.
"Even our dogs, they are very well taken-cared of, they can develop that, and it happened to them.
"It happened to Kara and her uterus was full of pus, and it's very painful.
"Some dogs, they don't know about that [the pain]. So the dog dies of a horrible death because of that."
The campaign should be a reminder to pet owners that their dogs and cats will never understand the concept of family planning or safe sex, and they will only fall victim to their rampant sexual urges, which will lead to unwanted pregnancies and reproductive diseases.
Vanessa continued, "There are a lot of positive things to it [spaying / neutering], instead of people being so selfish and thinking of their pets as business.
"Let's just breed them, let's just make money out of them.
"Responsible breeding is very important especially in this country because a lot of people, they think of animals as business.
"We want them to be thinking of the future of the puppies, and breeding is not for everyone."
To learn more about spay/neuter, visit the PAWS website.