Showbiz is a place of work to its denizens, strictly speaking the source of wealth for some and the means of livelihood for the rest.
It is a wonderland only in the eyes of its beholders, the fans who probably don't even know or care they have the power to build or undo the careers of their favorite stars.
Let's not quibble about their values, their taste, their sense of discernment. Fans are what they are, they are numbers, and who can argue with numbers? Keep them up, the windfall follows easily. Let them slip, and it all comes down fast.
One thing about the fans, they are ever young, they grow in number, not in years. This is why it is the business of the moneybags to capture all their romantic ideas in film and television. And what can be more titillating to them than the magic of young love.
To feed their fantasies, the money at the moment is on JaDine, KathNiel, LizQuen, AlDub, and KimXi.
How did these love teams come to be in the first place? What makes them tick as a pair, and not with the others? If not real love, is it chemistry that makes them stand out? What makes them enthralling, what is all that screaming about?
A love team is a tricky business.
It's obvious that the pair have to connect first to each other, but what if this connection is rejected by the fans? What if they don't really see eye to eye, but the fans are thrilled to see them together?
More pointedly, how long can they keep the numbers up? Is there such a thing as forever with love teams?
PEP.ph (Philippine Entertainment Portal) tries to find the answers in the top love teams of yesteryears. The success of the past and present crop of love teams has parallel stories, with television as their common launching ground. The game changer, of course, is the advent of social media as a determining factor in the rise and fall of a love team today.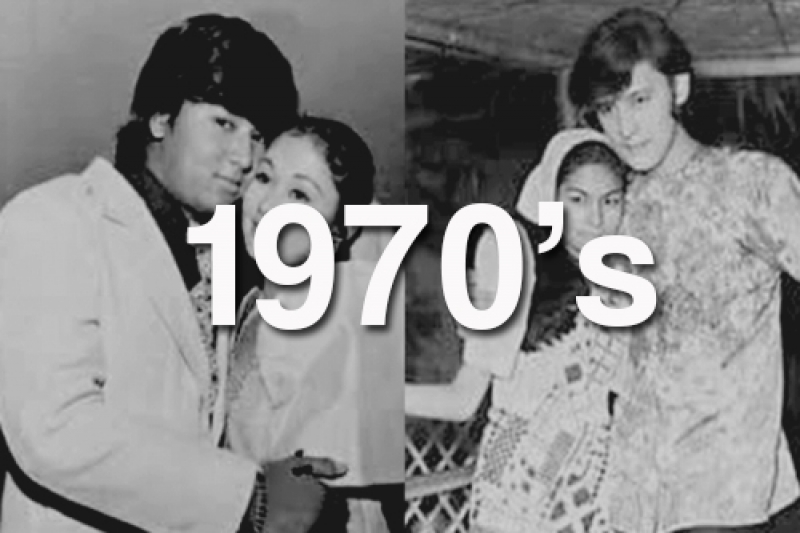 Image: Google
Social development was the predominant theme of Philippine cinema in the 70s and the 80s, a trend propagated by the late Ishmael Bernal and Lino Brocka, and Mike de Leon, among the few whom critics hailed as intellectual directors. People came in droves to see their movies, but more for the stars than the merits of their craft.
Nora Aunor and Vilma Santos reigned in those movies, but only after their romantic comedies and musical shows on television catapulted their respective love teams to a level of popularity hitherto unknown in local showbiz.
They were known as Guy and Pip (Nora Aunor and Tirso Cruz III) and Bot and Vi (Edgar Mortiz and Vilma Santos).
BOT AND VI: Five years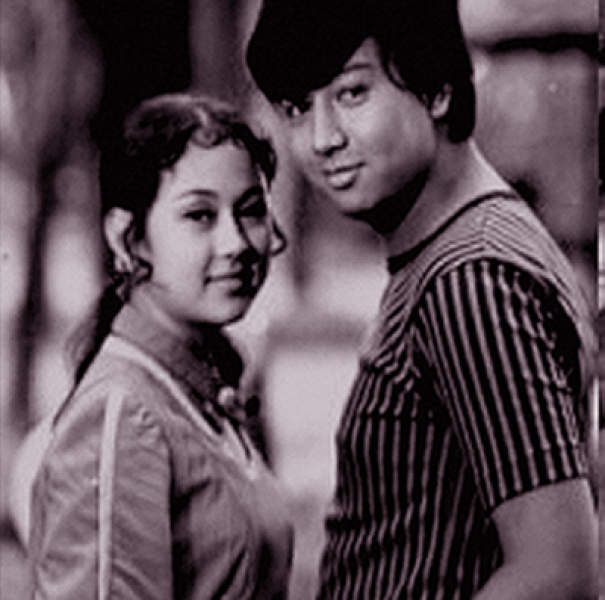 From starforallseasons.wordpress.com
In 1969, the two joined Eddie Peregrina, a phenomenally famous singer at the time, in his movie My Jukebox King.
A year later, they were launched together with Guy and Pip in the movie Young Love. Bot and Vi followed this with 14 more movies, which included My Pledge of Love, Love Letters, and I Love You Honey.
In the mid-70s, the love team went on separate ways to pursue their individual careers.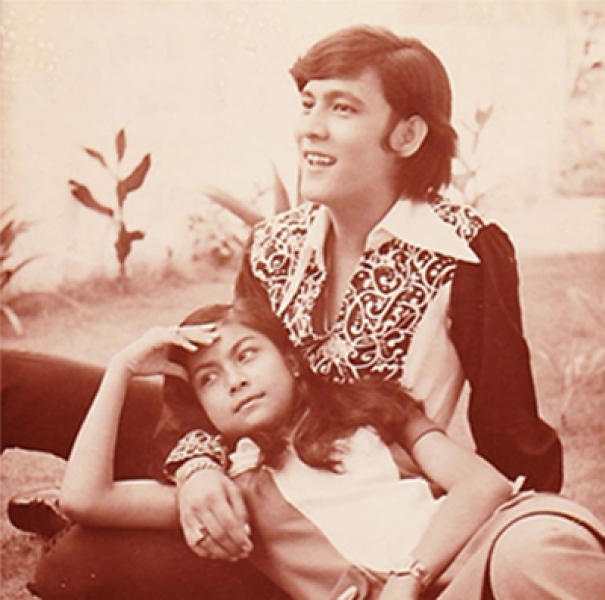 From superstarnora.blogspot.com
GUY AND PIP: 20 years
Arguably the greatest love team in Philippine cinema, these two released box-office hits from 1969 to the 1989.
Did you know that their eponymous movie Guy and Pip stayed in the cinemas for six months? It was watched by four million Filipinos, a record unbroken to this day. Not even Beauty and the Bestie, currently the all-time highest-grossing film, came close. It was watched by approximately 2.2 million Filipinos.
SUCCESS FACTORS. In the case of Guy and Pip, it was a mix of chemistry, versatility, and publicity.
To begin with, Guy already had a following as a singer.
And Tower Records did the right thing at the right time: pick the right partner for Nora. It also helped that Guy and Pip were so Pinoy na Pinoy.
Next, they hyped it up. In 1969, Pip gave Nora a doll named Maria Leonora Theresa. Fans went wild.
Not long afterwards, the Bot and Vi tandem was formed, and an intense rivalry was born.
The bashers then were the Noranians and Vilmanians, each side as passionately attached to their idols as their intention to put down the other.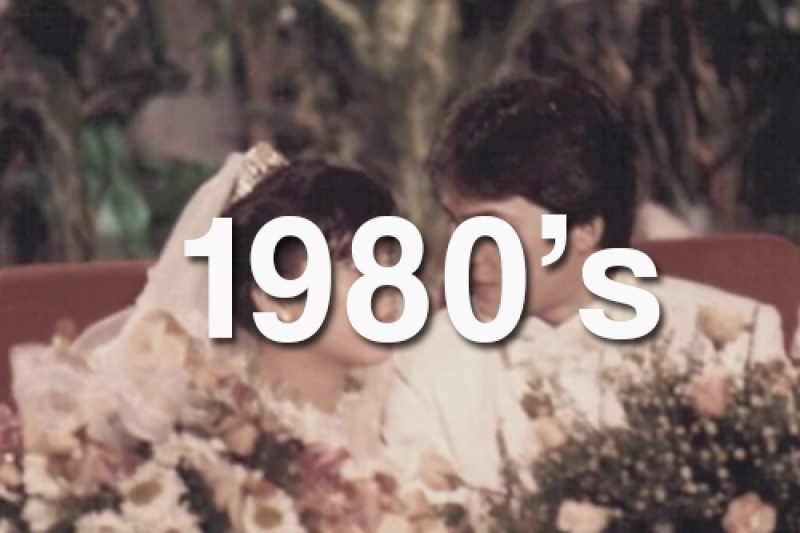 Google
In the 80s, films continued to mix and match young actors and young actresses as the teen stars reigned throughout the decade.
Whether through drama or comedy, producers tested the waters with different pairings; but only two love teams prevailed.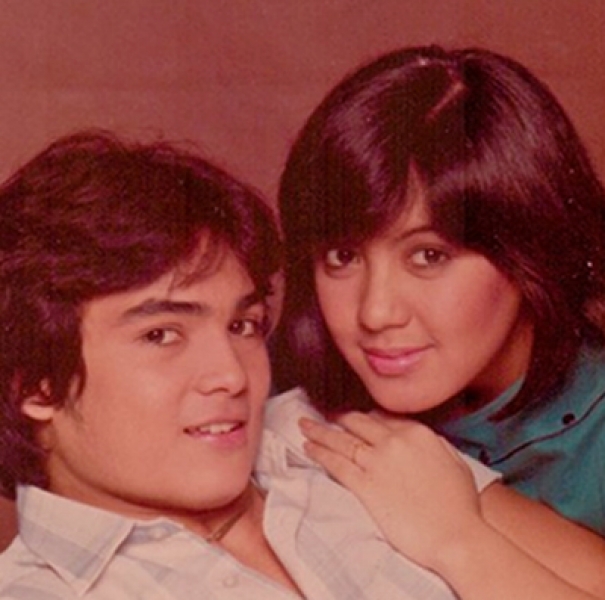 From ffemagazine.com
SHARON AND GABBY: Almost 10 years
Dear Heart marked the start of Sharon Cuneta and Gabby Concepcion's reel- and real-life romance. The ebbs and flows of their love life got the attention of the public, not just their fans.
With their marriage and the birth of their daughter KC, their fans could not get enough of Sharon and Gabby they watched all their films from 1981 to 1992.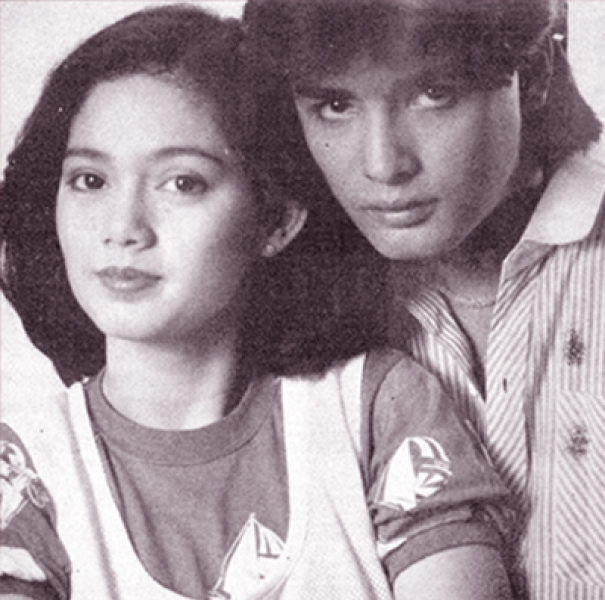 Google
Meanwhile, the other side of spectrum, William Martinez and Marcicel Soriano were lighting up the screen with their quirky antics, witty banters, and comedic timing.
They were the perfect balance to the drama of Sharon and Gabby, which meant each pair had a good share of audiences.
Then as now, the on-screen and off-screen relationship of a love team puts weight on the overall success of the tandem.
Of course, working on screen was a give-and-take kind of performance.
The reason why the William-Maricel love team lasted for almost a decade was because they played comedy with a high level of enthusiasm.
At the same time, the real-life romance of Sharon and Gabby fulfilled the dream of fans.
Their wedding in 1984 was celebrated by the entire country.
When they separated, their followers had kept up their hope they'd get back together.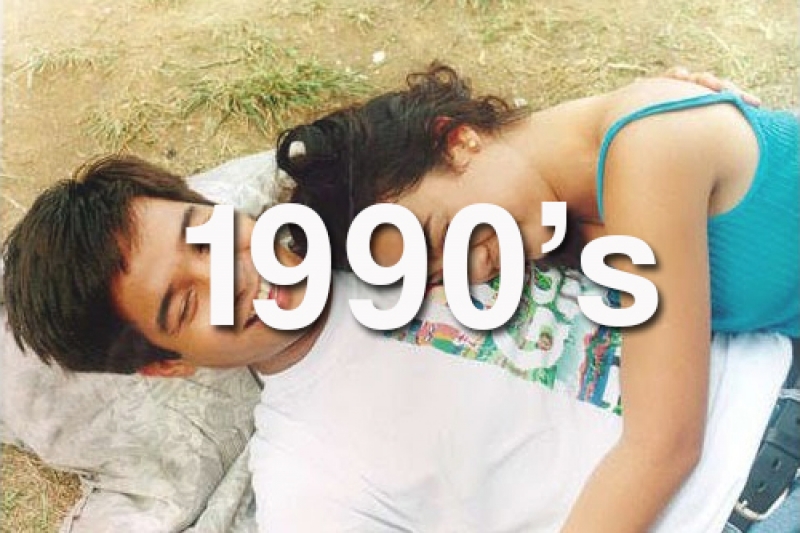 In the 1990s, the game changed drastically as television gradually emerged as a quicker, more convenient, and cheaper alternative than cinema.
This decade presented two major platforms to launch a love team, film, and television, which meant producers had two avenues for strengthening the following of their stars.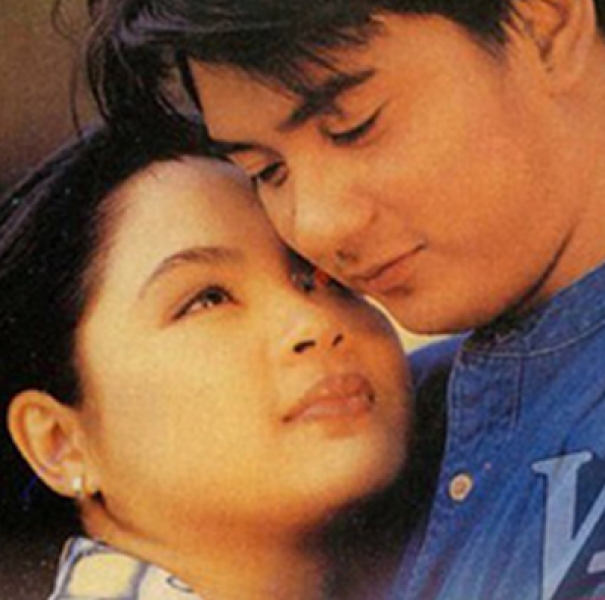 From Video 48
JUDAY AND WOWIE: 9 years
At the onset of the decade, Filipinos tuned in to the series Mara Clara, which saw the rise of Judy Ann Santos and Wowie de Guzman as the strongest love team at the time.
From 1992 to 1997, Mara Clara ruled television and made Judy Ann and Wowie a household name. In between those years, they made four films: Sana Naman, Mara Clara the Movie, Kung Alam Mo Lang, and Nasaan Ka Nang Kailangan Kita?
As soon as Mara Clara ended, Esperanza was aired, and ran for two years.
Their last movie together was Luv Text in 2001.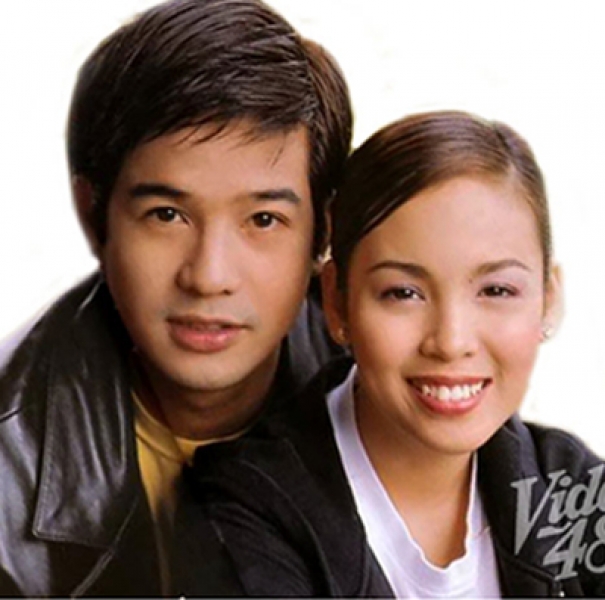 From Video 48
CLAUDINE AND RICO: Almost three years

Claudine Barretto's Mula Sa Puso was launched in 1999. It was also her first television series with the late Rico Yan.
First paired up in 1996's Radio Romance, Rico and Claudine were pitted against the tandem of Judy Ann and Wowie.
Judy Ann and Claudine were the reigning teen actresses of their generation.
Unfortunately, the success of the love team of Claudine and Rico was cut short by the untimely death of the young actor in 2002, a month after their movie Got to Believe was released.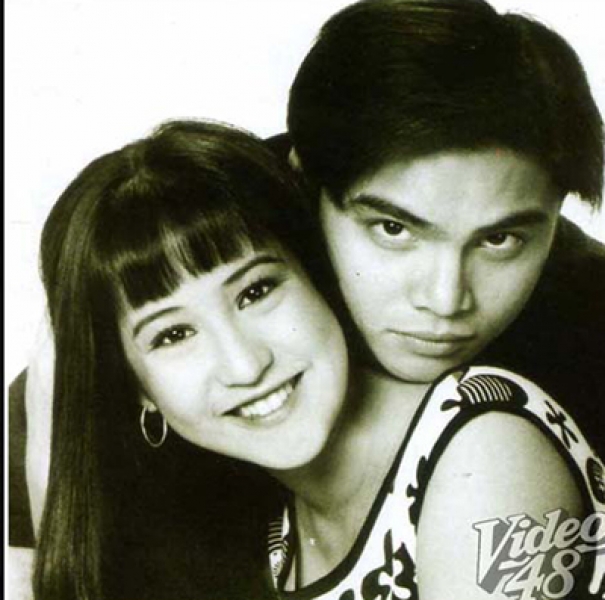 From Video 48
JOLINA AND MARVIN: Technically, 20 years

Buoyed by the popularity of soap operas and their teen stars, television also produced teen-oriented shows, which became another vehicle for launching love teams.
ABS-CBN aired GIMIK in 1996, which introduced the tandem of Jolina Magdangal and Marvin Agustin to the mainstream audience.
Marvin was the funny, pretty boy with his center-parted hair, while Jolina let loose her quirkiness with butterfly clips, colored hair, and outlandish outfits, which set a trend among her fans.
They starred in a number of romantic-comedies, including Labs Kita… Okey Lang (1998), GIMIK: The Reunion (1999), and Hey Babe (1999).
In 2002, Jolina transferred to GMA, where she and Marvin resumed their on-screen tandem.
Their last project together was Flordeliza, which was shown last year when Jolina moved back to ABS-CBN.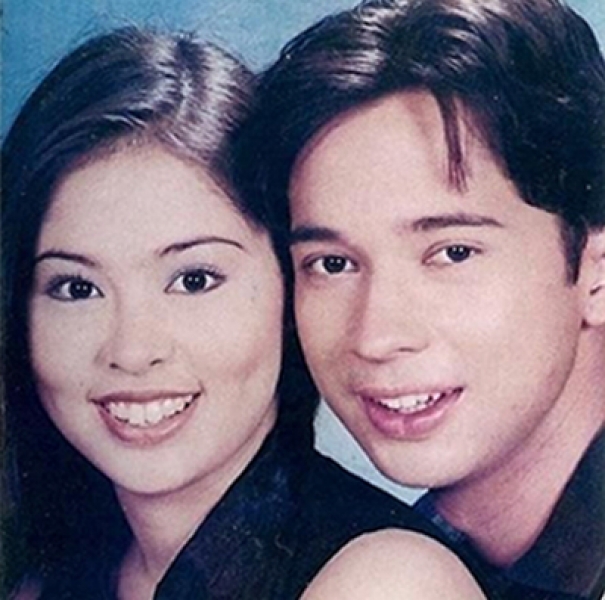 Google
BOBBY AND ANGELU: 4 years
While ABS-CBN had GIMIK, GMA aired the teen-oriented show T.G.I.S (Thank God It's Sabado), which gave birth to the tandem of Angelu de Leon and Bobby Andrew. It was their first big break both as actors and as a love team.
People followed their story on T.G.I.S in 1995 to its sequel, Growing Up, in 1997. In the same year, fans also watched them in their teleserye Ikaw Na Sana.
They also had a string of hit movies from 1996 to 1998—Takot Ka Ba Sa Dliim (1996), Laging Naroon Ka (1997), and Ikaw na Sana, The Movie (1998).
Their success as an on-screen couple ended completely in 199,8 when Angelu announced she was expecting a child with the actor Joko Diaz.
Lately, the Angelu-Bobby tandem was revived via the Kapuso teleserye Buena Familia.
SUCCESS FACTORS. The successes of each love team relied on their presence both on the silver screen and the small screen.
Whether it is through a television series or a movie, these projects helped them stick to audience's minds.
The longevity of a tandem was achieved by Marvin and Jolina with their separate lives. Their fans followed them in Flordeliza.
It may be the ultimate dream of most fans to see their favorite couple together, but it can be a nightmare to producers and directors.
It can be a complication that can cause project delays, even disillusionment on the part of the fans when the stuff of their fantasies become too real for comfort.
Where does it leave the present-day love teams of Kim Chiu and Xian Lim, Maine Mendoza and Alden Richards, Daniel Padilla and Kathryn Bernardo, James Reid and Nadine Lustre, and Liza Soberano and Enrique Gil?
They've been told to enjoy the moment, to ride the crest of a wave with their surging popularity, and to be mindful that sooner or later, it will ebb. They can drown if they're not careful.
Or they can swim to safety, to other pursuits, or they can stay and make the most of the scenery as Nora had done, a multi-awarded actress in her mellowing years.
Vilma found fulfillment as a politician, Marvin as a chef, Judy Ann as a TV host, Jolina as wife and mother.
The point is, the fate of the love teams is not in the numbers. It is in their own hands.
On the other hand, love teams do touch the lives of their fans in ways they probably cannot imagine. If they can embrace that responsibility, they'll find more meaning in their lives than their make-believe magic.
They will forever be the one true thing in the dazzling world of showbiz.