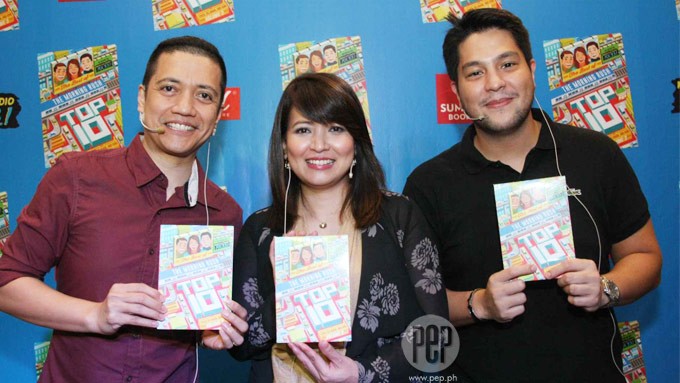 ---
Chico Garcia, Delamar Arias, and Gino Quillamor return with volume 3 of The Best of The Morning Rush Top 10.
For the third time, the popular radio trio compiled their crazy lists and hugot lines from their radio program on Monster Radio RX 93.1.
The first two books by the way had been sold-out.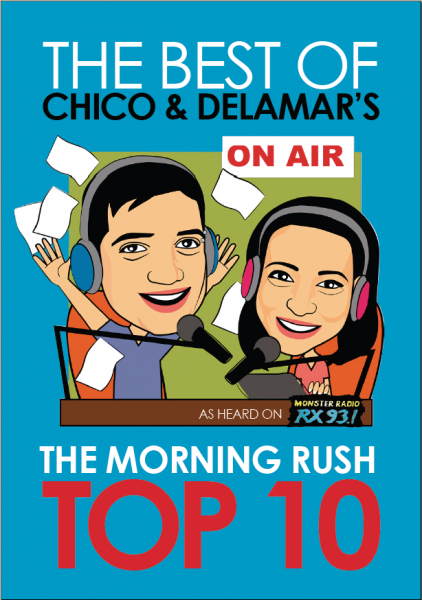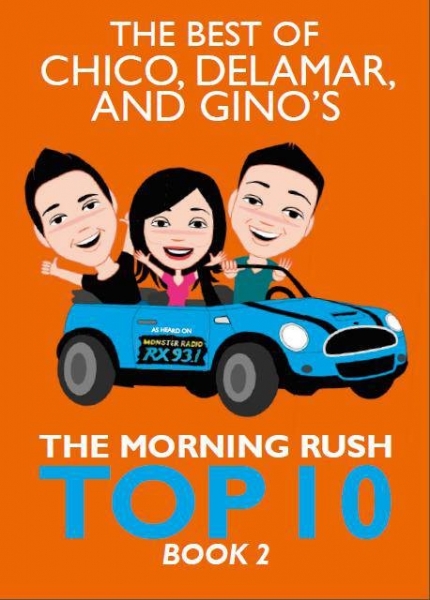 And the third book, which was launched on February 27, 2016, at the ground floor of National Bookstore, Glorietta 4, Makati City, is bound to sell like hotcakes.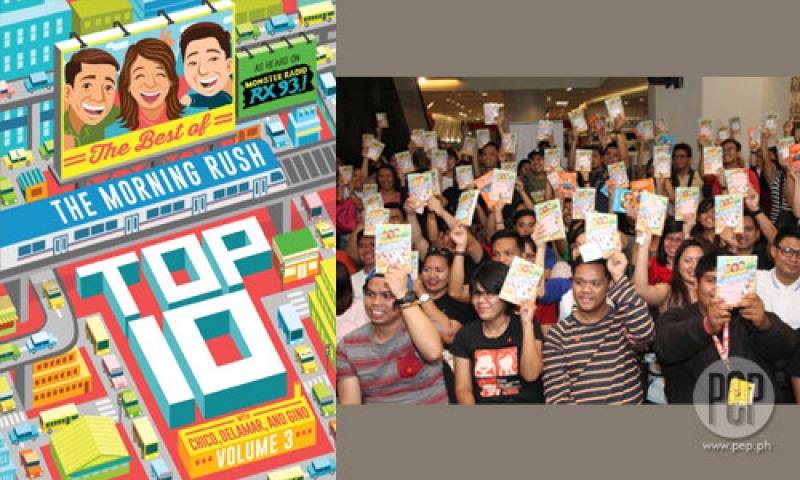 To those who are clueless, the main portion of their show is the top 10.
Chico explained, "Our listener send their entries [hugot lines] to us through the years via our hashtag that we announce every day.
"At pag sa Twitter, usually, they have their own code names, parang it's more fun not using your real name because they can post stuff, what they want to express."
How did they narrow down the entries?
Delamar answered, "We've all done it live, on air. Probably a thousand entries, it depends on how strong the topic is, and Chico sorts them all to top 10.
"And if the listeners want to see the whole entries, they just have to click the hashtag and they can all see it."
How did Gino enter the frame? For 15 years, it had been just Chico and Delamar.
Chico replied, "Well, nag-start talaga 'to, it's just Del and I. When she needed to have a vacation, a maternity leave, it's really hard for me to work alone, so, we were asked...'Why not Gino to take Del's place while she's on leave?'
"And so, we try it out and based on our own experience, that was pretty much fun, parang trial lang.
"But before Del went on vacation, Gino boarded with me, so that's we're we start together.
ADVERTISEMENT - CONTINUE READING BELOW
"When the time Del came back, the management told us, 'Why not have the three of you together on the show?'
"And yeah, we agreed to that."
Laughing, Delamar added, "Sabi ko nga, e, 'Huh? Nag-maternity leave lang ako, may Gino na? May guwapo na sa show?'"
Gino, who's been part of the show for four years now, interjected, "Hindi, sila talaga yung original na mag-partner, and it's modern world na, so that's why I joined in."
This 2016, they're actually celebrating their 20th anniversary.
On the spot, PEP.ph (Philippine Entertainment Portal) asked for a sampler: what are the top 10 things they do when stuck in traffic?
Delamar's list:
1. Watch i-Flix
2. Answering emails, sorry, kasi may driver ako, e.
3. Breastfeeding kapag kasama ko ang baby ko.
4. Listening to the radio.
5. Cleaning every thing that I can see inside the car.
6. I call people in my phone.
Chico's list:
7. Practicing my spiels and dialogue.
8. Singing, I do a lot of singing, sobrang lakas, kasi wala namang nakakarinig sa 'yo.
Gino's list:
9. Listen to the radio, especially if you're driving.
10. Magalit, kasi that's my outlet, e. I really don't get mad. Pero yung content na galit ha, hindi naman yung lalabas ka sa kotse at makikipag-away.
Grab your copy now at newstands nationwide.
For more details, CLICK THIS.