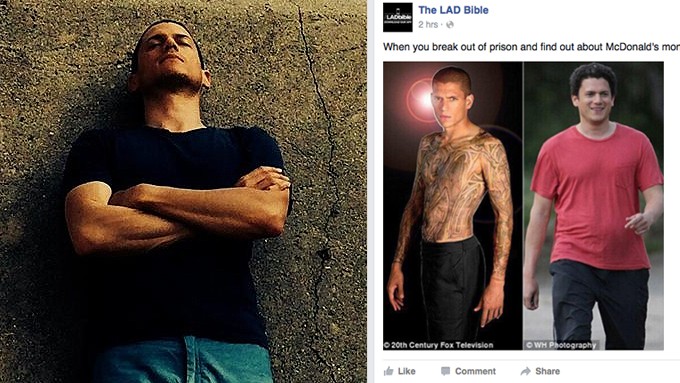 ---
Internet memes are generally harmless, but one particular post with photos of the Prison Break star Wentworth Miller has elicited an emotional response from the Hollywood actor.
It reminds him of a low point in his life.
The meme posted on the Facebook page of  The LAD Bible had shown a photo of Miller as the buff and tattooed Michael Scofield in the 2005 TV series Prison Break alongside another photo of Miller in 2010 when he seemed to have let go of his fit, Hollywood-approved physique.
Its caption had read, "When you break out of prison and find out about McDonald's monopoly..."
Miller had taken a screenshot of this meme and written his response with the back story of the 2010 photo.
The 43-year-old actor reveals in his post, "In 2010, semi-retired from acting, I was keeping a low-profile for a number of reasons.
"First and foremost, I was suicidal."
Currently being seen in DC Comic's Legends of Tomorrow, the actor does not hide his life-long struggle with depression.
ADVERTISEMENT - CONTINUE READING BELOW
"Ashamed and in pain, I considered myself damaged goods. And the voices in my head urged me down the path to self destruction.
"Not for the first time."
He recalls a speech a speech he delivered in 2013 at a Human Rights gala when he had spoken about his first attempted suicide at the age of 15.
"I've struggled with depression since childhood. It's a battle that's cost me time, opportunities, relationships, and a thousand sleepless nights.
"In 2010, at the lowest point in my adult life, I was looking everywhere for relief/comfort/distraction.
"And I turned to food."
Miller points out, it "could have been anything. Drugs. Alcohol. Sex."
He says he found it in food, but then he put on weight, "Big f--king deal."
A RARE SMILE. Miller relates that his 2010 photo was taken by the paparazzi during a hike with a friend around Los Angeles.
The headlines that accompanied the photo when it was published ran in the same vein, "Hunk to Chunk," "Fit to Flab."
ADVERTISEMENT - CONTINUE READING BELOW
Miller remarks in his post, "In 2010, fighting for mental health, it was the last thing I needed."
But he takes pride in the fact that he had survived that low point of his life, "I'm glad.
"Now, when I see that image of me in my red t-shirt, a rare smile on my face, I am reminded of my struggle.
"My endurance and my perseverance in the face of all kinds of demons. Some within. Some without.
"Like a dandelion up through the pavement, I persisted.
"Anyway. Still. Despite."
Miller ends his posts with a call to action to reach out to those in need and included links that may extend help.
NO JOKE. Since Miller's poignant response to the meme, The LAD Bible has deleted the post and issued a direct apology to the star.
It says in its apology, "Mental health is no joke or laughing matter.
"Causing distress and upset to innocent or vulnerable people is simply not acceptable."
ADVERTISEMENT - CONTINUE READING BELOW
The site also applauds the actor for his "raw honesty and promise to [now] cover such matters in a responsible manner that [our] audience expects."