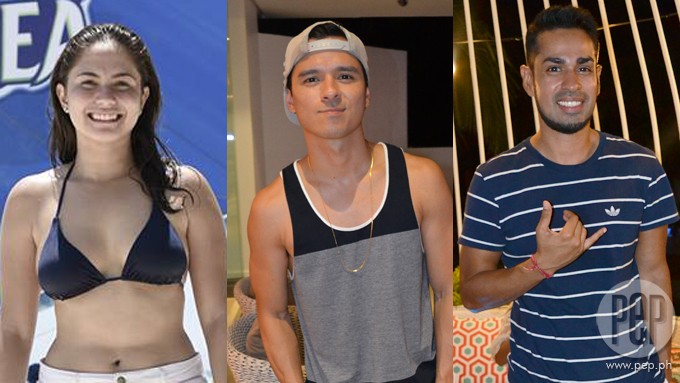 ---
With its clear blue waters and fine white sand, Boracay has been considered as one of the top beach destinations around the world.
However, due to lack of eco balance and too much crowd, the pristine island has been gradually losing its natural beauty.
On April 29, Jessy Mendiola, Joyce Pring, Sam YG, Tom Taus, and Arisse de Santos joined hands with NESTEA Philippines for a great cause.
Together with Boracay Foundation Inc (BFI), a non-profit organization composed of over 150 members representing Boracay's leading establishments, residents, and expatriates, they led the shore and underwater cleanup activities on April 29.
Honored to be one of Love The Beach campaign's ambassadors, Sam hopes more people will care about the "current state of Boracay."
He said, "We are here to enjoy, to party, to enjoy the beach pero, at the same time, medyo makalat na.
"It might not be good for the next generation to enjoy what we are enjoying now.
"We have to take care of what we are blessed with.
"We have to take care of the beach, we have to love the beach.
"Sayang naman if the next generation, maabutan nila kwento na lang, 'Uy, ganda ng Bora dati, malinis.'
"Let's preserve Boracay for the next generation."
Tom believes that even in the simplest way, beachgoers can help preserve the world-famous island.
"Dati pa naman talaga, I've been pretty active with the environment.
"For me, it was not even a decision, it's like, 'Well, yeah, I'm in.'
ADVERTISEMENT - CONTINUE READING BELOW
"It doesn't have to be a big event naman. If you cleanup after yourself, that's really a big help din."
Meanwhile, Jessy took part in the coral rescue and replanting activities.
She also plans to visit Boracay every two months because her Nestea Love the Beach experience inspired her to help protect marine life.
She said, "One thing is for sure, I wanna try it again but longer na, and I wanna help.
"I will visit Boracay not to party but to help and put corals underwater, ang saya nun.
"I'm actually happy that they have this campaign sa NESTEA kasi we really need this like sa tropical country here sa Philippines, ang dami natin beaches na magaganda.
"What way we could give back to the beach is take care of it kasi tayo naman ang nakikinabang.
"At kung dudumihan natin [yung Island] e di hindi na magandang puntahan."
Love the Beach has been playing an active role in preserving Boracay for 19 years now through responsible tourism and various cleanup activities.
Also part of the campaign is selling NESTEA pitcher and merchandise to gather funds for the purchase of a beach cleaning machine that will help keep Boracay clean not only during summer but all year round.