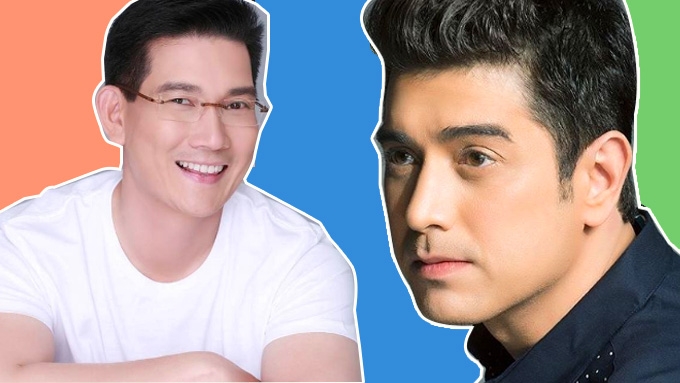 ---
Jodi Sta. Maria has a beautiful problem: who to choose between her two leading men.
Will Jodi go for chinito or mestizo?
Will she prefer someone who's reserved or charming?
Will she like her guy clean or rugged-looking?
A photo posted by Ian Veneracion (@ianveneracion1) on
These two are proofs that age does not hold any bearing to earn the heartthrob tag.
To their fans, it's even a plus pogi point that they're both committed family man.
PEP.ph (Philippine Entertainment Portal) counts the ways these hot daddies are today's hottest men in town:
WHY WE LOVE RICHARD

1. His elusive smile that's enough to make hearts melt.
Viewers have always preferred the clean-type guys, but what sets Richard apart?
His poker face.
Whenever he cracks a smile, they see his soft side.
2. He is a crooner.
His go-to song is Enrique Iglesias's "Hero."
He is set to have a concert with fellow crooner Richard Poon.
3. What you see is what you get. When it comes to his status as the unlikely matinee idol, Richard doesn't let this go to his head.
ADVERTISEMENT - CONTINUE READING BELOW
"Work is work" for Ser Chief and his fans are very much aware of that.
He also doesn't let showbiz get in the way of his true personality.
It doesn't matter that some people see him as "suplado," but he is definitely not "plastic."
In an interview, he explained. "I tried to be as ma-PR as possible pero hindi kasi ako 'yun... na maki-small talk. I just want to be myself."
4. He is a devoted family man.
More than being an actor and a celebrity, he is first and foremost a family man.
Family first before everything else.
WHY WE LOVE IAN

1. That gwapo gaze...
Since he entered showbiz more than three decades ago, Ian's best asset: his enigmatic eyes.
He is a true testament to getting better with age.
2. He is an artist.
Outside the world of entertainment, Ian delves into art. He has had three solo art exhibits so far, with the recent exhibit showcasing 55 paintings.
ADVERTISEMENT - CONTINUE READING BELOW
3. He is an adventure-seeker.
A lover of outdoors, the actor participates in many different outdoor activities including cross-country motorcycling, skydiving, paragliding, and scuba-diving.
He is a licensed pilot.
4. He is an active father.
Ian and his kids Draco, 17, Deirdre, 15, and Buccio, 9 are like best friends.
In an interview with The Manila Times, Ian revealed that he treats his kids like adults.
He also takes pride in the fact that they look up to him.
Now, back to the question: Ian or Richard?
Oh no, we're more confused than ever. Help us decide, PEPsters.