Kris Aquino has signed a deal with ABS-CBN, two years after her unexpected exit from the network that was her "home" for 20 years.
She came away from the negotiating table feeling happy "because there's a clause in that contract that was very important to me."
Briefly, Kris needed access to the network's video library whose value to her is immeasurable.
Her life is an open book, and a large part of it was chronicled and recorded by ABS-CBN in all the years she reigned as television's Queen of Talk.
But she couldn't get her hands on her archive life--innumerable footage of it--because the network owns it.
Then came an offer from Star Cinema, the film production arm of ABS-CBN. They wanted Kris to co-headline a new Joshua Garcia-Julia Barretto movie, I Love You, Hater.
When I read the story, and I read that it seemed like a perfect fit for me, that's when I asked what I had asked for.
"I didn't ask for myself because I don't even wanna remember my past.
"But I did want access to Kuya's, to Bimb's, and to their moments with my mom," Kris related to PEP.ph (Philippine Entertainment Portal) during the pictorial of her digital cover for Headliner.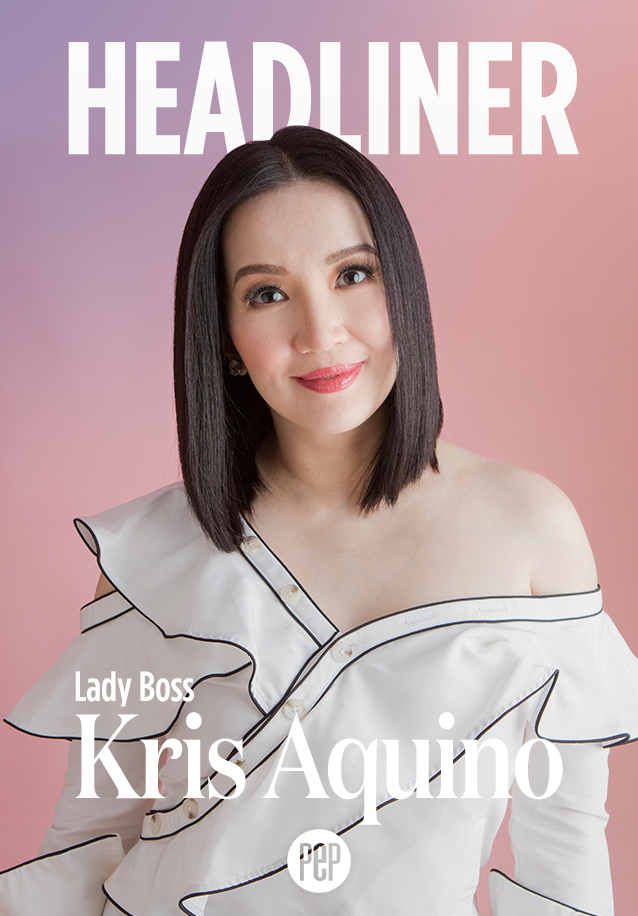 She was obviously talking about Josh--her son with an older actor, Phillip Salvador--and Bimby--the junior of the basketball player James Yap, Kris's ex-husband.
The mom, of course, was the late former President Corazon Aquino.
Kris explained that the videography of Josh and Bimby could serve as the "baby book"; she did not have time to make when they were growing up.
"I was not the type of person to do that," she admitted.
"I'm being very honest with you, also I want to be able to tell my story as Kris, the mom.
"And I cannot tell that story without that video footage of the two of them as babies.
"I did start in ABS-CBN when Kuya Josh was just learning to walk.
"And me giving birth to Bimb, all the way up to his first commercial, first movie, first everything--they had it all."
It was before Holy Week, Kris was in the States for her medical checkup in San Francisco, when she received a text message from Roxy Liquigan of Star Cinema.
Would she be interested in a role they have for her?
Kris remembered that she went to mass on the day she got the text message and again when she received a "more solid offer."
She came home on Holy Thursday, March 29.
Kris recalled, "I did not get the storyline until after Easter. So I said, it was really dependent on that..."
Before her contract signing with ABS-CBN, Kris said that she confided to her sisters about the offer for her to work again with Star Cinema.
"The movie, my sisters had encouraged me to accept it because they said, one, they had watched The Good Son, so they liked Joshua.
"Secondly, they said that, 'You have to do this for you to have closure as far as ABS-CBN is concerned.'"
Upon leaving ABS-CBN almost two years ago, Kris admittedly went through career roadblocks and foiled negotiations for her supposed project with a rival TV network.
Then it came to a point that going back to ABS-CBN was also out of the question because--she had said this often and, perhaps, it still cuts deep--"ABS-CBN no longer wants me."
In due time, the ever-resilient Kris did manage to get back on her feet, reinvent her showbiz career, and build her own niche in the digital arena via Kris Cojuangco Aquino Productions, aka KCAP.
Her project with Star Cinema is a welcome change from what has been her daily routine for the past few years. The last time she top-billed a movie was in 2015 via All You Need is Pag-ibig.
According to Kris, when her sisters learned about her new movie, they reminded her: "'It's important for you to experience not being the boss, because you have to work again as someone who has to obey rules of another company so that you will continue to grow.
"Because it's true, as it is now, because everything I'm doing is a collaboration, a brand partnership or something we ourselves in-house produce, I get to say what time we roll, who I get to work with...
"So parang, they had said that for me to continue evolving, and for me to still have that hunger and that discipline, I had to do this. When I told them what the story was, that was what convinced them."
A GOOD EXPERIENCE. Right up to the 11th hour of her contract signing for the movie, Kris said she was not sure that ABS-CBN "higher-ups" would accept her terms.
Kris explained "there were many things left to consider," one of which was a conflict of schedule.
She had the entire June blocked off for the shooting of her comeback horror movie with online streaming service, iFlix.
But since the story script for the horror movie wasn't ready yet, Kris said she was able to free up her schedule for Star Cinema's I Love You, Hater.
"Siguro heaven was smiling down," she remarked.
On April 20, Kris was waiting for her return flight to Manila--she was in Japan to shoot an endorsement--when the green light from Star Cinema came.
"So I arrived mga five in the morning, barely slept and all, dinaan sa kape, and went there, and signed.
"I have now access to the archives of ABS-CBN," said Kris, referring to the video footage where her sons Josh and Bimby appeared.
Beginning this month, "I'm being given the rights to use those," she added triumphantly.
"I think that's really why I didn't ask for much in terms of my talent fee."
She was laughing when she said, "Although they may beg to disagree about that."
As for the movie deal, Kris reiterated, "And that's really why I would say that it was a 50-50 decision.
"I chose to do the movie because the role felt right, and I wanted to work with Joshua and Julia."
What was it like to set foot on ABS-CBN again?
"It was really nice to be welcomed warmly."
Was it a step to something bigger?
"I always refer to it as, you know, pag nagbabalikbayan ka?

"You know you're visiting and you're going to make the most out of that visit.
"So, I don't look at it as something that will be beyond this movie.
"I look at it as a really good experience," she said evenly, her answer sweet and friendly, but non-committal about a possible TV comeback in ABS-CBN.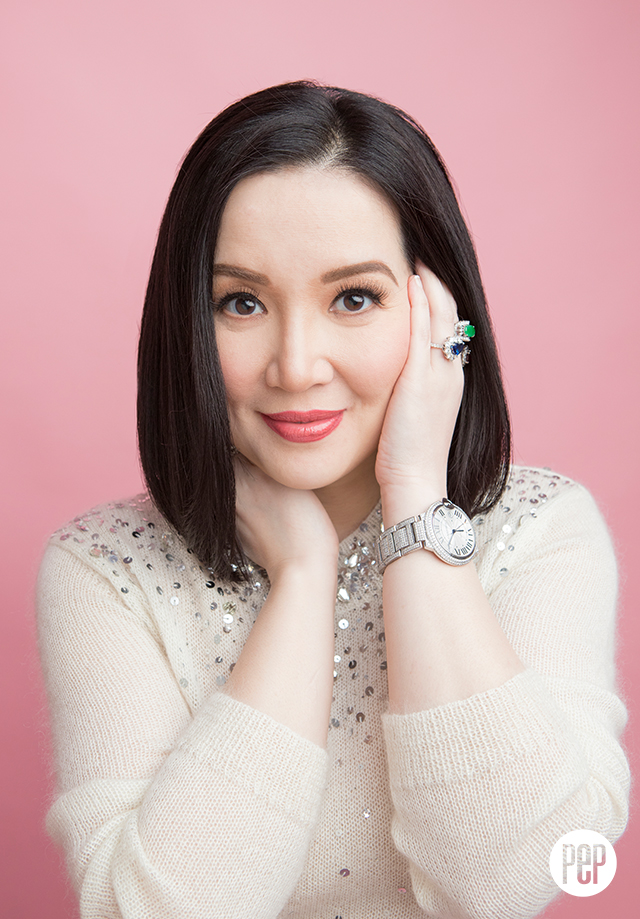 MINDING HER OWN BUSINESS. A "new" Kris emerged from that meeting with her former network.
She went in there, typically protective of her children, and she came out of it wiser in the art of negotiation, all thanks to her new showbiz manager Erickson Raymundo of Cornerstone Talent Management.
KCAP, the company she founded not too long ago, is doing swimmingly well in the digital stream, with 54 endorsements and partnerships at press time.
It produces original material about her life interspersed with branded content for more than 4.9 million followers on her Instagram and Facebook accounts.
"I've said this many times--that my mistake was I did not have the foresight to realize that we would go in this direction, that all of us would go digital.
"I didn't amass my own library. Had I known that this would be where I am now, I would have had a videographer with me from the very start.
"But I did not own my history, so for 20 years of my life, a big chunk of that, I had no rights to use it.
"So when I'm telling you the story, hindi ko ma-include, I can't put inserts because I had none of that," she bewailed.
But she learned fast and she knows now--and with her claim to the video footage of her life, at least as a mother to Josh and Bimby in the bag--Kris is poised to spread her influence in the digital universe even wider.
At the moment, her workplace is a portion of her dining room transformed into a makeshift photo studio, complete with a portable plain pink backdrop, bright lights, and cameras.
Here, she is her own boss, "It took a long journey. Because before, completion came from contracts. Completion came from ratings.
"But now, completion comes from me. Because this is mine. This is something I've built. I can say na hindi 'to nangyari because nakaposisyon kami.
"Nangyari 'to when I was at my lowest, and I was able to build this.

"I did it my way, nagawa ko the Kris way."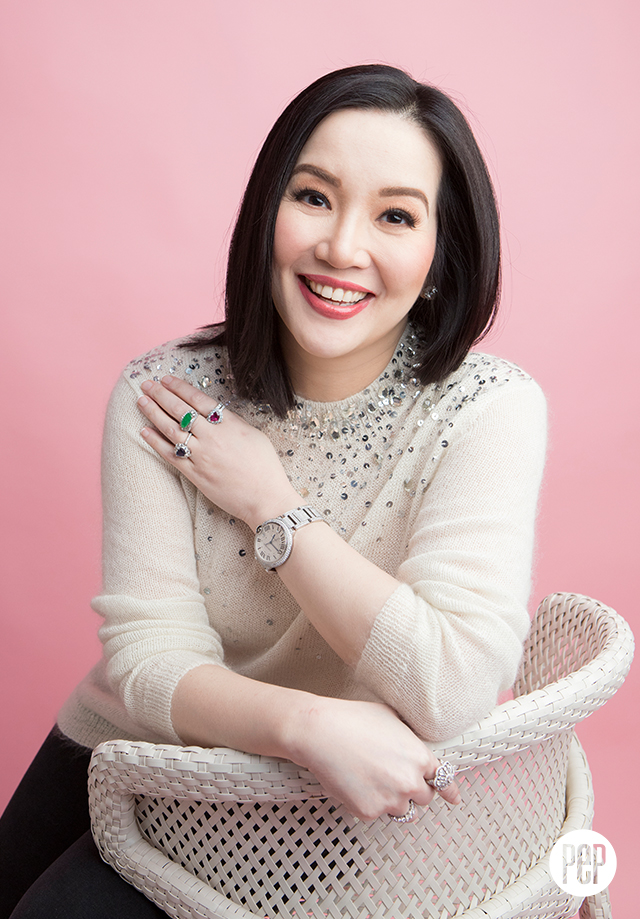 MOM KNOWS BEST. Kris gave herself a pat in the back for working "ten times harder than anyone."
But apart from her vaunted gift of gab, she made her mark in showbiz with her unassailable sense of discipline and professionalism.
For that, she gave her mom full credit, "My feet has always been planted on the ground because I had a very realistic mom!" she exclaimed.
"She always said, 'You gotta prove to everyone that these doors were opened not because of your last name.
"You have to outlive that last name, you have to prove to them that you are worth that pay check.
"And then she was still alive the first time naglabas na nasa Top 20 taxpayer ako--proud siya dun."
From 2006 to 2016, Kris had remitted a total of PHP361,798,667 in personal income tax, mostly from her nonstop TV projects, box-office hits, and endorsements.
Meanwhile, her tax remittance for her "December 2017 income" amounted to PHP1,843,088, and her VAT remittance "for January 2018" totaled PHP1,510,191.55.
She remembered her mom bragging about her daughter Kris becoming such a big household name that her string of commercials alone could fill a whole gap in a prime-time show.
"To her, more than anything else, that was the seal of approval," Kris said.
Kris also revealed a surprising side of the eminent Mrs. Aquino.
Besides lecturing Kris on decorum, the former president, famous for her lack of conceit and vanity, often reminded her daughter to always look her best in public.
Kris related, "Di ba, sometimes, may ano ka, ganda-gandahan phase?
"Na feeling mo, you don't have to fix yourself, puwede ka lumabas na lang?
"She said, 'Never do that! If you are representing these products, they deserve to see what they are seeing onscreen.'
"'So if you go out, please make sure that you look the way you look onscreen.'"
Kris has taken to heart her mom's advice on looking good.
More than three decades since the then-presidential daughter joined the business, she remains a viable choice as an endorser of personal care and beauty brands.
Recently, she released her own makeup line, in collaboration with Ever Bilena.
Dubbed the Kris Life Kits, it has two matte lipsticks and two matte brow liners.
Kris's own beauty advice is to find the right shade of lippie, and make it part of your signature look.
She also noted not to forget your eyebrows, "I'm really a believer na kilay is life. Pag maganda na kilay mo, you can conquer the world!"
Kris also has plans of releasing liquid lipsticks, blush, and face powder throughout the year.
DOING MOVIES. Her biggest fan long before she became a movie star was her father, the late Senator Benigno "Ninoy" Aquino II.
Kris was a kid being told by her dad, "You're destined to be a star."
What made it a tad too bizarre for Kris was the fact that her dad spoke of it when their family was living in the U.S., where the senator was forced into exile.
"At the time, di ba, there was no free press? It was a monopoly, we're not allowed and all. He really said, 'Magkaroon lang ng freedom for you to appear on TV, you're gonna be a star.'"
Kris further recalled, "My mom would tell him, 'Don't fill her head with that because maniniwala 'yan talaga.'

"'My dad said, 'No, she really will be.'
"Sabi ng mom ko, 'My God! Kaya masyadong naging bilib sa sarili, kasi tinuro ng tatay na maging bilib sa sarili.'"
It was prophetic. Kris did attain stardom as an actress, with box office hits to her credit, but bigger still has been her huge success as television host and brand endorser.
Be that as it may, Kris is not likely to turn down a good movie material.
According to Kris, she instantly hit it off with Joshua and Julia when they first met at the story conference for Star Cinema's I Love You, Hater.
She is not only working with a young love team, but also with a 30-something director Giselle Andres, a protege; of the acclaimed director Olivia "Olive" Lamasan, or better known in showbiz as Inang.
Kris said, "It's great because I like working with people who are hungry, people who have something to prove. I can see how meticulous she is. She was trained by the best."
A pause, and then she quipped, "It's just disconcerting na yung director mo, tinatawag kang 'Ate.'"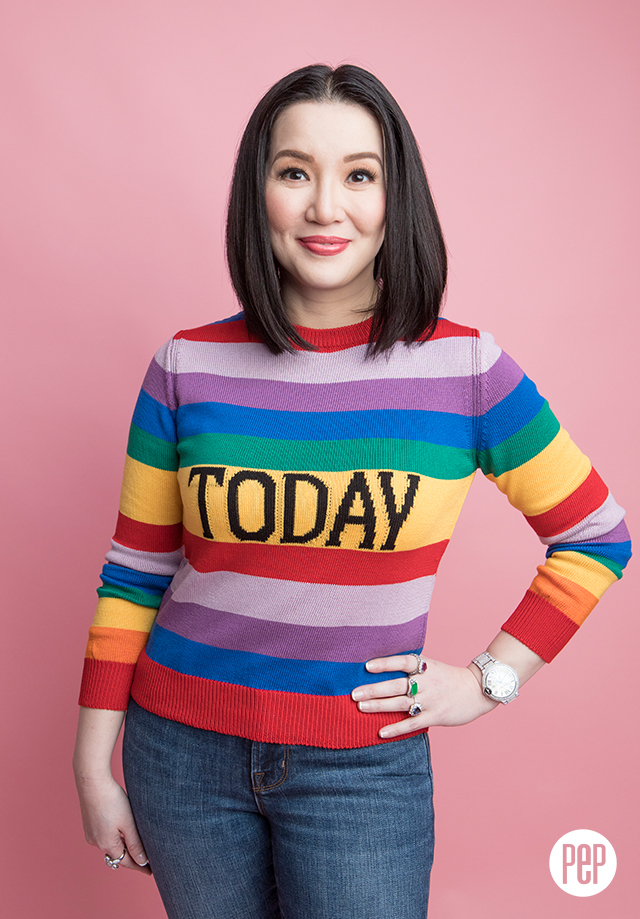 LOOKING GOOD. Kris at 47 has the vibe, allure, and curves of a young woman.
Her skin is luminous, glowing, and her smile--it's like that of someone in love.
The marvel of it is she's not.
"I like where I'm at right now because I'm free to have my own battles, to have my own opinions, without having to weigh them.

"Weigh them because hindi ko 'to puwedeng sabihin dahil baka ma-judge si ganito, because nasabi ko 'to.
"So ngayon, it's just me--I'm responsible for me and my two sons.
Moreover, Kris explained she cannot afford to be with someone who may curtail her freedom to speak her mind, especially now when part of what makes her KCAP webisodes work is her "authenticity."
She said, "When you have a relationship with me, you do accept the reality that you're having a relationship with the rest of the Philippines because my life is an open book.
"I cannot ask for privacy when what pays the bills is opening up this life."
If the company that she has been with lately is any indication, her erstwhile fiance, Quezon City Mayor Herbert Bautista, just might be the closest guy to Kris right now.
There was an an engagement, albeit thwarted (Herbert's doing) and a second proposal, albeit rejected (Kris's doing), and ultimately they broke up.
But to go by Kris's statement that she posted on Instagram, they have remained "friends" who have "100 percent" trust in each other.
Doesn't she feel a void in that aspect of her life?
She answered, "I think that a relationship is also a career. I think that you give it as much passion as you would your job.
"And if you cannot give it that, it will never work.
"I am admitting it now, I have my share of faults, and my fault has always been I am really ambitious.
"And when it comes to priorities... my faith, my children, my work.
"So you do not make sense to a person when you work 16 or 18 hours a day. There's nothing left to give. And you have to give.
"You cannot just be a receiver or a taker. You also have to be a giver.
"At this point, I have nothing to give. So it will just suffer. He will just suffer."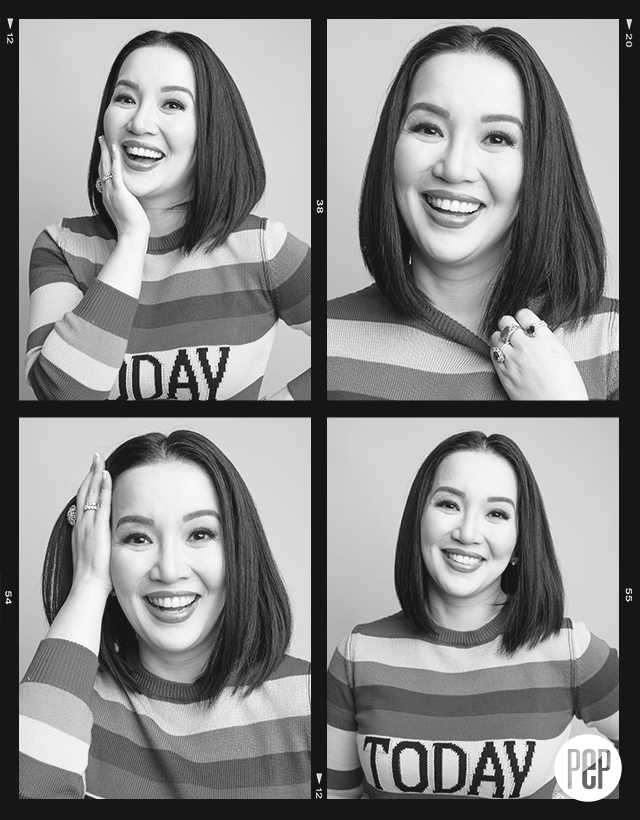 For now, Kris is determined to give "100 percent" to her career goals.
And if love does not happen, "I'm already complete, na-complete ko ang sarili ko.
"I no longer have to feel that someone has to make me feel that I'm special, because I'm sure I won't break my heart.
"But I'm not sure he won't break my heart. And I'm saying that from a place na someone na umasa before, umasa ng ilang beses, na ayaw nang umasa ulit!"
If no man can step up to put a ring on her finger, Kris jokingly said that she can just buy her own.
Pointing to the diamond rings she was wearing for the pictorial, Kris said, "Lahat ng suot ko dito, either nanggaling sa mom ko, sa sisters ko, or binili ko.
"So sinabi ko, 'Okey na ako!'"
SHOOT PRODUCER: Nikko Tuazon
SHOOT COORDINATOR: Irene Mislang
ART DIRECTOR: Jeremiah Idanan
PHOTOGRAPHER: Cyrus Panganiban
VIDEOGRAPHERS: John Henri Alsol Mariano and Zoe del Rosario
STYLIST: Kimi and Boop Yap
MAKEUP ARTIST: RB Chanco
HAIRSTYLIST: Jonathan Velasco
VIDEO EDITOR: Sam Navalta
Special thanks to Celina Sol Cruz of KCAP