If your hair care routine is limited to wash and go, then you're probably among those who visit a salon just to get a haircut (and maybe an occasional keratin treatment) without really knowing what it takes to achieve a healthy and smooth hair.
You leave the salon feeling like an artista with your freshly blow-dried and well-groomed hair. But then you wash it the next day and that feeling is gone.
Is it possible to achieve an artista-looking hair even on normal days?
Yes, but with proper hair care routine that is prescribed by an expert.
This is what you'll learn from a visit at Marqed Salon, which is owned by celebrity stylist Mark Rosales.
According to Mark, having an artista-looking hair starts with giving it the TLC (tender loving care) that it needs.
He says, "Most Filipinas want to explore hair colors, from dark to lightest. 'I want to go blonde.'
"But the problem with that, sometimes our hair is not ready. May mga condition tayo na dapat i-consider.
"What we strongly suggest is to cure muna the scalp and to check if yung strands ng hair mo is ready for hair color."
WHAT HAPPENS DURING HAIR CHECK-UP?
The first step in the salon's hair treatment is to check the condition of your hair through a scanner.
Then the stylist finds out if you have a normal scalp or a combination of oily and dry scalp.
They also ask "probing questions" like, do you have problems with dandruff?
Mark explains, "Regardless of our service, SOP namin siya for customers to go through the hair scanner.
"Dapat visual sa client. Paano nila maiintindihan kung hindi nila makikita?
"This is the latest technology where we can check your scalp, your strands of hair.
"Itong technology na 'to, ginagamit for derma talaga."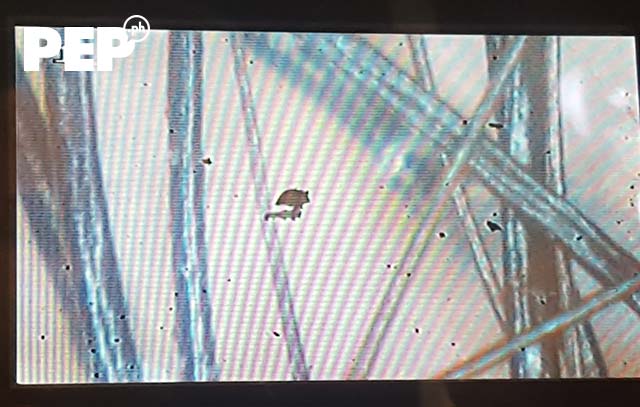 The stylist also recommends a specific treatment that is best suited for a particular hair and scalp condition.
Then Marqed Salon provides a documentation of the proper hair care treatment to be followed.
It's like getting a doctor's prescription.
"Ilalagay namin yung process. It's like prescribing talaga, may recommendation.
"It's not like a one-time big-time transformation."
Mark goes on to say that it's no different from following a skin-care regimen.
"Para siyang skin-care talaga. Dapat din at the same time, nag-aayos tayo sa hair.
"Para kang nagme-makeup. May hair prep ka rin—yung treatment, shampoo, condition, that's part of your hair prep."
WHAT TO DO IF I HAVE A DRY OR OILY SCALP?
If you have a combination of dry, oily, itchy, and flaky scalp, In this case, Mark recommends a four-step scalp treatment for a client who has
For the first step, he uses a deep cleansing product "to remove the dandruff and address the dryness" of the scalp.
It has a cooling effect that will instantly make you feel relaxed for that much-deserved me-time at the salon.
After 10 minutes, the flakes will noticeably fall off with the help of the moisturizing oil found in the deep cleansing product.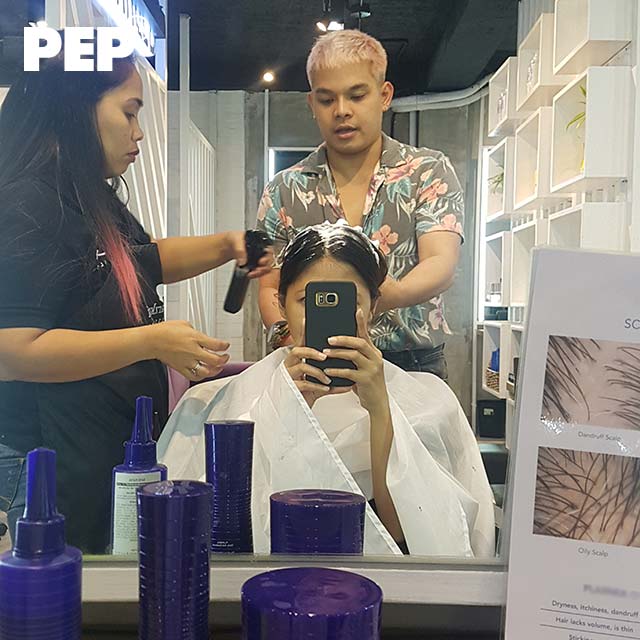 The next step is to apply a "base act essence" formulated with medicinal herbs coupled with a gentle scalp massage to promote fuller and thicker hair.
To revive the translucence of the scalp and wash off unwanted odor, a product targeting this particular scalp concern is applied.
For the last step, the main balancing scalp treatment is applied to moisturize both the scalp and the hair strands.
This addresses dull and frizzy hair that may be caused by the humid weather or past chemical treatments that damaged the hair.
"Yun ang naging problem sa atin, we always want smooth, straight, walang frizz, pero yung scalp naiiwan.
"For you to have healthy strands of hair, you need to start taking care of your scalp.
"After the balancing scalp treatment, mas translucent na yung scalp mo, it's cleaner, and makintab siya talaga."
Mark then shows a closer look at the scalp when it's clean and pampered.
The scalp balancing treatment (which starts at PHP1,500) is good for five weeks.
But the hair and scalp care does not end there.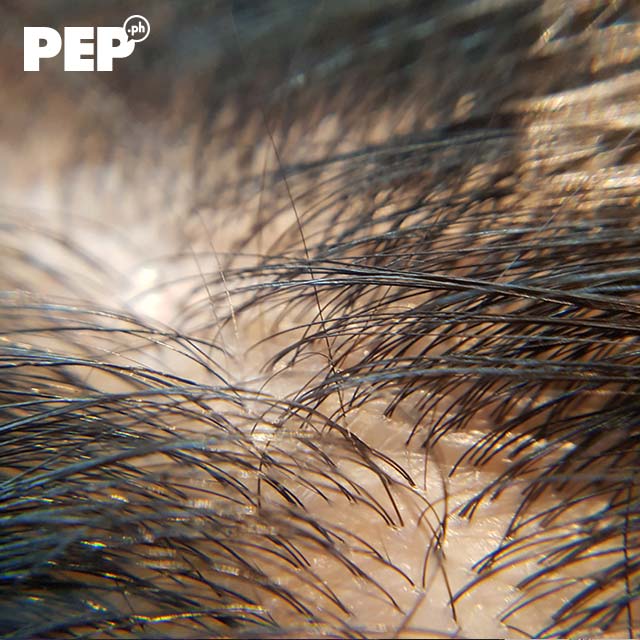 IS THERE A DIY HAIR TREATMENT?
In his prescription, Mark suggests an easy-to-follow hair care routine at home, using specific products available at his salon.
It includes a set of hair mask vials to be used after shampoo, They make the hair smooth and silky hair until after the next salon visit.
"Leave it for 15 minutes, massage in a circular motion, then rinse," says Mark.
"It's very important to massage our scalp to aid blood circulation and hair growth.
"Di ba, laging nating dinededma? We immediately rinse after shampooing and conditioning our hair. Done.
"Pero we need to give attention to scalp care as well."
Then after drying your hair, apply argan oil on the tips of your hair to restore lost moisture, he says.
"Kasi yung ends ang wala masyadong nutrients at walang moisture.
"Kaya I also suggest na at least once a month magpa-trim kahit one inch para mag-grow siya ng maganda at ma-remove yung dry tips ng hair."
Seen below is this author's photo taken five hours after a pampering sesh at Marqed Salon: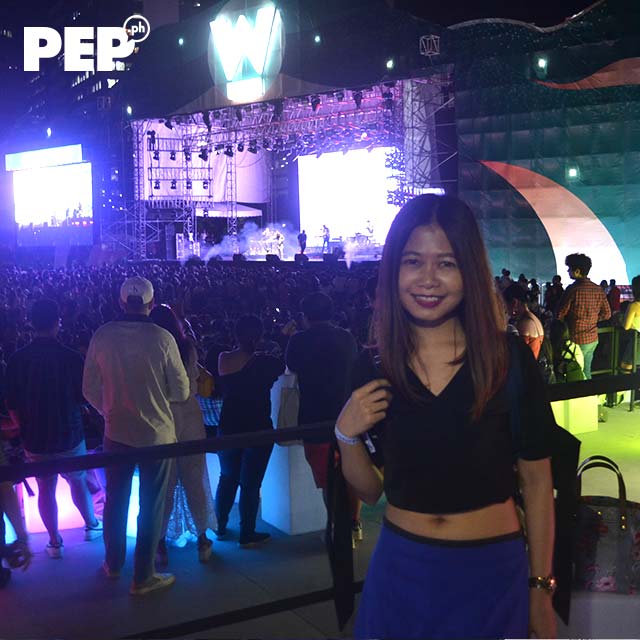 IS IT OKAY TO SHAMPOO HAIR EVERYDAY?
Mark of Marqed Salon also has loads of tips to keep your hair healthy and gorgeous this summer season.
"Now that it's summer time, you have to wash your hair every day. Otherwise, magiging greasy. But if the weather is cool, normally, every other day works just fine.
"But siyempre, may mga client tayo na not comfortable washing their hair daily. So what you can do is use dry shampoo, dry conditioner. It's effective din naman.
"At saka ang dry shampoo can help remove excess oil."
If you're suffering from loss of hair strands when shampooing, Mark suggests skipping hot shower instead of taking cold baths,
Aside from keeping your scalp clean every day, Mark says it is good to use heat protectant to maintain a healthy and smooth hair.
"I'm not particular with the brand, merong spray or serum type. Heat protectant works like a sunblock.
"As much as possible, huwag ka talagang magpa-expose sa sun, para hindi mag-dry yung hair."
He also does not recommend getting a hair color before a beach trip.
"As much as possible, if it's summer time, I suggest huwag ka na magpa-hair color muna. After na lang.
"Otherwise, mag-rinse out yan. Kasi yung normal water pa nga lang, matatanggal yung hair color dahil sa cholorine."
Reiterating that beautiful hair starts from within, he adds, "Ang pinaka-basic at free, you have to drink lots of water."
Drinking enough water helps in keeping the skin, including the scalp, well-hydrated.
Marqed Salon is located at 59 Connecticut St. San Juan, Metro Manila. To know more about their services, check out their official account on Instagram.