It would seem that Angel Locsin's action scene for The General's Daughter got a bit more intense.
Have you seen the close-up selfies of her "black eye" on Instagram?
In her caption, the ABS-CBN actress quipped, "50 Shades of Black under my eyes, na sinubukan kong i-mowdel."
She then asked her followers, "Any helpful tips to get rid of black eye quickly, aside from vitamin C, arnica, & ice?"
Known for doing her own stunts, she continued, "I'm proud of my battle scars but this girl gotta work."
But at the end of her post, Angel clarified that she "was not abused. Thank you!"
People left some suggestions in the comments section.
Fellow ABS-CBN actress Isabelle Daza remarked, "Concealer!!"

A netizen suggested putting a "slice of small fresh pineapple" on the affected area.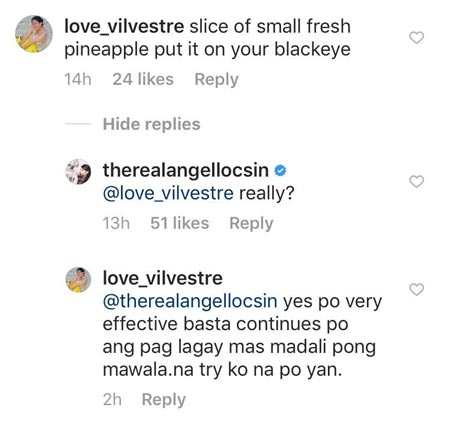 Another recommended, "tea bag na nilagay lukewarm water, then gently pat it on affected area."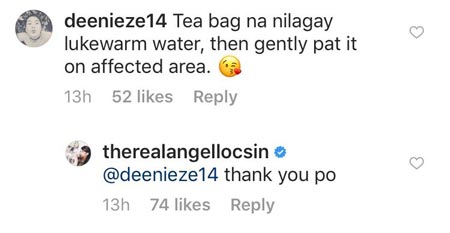 Two netizens offered essential oils as a quick solution.
As an alternative for arnica, Healthline.com listed helichrysum and lavender essential oils as helpful herbal treatments for bruises.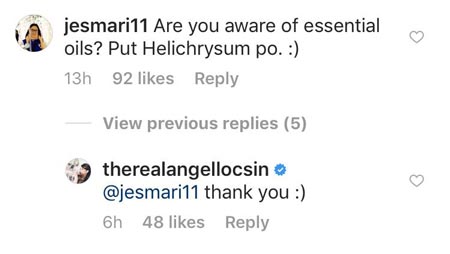 A netizen told Angel to get lavender essential "that is pure," and one drop of it can already do wonders.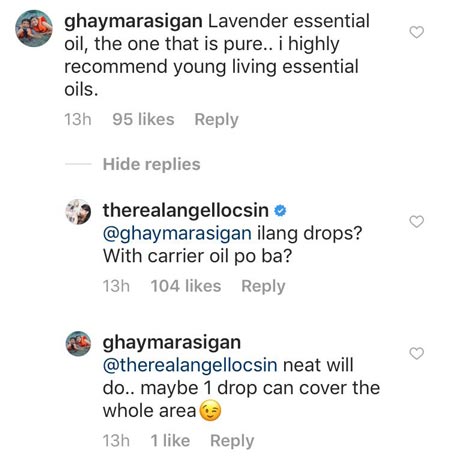 One netizen mentioned frozen spoon.
The comment read: "Put a spoon in the freezer let it sit until malamig na malamig na ang then gently massage the bruised area with the back of the cold spoon."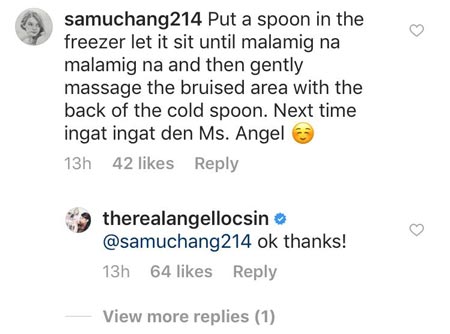 Cold-to-warm compress might also work.
Two netizens advised applying them on the brusied area.
After "a day or two of applying cold packs," switch to a warm one.
Another netizen said, "This will increase blood flow to the area to facilitate healing."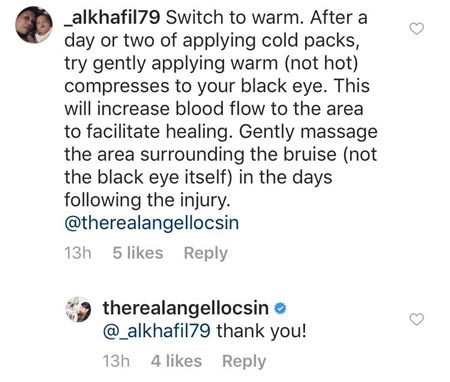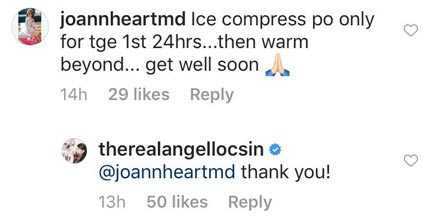 Still, even with her "black eye," wasn't Angel a beauty?
Her boyfriend Neil Arce wrote, "Still the most beautiful girl in the world"
Angel replied, "asus... love yew"