Kim Chiu easily pulled off her ghastly Halloween costume at Star Magic's Black Magic party.
The 29-year-old Kapamilya actress donned a mummy costume during the party held on October 20, Sunday, at Resorts World Manila in Pasay City.
With the help of celebrity stylist Adrienne Concepcion, Kim rocked the glam mummy look in a costume by fashion designer Aurea Vinluan.
Hairstylist Kiel Otilla swept Kim's hair into a high ponytail, while self-taught make-up artist Sylvina Lopez took charge of the beauty look and prosthetics.
In an Instagram post on Monday, October 20, Sylvina said Kim was inspired by supermodel Chanel Iman's Halloween costume in 2016.
The Kapamilya actress, however, added a twist to her yummy mummy Halloween costume. She asked Sylvina to "zombify" the look while still keeping it glam.
In the same post, Sylvina shared some of the products she used to create Kim's mummy make-up look.
She used 3rd Degree Silicon to create faux wounds and scars on visible parts of Kim's body.
In an interview with PEP.ph (Philippine Entertainment Portal), Sylvina gave more details on how she applied it on Kim. She said, "I used a two-part silicone compound just to make it more hypoallergenic and look like skin."
This silicone compound is available at camerareadycosmetics.com for $24 or around PHP1,230.
To those who are planning to buy one, Sylvina suggested, "If you want to use latex though, I recommend using a latex and cotton build so you can thin out the edges since cotton is very malleable."
Sylvina painted the fake wounds and scars using Make Up For Ever Flash Palette, MAC Cosmetics Acrylic Paints & Reflects Glitters, and Sugarpill Loose & Pressed Eyeshadow Palettes.
She told PEP.ph, "Sugarpill eyeshadows were used as everything because I used it to set the cream colors in the Flash palette, [which I used for] contouring, highlighting, painting the wounds and making her skin tone uneven and mottled."
MAC Cosmetics Acrylic Paints are available on the brand's official website for $23 or around PHP1,175.
MAC Cosmetics Reflects Glitters are priced at $22 or PHP1,125 per pigment.
Make Up For Ever Flash Color Palette is available on Sephora.com for $99 or around PHP5,060.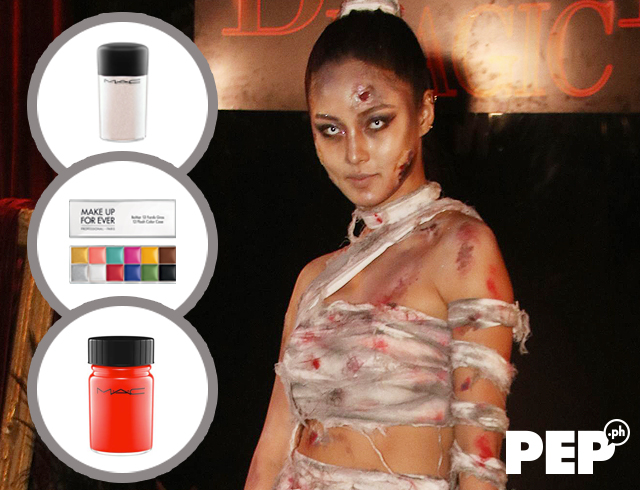 Sugarpill Loose Eyeshadows are priced at $14 or around PHP715 per shade. Meanwhile, the price of Sugarpill Pressed Eyeshadow Pigments starts at $11 or around PHP565 per pan.
Asked for some tips on how to create the wound effect using make-up, Sylvina told PEP.ph, "When you paint the wounds, think about gradients. Keep it darkest where you want it to look the deepest and add highlights where you want it to look raised.
She added, "Reference images also help with shadows and color."