Do you feel tightness, dryness, itching, and burning after washing your face?
You probably have a senstive skin like Bela Padilla, whose dilemma was finding the right product.
So when the 28-year-old actress stumbled upon a facial wash that did not irritate her skin, she excitedly posted about it in one of her Instagram stories.
It is called Senka Perfect Whip, which she discovered during her trip to Tokyo, Japan, in December 2019.
Bela wrote in her post, "I found a new discovery in Don Quijote when I was in Tokyo for new year!
"And I'm EXTREMELY sensitive to new products so I was apprehensive to try it but I kind of didn't have a choice because I left my facial wash here in Manila.
"So I bought the blue version of this in Tokyo and have been using it everyday."
Don Quijote is a popular discount chain store in Japan.
Another good news from Bela's post: the product is now available in the country.
She added, "My skin is sooooooo much softer. So to the girls out there asking, here you go."
Senka Perfect Whip Moist Cleansing Foam is available at Watsons and SM Beauty Store for PHP129 (50g) and PHP249 (120g).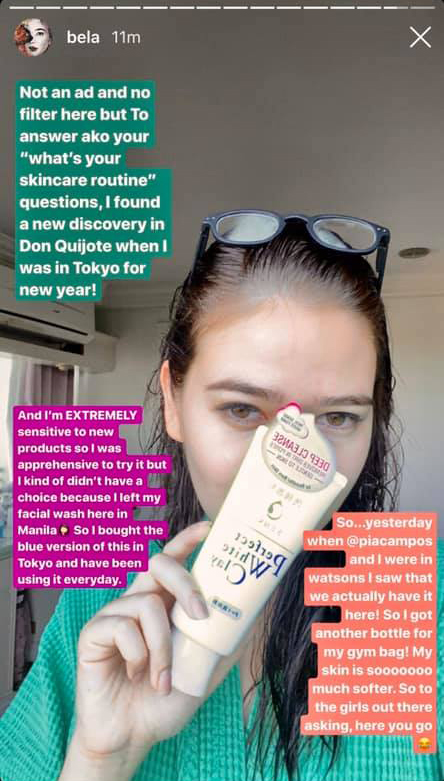 FOR MEN AND WOMEN
Like Bela, Jaz Reyes is also hesitant to try new skin-care products because she also has sensitive skin.
She said, "What I do look for is the mark na it's hypoallergenic kasi super sensitive ng skin ko, and that it works for all skin types.
"Kasi pag ganun naman sinasabi nila, it's usually gentle on my skin and it's moisturizing."
Model-actor John James Uy also appreciates that this product comes in a unisex tube.
He said, "The good thing about it is that it's not just catered to women. I mean even the bottle's color is blue. I've been using it just recently lang. It's really dense and really thick."
Jaz and John James talked about their skin-care routine in an interview with PEP.ph (Philippine Entertainment Portal) on November 21, 2019, at the product's official launch in Makati City.
Jaz threw, "Puwede mo siyang gawin mask, like three or two times a week, to really have that deep cleanse.
"Some people whip it, leave it on for two minutes, and then wash it off. Ang maganda doon, yung blackheads, that's our solution, especially sa boys kasi malalaki pores ng boys, e."