Of all the inconvenient body changes a woman undergoes during and after pregnancy—weight gain, skin discoloration, cellulite, and stretch marks—it is the last that is hardest to get rid of.
So kudos to the women who not only have learned to live with the unsightly white lines on their body. They bear them like stripes of honor, their hallmarks of motherhood.
To body-shamers, look in the mirror and mind your own imperfections.
Take a leaf from the women in the spotlight who have the most reasons to fret about the marks marring their bodies, but they don't.
Here are eight of them with their inspiring stories from the glitzy world of showbiz, starting with Sarah Lahbati who announced that her stretchmarks are her "best tattoos!"
Sarah Lahbati
In an Instagram post on January 26, 2022, Sarah Lahbati shared her realization about accepting one's flaws, asserting nobody is perfect.
In her post, the 23-year-old celebrity mom uploaded a photo showing her in a black bikini that bared the stretch marks on her tummy.
Sarah wrote, "I'm tired of hiding my stretch marks. I'm not perfect. No one is.
"What's funny is it took me awhile to accept that. My biggest insecurity. To love me fully. To fully accept me.
"I've always been ready to give all of me for my loved ones but never poured that same cup to myself. Took me some time to realize that my stretch marks are my best tattoos.
"A reminder that I am a strong and resilient woman whose been through a lot but most importantly, I've given birth to my two dearest sons, Zion and Kai. My angels.
"I am loved, understood & cherished by my husband. I couldn't ask for anything more."
Kylie Padilla
On July 18, 2017, Kylie Padilla posted a snap showing her stretch marks.
At that time, the Kapuso actress was pregnant with her firstborn Alas Joaquin.
Netizens were quick to react and lauded Kylie for not editing out the small, depressed streaks on the side of her body.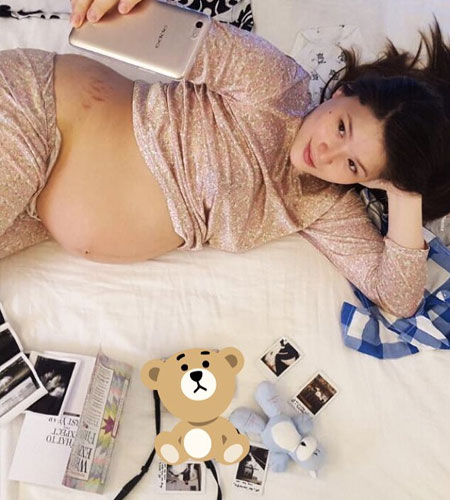 A few weeks later, Kylie wrote in her Instagram Stories, "For all those asking about what I do to remedy stretch marks, I'm actually just letting them be.
"I want to be reminded of when I was pregnant with Alas and how my body changed [yellow heart emoji]."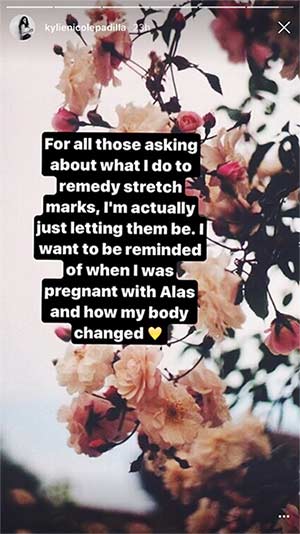 Andi Eigenmann
In May 2020, Andi Eigenmann posted on Instagram a photo showing her in white cropped top, her stretch marks in full view.
In her caption, Andi basically declared that those stripes are the hallmarks of the "amazing things" her body has done to make her a mother.
The 31-year-old celebrity mom wrote (published as is): "I've had them since having Ellie, and I know that as much as they may become less obvious over time, they will never really go away.
"But just because we have these belly marks, doesn't mean we aren't allow to wear your favorite cropped tops and bikinis anymore!
"I've grown to be more comfortable and proud of them because hey! This body has done amazing things.
"It carried my 2 beautiful girls for 9 months, and gave birth to them safely too! I hope you guys will realise that too [emoji]."
Lara Quigaman
On Mother's Day in May 2019, Precious Lara Quigaman, who had just given birth to her second son, posted her homage to motherhood along with an unedited photo of her post-childbirth body.
In her post, the former beauty queen encapsulated the joys and pains of motherhood, and if they've taken a toll in the physical aspect, they would have been all worth it.
Part of her caption read: "To mommies, nanays, mamas reading this- it may be hard right now, but it's all worth it and know that soon, our babies will grow up and we will miss their littleness, their hypernessness and the noises and messes they make and our bodies will remind us that we once carried them and nurtured them.
"You are Strong, You are Amazing, YOU ARE NOT ALONE. You may feel unappreciated but God sees you, knows you and what you're going through and He loves you. Smile na, He's got us..."
Iya Villania
A month before she gave birth to Baby Alana in 2020, Iya Villania flaunted her baby bump that showed what she called her "tiger stripes," which had been there since her pregnancy with her son Leon in 2018.
In the caption of her post, Iya wrote, "My bunso just for a few more weeks [emoji] And yes, those are tiger stripes [emoji] given to me also by this little boy when he was in my tum [emoji]"
With three adorable kids and one more on the way, the athletic Kapuso mom continues to exercise and maintain an active lifestyle.
Melissa Ricks
On October 11, 2019, Melissa Ricks wrote on Instagram about body positivity.
She attached an unedited photo of her as a reminder to her followers to embrace their imperfections.
Part of Melissa's caption read (published as is): "Proud to say this is who I am.. With all my body changes, a lot of other things have changed as well.
"I have become a Braver, Stonger, And hopefully a smarter version of myself, of course couldn't have done it without God by my side. [emoji]"
Denise Laurel
In October 2017, Denise Laurel took the internet by storm when she posted her bikini photos in the Maldives that exposed her stretch marks.
Netizens were awestruck. Denise proclaimed, "I'm a mom I got folds and stretch marks it's ME."
Solenn Heussaff
In a YouTube vlog dated August 2020, Solenn Heussaff opened up about her healing journey after giving birth to her daughter Thylane Katana on January 1, 2020.
In the video, Solenn revealed the healing process took at least four to six months before she could start on getting back her pre-pregnancy body.
And body-shamers be damned, the happy mom wrote in the caption: "Ever since I got pregnant and ever since the lockdown, I am way happier now.
"What I mean by happier is I care less about the judgment of other people and although I am 4 kilos heavier than I was pre-pregnancy and my hips are 4 inches wider, I am way happier now.
"I hope that moms out there will also embrace the way they look now because I don't think many people can give birth to another being so you guys are powerful in your own way."
We are now on Quento!
Download the app
to enjoy more articles and videos from PEP.ph and other Summit Media websites.