Are you prone to blemishes?
These are the spots, pimple marks, and discoloration that appear on the skin.
Two of the most common types of blemishes are acne and hyperpigmentation.
Acne can appear as blackheads, whiteheads, or taghiyawat. It is caused by dirt, oil, and bacteria that accumulate in the skin's pores. In some cases, it can leave pimple marks, acne marks, and discoloration on the skin called hyperpigmentation.
Some women put on layers and layers of make-up para itago ang pimple marks at blemishes nila, but doing this can actually clog pores.
While there's nothing wrong with using make-up, good skin via a simple yet effective skin care routine is the best foundation.
Makinis skin makes applying make-up easier and smoother — it also lessens the need for more make-up products to conceal imperfections.
Instead of relying on make-up to cover up marks and blemishes, you can choose the right products and practice a good skin care routine to help make your skin feel smoother and look more even.
Try this two-step skin care habit! It may free you from your daily foundation-and-concealer routine, just like Bea Soriano Dee:
STEP 1: USE ESSENCE REGULARLY TO MAKE SKIN EVEN MORE RADIANT.
Like serum, essence also has active ingredients that address key problem areas like dark spots and wrinkles while being more lightweight. Apply about two to three pumps of essence on your face.
You can do this in the morning and night to maximize its benefits.

Without it, you risk exposing your skin to the elements, which makes it more likely to suffer from dryness and irritation. Consider using a product like Olay White Radiance Light Perfecting Essence. It helps enhance the skin's dewy radiant aura by improving skin tone and hydration. It also has niacinamide that helps reduce dark spots and uneven skin tone.
STEP 2: INCLUDE A MOISTURIZER IN YOUR SKIN CARE ROUTINE.
Moisturizer is non-negotiable in any skin care routine kung gusto mo maging young- and fresh-looking.
Using your fingertips, massage a coin-sized amount of cream on the face and neck in an upward circular motion, focusing on areas like the brow and jaw line. You can do this both in the morning and night.
Moisturize with Olay Regenerist Micro-Sculpting Cream. It contains niacinamide, which helps hydrate the skin to boost its elasticity. It also helps smoothen fine lines and wrinkles.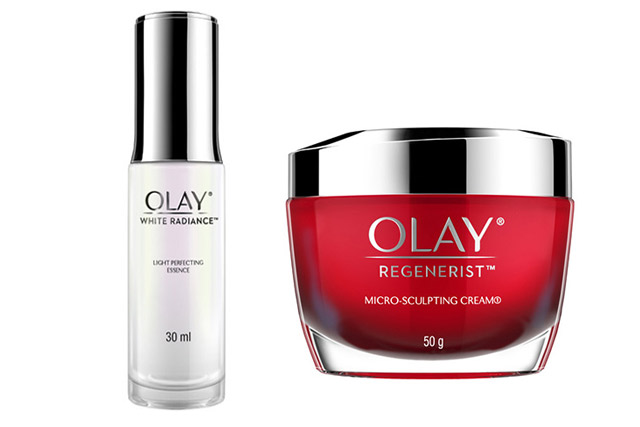 So before you reach for that concealer and slather on foundation, subukan mo muna na alagaan ang iyong kutis. With the help of this two-step routine, your skin will start looking fresh na fresh and even more maganda. Are you ready to bid your acne marks goodbye?
Olay White Radiance Light Perfecting Essence and Olay Regenerist Micro-Sculpting Cream are available in all major supermarkets, department stores, drugstores, and on Lazada. Visit this website to learn more about Olay's products.
ASC REFERENCE CODE: P129P041219O
Website
https://olay.com.ph
Read the story? Tell us what you think!
How and where can I get this?