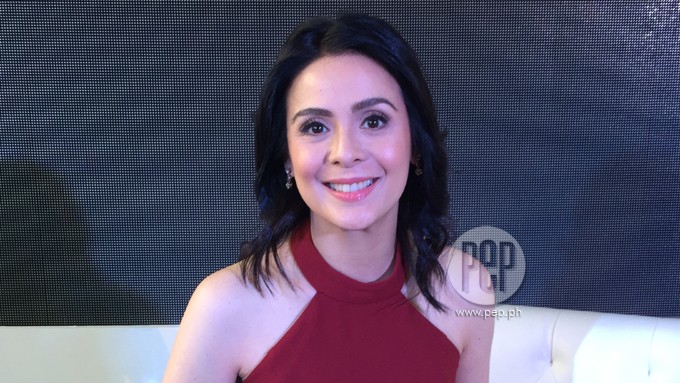 ---
If others are in denial about aging, that's not the case for Dawn Zulueta.
In an interview held at the Century Mall in Makati, during the L'Oreal Paris event, the Kapamilya actress did not hesitate revealing her real age.
She turned 47 on March 4.
"For me, aging is a manifestation of your wisdom throughout the years.
"The only worry I have about aging is becoming physically weak and ill.
"I hope I can keep my body strong and my posture upright all the way to the end."
Asked if she'll consider undergoing surgical enhancements to maintain her youthful looks, she replied, "Personally, I don't believe in cosmetic surgery.
"I believe in aging gracefully.
"And I can do that with healthy living, and, of course, having a good choice in your skin regimen."
We then asked her her beauty regimen.
1. Healthy lifestyle
On top of it is living a healthy lifestyle.
ADVERTISEMENT - CONTINUE READING BELOW
This can help delay the natural aging process, and prevent various skin problems. 
She said, "I take skin care seriously by eating well.
"I try to drink a lot of water.
"I try to get my eight hours of sleep pero siyempre mahirap din 'yan minsan sa trabaho natin."
Add to these, Dawn does ballet, pilates, and a little bit of boxing.
"I do ballet to tone like that, and, of course, I have also body treatments for slimming.
"And then a little bit of boxing, you have to sweat to detoxify."
How often does she exercise?
Dawn answered, "I am lucky if I can in twice a week because of the work schedule.
"But then, I try to do it, if I am not busy, three times a week."
2. Positive thoughts
Dawn shuns negativity.
"Of course, dapat peace of mind and reducing the stress.
"I think when you are happy and you know how to give back to other people, that is something that you cannot get from jewelry or acting award, maybe.
ADVERTISEMENT - CONTINUE READING BELOW
"There's a different treasure, feeling, and pleasure out of sharing yourself to the world.
"I think when you do that, the beauty radiates from within."
3. Invest in high quality products
Dawn was proud to say she's been using anti-aging products for more than 10 years now.
"Kasi na-realize ko when you are already in your 30s, as a matter of fact, I even tell this to girls in their 20s, 'Habang 20s pa lang kayo, dapat alagaan niyo na yung balat niyo.'
"Pero ngayon, sige kahit sa 30s mo pa, mag-umpisa ka ng skin regimen nang sa ganun you can already delay the signs of aging.
"Ako, awa ng Diyos, it's paying off."
Her anti-aging solutions are from L'Oreal Revitalift Laser line.
"You know, it work wonders for me," she beamed.
"Apply first the laser serum...then the eye cream prior to your day cream or night mask. 
ADVERTISEMENT - CONTINUE READING BELOW
"Do that first kasi unahin mo muna serum na ma-absorb ng skin mo."
Dawn also underlined, "I honestly think na a woman can maintain radiance and her beauty if she choose the right products.
"And these things are investment, yes, of course, but it will last and you look more natural as you age.
"That's is what I am trying to achieve."