Like it or not, aging is a natural process, thus, it cannot be avoided.
Good news is there are ways to "delay the ravages of time on your body or on your face," says Cory Quirino, 63.
And if you want to stall saying hi to wrinkles and fine lines, "the foundation of beauty" is "health and wellness."
This would entail the things we know but tend to take for granted: eating right, having eight hours of sleep, drinking at least eight glasses of water, exercising daily, and, at times, being happy.
She told PEP.ph (Philippine Entertainment Portal) during her launch as the brand ambassador of Novuskin Lift, "A lifestyle of wellness leads to beauty regardless of age.
"It is a very common greeting to me every time I see people, 'You're not aging, what is your secret?'
"So if it's just an ordinary greeting, which is supposed to last for about a minute or two, when they ask me what my secret is, we end up talking for a good thirty minutes.
"And I'm doing an on-the-spot workshop on wellness."
For two decades now, "My advocacy has always been wellness, but more than an advocacy, it has been a crusade."
One of her secrets: a naturally-derived food supplement packed with "18 extracts mainly from marine fish collagen, grape seed extract, and L-glutathione," which all have anti-aging and skin brightening powers.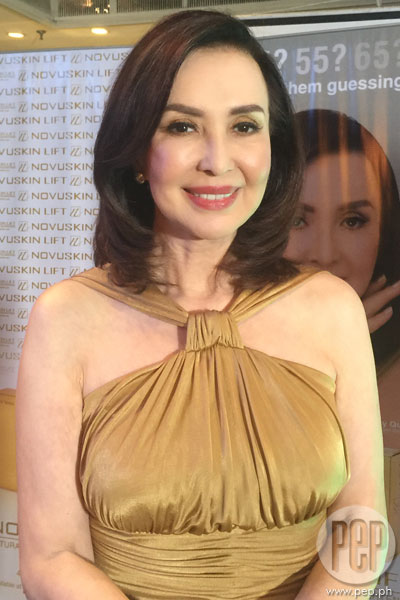 Meanwhile, for Charo Santos-Concio, age should not be used as a reason to slow down.
After her retirement as the chief executive officer of ABS-CBN, she returned to acting via Lav Diaz's Ang Babaeng Humayo.
In what she called her "serene sixties," she also found it a delightful surprise to endorse a beauty product.
She noted, "Age and beauty are not really opposites. They're friends.
"Good friends because with age comes a lot of wisdom, with age comes achievement, success, dignity, a lot of lessons learned, inner peace, calm mind, and serenity, and so I mean all of these equal beauty.
"So age equals beauty."
Also known for her drama anthology Maalaala Mo Kaya, her top advice was to "set your own standard of beauty."