When we see white hair, we tend to say, "Tumatanda na ako."
Then, we start concealing the white strands with hair color.
Why does it turn white anyway?
It can be genes, which set the pattern of hair color; lack of Vitamin B12, which, according to livestrong.com, accelerates the greying of hair.
Other causes: lack or no production of melanin, increased production of hydrogen peroxide, hormonal imbalance, and even stress.
But an old woman named Modesta from Ilayang Cawit, Marinduque, has not had a single strand of white hair.
She is 75 years old.
Makeup artist Tor Torre met her in 2013, but it was only in March 2017, during the week of Moriones Festival, that he decided to film her.
He uploaded a video on his blog site, where the secret to Modesta's jet black hair was revealed, thanks to "the mighty coconut."
According to Modesta, she has never used any shampoo, conditioner, and hair color products.
The coconut milk serves as her "shampoo," and the coconut oil is her "conditioner."
Tor wrote on his blog, "According to her [Modesta], there was no such thing as a 'shampoo' during her younger years, and that her ancestors have been using coconut milk to wash their hair."
She extracts the milk from grated coconut, and makes sure she chooses "younger" coconut to avoid "rancid" milk.
Modesta bathes every two days.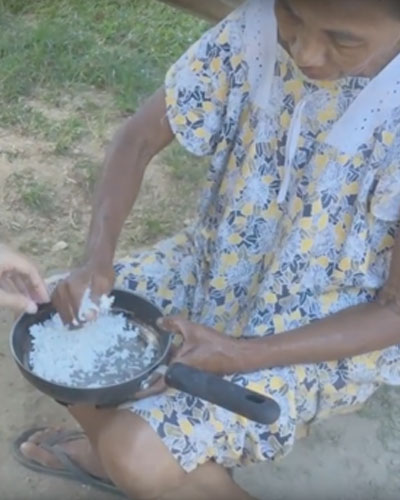 During the second half of the video, Modesta showed how she extracts the oil directly from the fruit.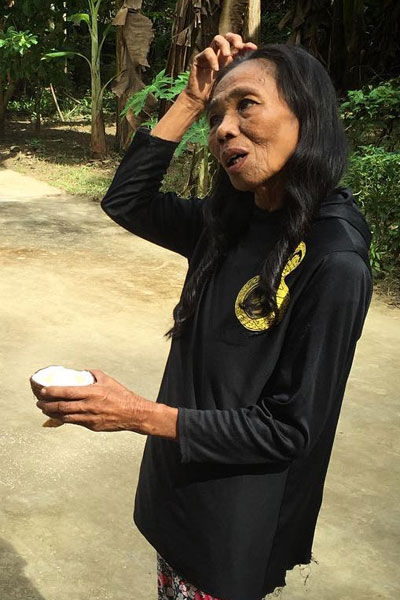 Here's her hair regimen.
Lastly, she reminded that rinsing your hair is an important step.
To see more about this story, visit Tor Torre's blog or watch the video below: