The entire Miss World court was in attendance during the Miss World Philippines 2017 pageant—where Laura Lehmann won the title.
Miss World 2016 Stephanie del Valle, a Puerto Rican, was there.
The Miss World 2016 pageant was held at the MGM National Harbor, Washington, D.C., United States, in December 2016.
The Miss World 2017 was held in Manila on September 3, 2017.
PEP.ph (Philippine Entertainment Portal) had the chance to interview Stephanie about what happened the night she bested all the other 171 candidates.
Back then, which countries did she consider the strongest contenders?
She recalled, "I would have to say, we were 172 girls during that time, you know, it was a very difficult pick for the judges.
"I got to know so many of them, and honestly, all of us, so unique, so magical, it is really amazing that anyone of us can easily be Miss World."
Did she get to meet Miss World Philippines Catriona Gray, who made it to the top five?
"I know, she's a fantastic young girl.
"Unfortunately, I didn't share much with her because we were so many girls. It's kind of difficult to know everybody," she admitted.
What was the most stressful part of the pageant?
"Preparing is the most difficult thing because I need to represent the country of mine. It's my island.
"Because you wanna do the best that you can.
"And so sometimes, the preparation could get difficult. But when we reached Washington, D.C., all of those worries were gone.
"We just enjoyed the moments that we were together," Stephanie said.
What was the most dreadful part of the pageant?
Surprisingly, she didn't really feel nervous even during the question-and-answer portion.
"During the final night, that night, I was so relaxed. I don't know why I was calm.
"The moment that I was dreading was the final question, but I stayed calm, and I just tried to answer the question as calmly as I could.
"And I just spoke with my heart," she said proudly.
DOING A DAYANARA TORRES. Given the chance, will she join showbiz?
The 20-year-old student affirmed, "Yes, I would love to enter showbiz!
"I'm studying communication law now to enter entertainment in the future.
"Of course I want to become a model, singer, because I love them. I just enjoy doing them."
Miss Universe 1993 Dayanara Torres, also a Puerto Rican, became a famous star in the Philippines during the '90s.
She stayed in Manila for five years, starred in three movies, became the "Dancing Queen" of ASAP, and hosted Easy Dancing.
Will Stephanie consider the idea of starting her showbiz career here in Manila?
"Yes, of course," she quickly replied.
"Why not? It would be amazing.
"I know that Filipino people love Puerto Rican people, like what happened to Dayanara Torres, who made her career here in the Philippines."
Here is the lot of them during the Manila pageant: (L-R) Miss World Asia Natasha Mannuela (Indonesia), Miss World Caribbean Yaritza Reyes (Dominican Republic)...
Stephanie, Miss World's Chairwoman Julia Morley, Miss World Oceania Madeline Cowe (Australia)...
Miss World Europe Lenty Frans (Belgium), and Miss World Americas Audra Mari (United States).
They all had a chance to join the Beauty with a Purpose charity advocacies of Miss World Philippines.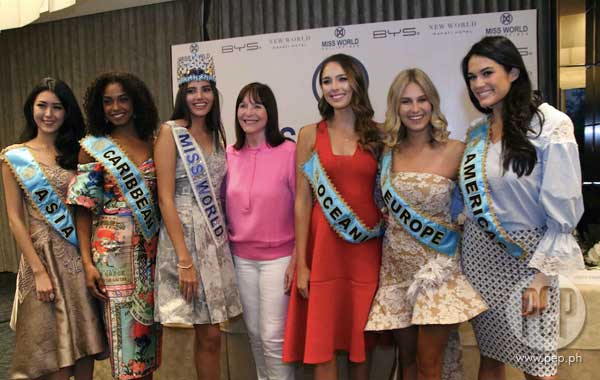 During their five-day stay in Manila, they visited the Jose Reyes Memorial Medical Center in Manila, the Tuloy Foundation of Fr. Rocky Evangelista for abandoned and street children in Muntinlupa, the Philippine General Hospital's pediatric ward, and Paraiso: The Bright Beginnings Project.