Like many of her peers in showbiz, Anne Curtis has long wanted to invest her earnings in a kind business she can be passionate about. It has been her dream also to launch her own makeup line.
One thing led to another and next thing, Anne Curtis was introducing her own brand of makeup, starting with a whole line of lipstick.
Why lipstick?
She said, "I always post my lipstick... putting on lipstick and whatnot.
"And people always ask me, 'Ate, what's lipstick shade? What's your contour, what's your blush?'
"I was like, it would be so much nice sana if I could give something to them that's attainable to them."
The Kapamilya actress afollowed up on her wish and last Wednesday, September 20, she launched her own makeup brand, blk cosmetics, at the Manila House Private Club in Bonifacio Global City.
The brand's initial offering is a line of lipstick that, according to Anne, is perfect for girls with no time to glam up.
She told PEP.ph (Philippine Entertainment Portal) in an exclusive interview, "This is perfect na 'lipstick na lang, okay na!'
"This is the brand for them because we have such wide range of colors, we have 15 colors that you can choose from."
"You can be, 'Ah, ito na lang ako today, okay na 'to!'
"Which is exactly how I am sometimes on It's Showtime."
Speaking of It's Showtime, does she mind being teased by her co-host Vice Ganda about her full lips?
She laughed, "Hindi na, after eight years sanay na ako… actually, we had a contestant on Miss Q&A, and then Vice was teasing me na naman.
"And then the contestant said, 'Ate, hindi naman talaga malaki yung bibig ni Anne Curtis in person.'
"Sabi ko, 'Okay guys, wait lang, please say it on national TV, ulitin mo.'
"I'm super unaffected by it, in fact, I think of it as an asset."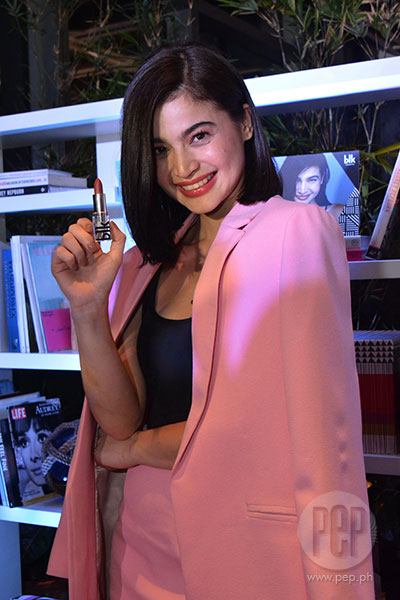 UNCOMPLICATED. Hollywood celebrities releasing their own makeup line is the current trend in the beauty world. Kylie, Katy Perry, and Rihanna have either launched their own collection or collaborated with existing brand for their enterprise.
But even before this became a trend among Hollywood A-listers, Anne had already thought about it.
She narrated, "Blk is actually years and years in the making because I've always wanted to come up with my own makeup line but I never got around to doing it."
She added, "If you go on my Twitter feed, and if really, really stalk like years and years back. I'd always ask people, 'What do you think about me doing out my own lipstick line?'
"I even did pa when uso pa like yung ano #AskAnne, I did ask [them] pa, 'What would you think is a good name for lipsticks?'"
So, why blk?
Anne said, "Blk is short for black because black, of course, is timeless. It's sophisticated, it's classy, it's simple, and of course, uncomplicated."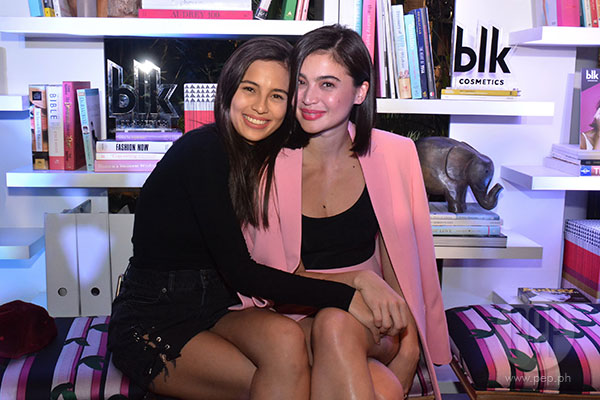 CELEBRITY ENTREPRENEUR. Anne said the time to really push through with her dream came when she met her would-be partners—Jacqe Yuengtian Gutierrez, Steph Abellada, and Roxanne Farilla.
She said, "It was actually perfect timing talaga when I met my partners—Steph, Roxanne, Jacqe, and Erickson.
"We were all taking about it, and they said, 'Why don't we put up a makeup line?'
"'Oh my god, I'm waiting so much for this to happen!'
She added, "It was actually so easy even if I was so busy because I came into this project knowing exactly what shades I wanted, what specific products I wanted, and it worked out."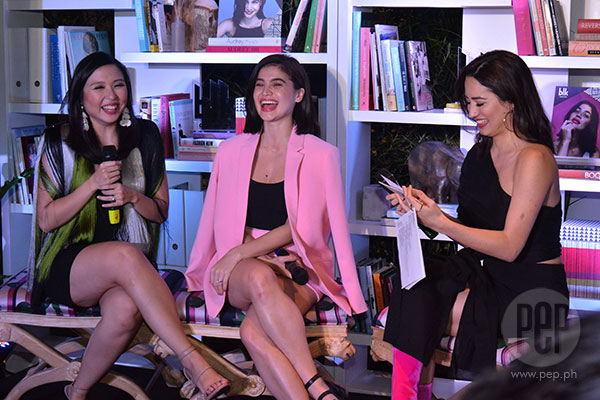 BUSYBODY. As the creative director of her own makeup brand, Anne said she is "super hands-on" with every aspect of the project.
She recounted, "Even if it was like three in the morning or four in the morning, that's the time if I'm on the set, to go through my e-mails and check the swatches. That's the only time I get to reply to her.
"Super hands-on with every thing, from how the packaging looks, the shades, the swatches, the pigmentation, every thing."
Anne said the biggest challenge in putting up a makeup line is to find suppliers approved by People for the Ethical Treatment of Animals (PETA).
She explained, "I don't want to have a makeup line that was not cruelty-free because I'm an animal lover. I have so many pets.
"I couldn't stand the thought of makeup being tested on animals so we made ours PETA-approved."