Nagparetoke ka ba?
People are usually quick to speculate, but are hesitant to ask this question.
And although beauty clinics openly advertise their services and treatments, their customers do not openly talk about their transformations, or in Pinoy talk, "retoke."
Do you know that some clinics have secret entrances for those who don't wish to be seen?
Even in showbiz, not many stars will publicly say that he or she has gone under the knife.
But—not Arci Muñoz.
Netizens had a field day talking about her new look last August, but Arci faced the music and gave Melba Llanera, contributing writer to PEP.ph (Philippine Entertainment Portal), her response to the burning question.
"It's my life, my rules," she said, before adding that she sees no need to deny the transformation.
"Deny? No, never, what's wrong with that?
"As if naman I committed a crime."
Netizens can speculate and criticize all they want, Arci couldn't care less.
"Hindi ako nagbabasa. Actually, hindi naman ako mahilig sa social media.
"Sabi ko nga, I'm just really amazed how people have so much time, they have so much time to things like this.
"I just really don't give...you know it already."
In short, she is not affected.
Arci is, of course, not the only person who has undergone a transformation.
And for the benefit of those who are curious about the entire process, PEP.ph approached a medical expert from the Philippine Association of Plastic, Reconstructive and Aesthetic Surgeons Inc. (PAPRAS).
PAPRAS is the only organization recognized by the Philippine Medical Association (PMA) and the Philippine College of Surgeons (PCS) to perform cosmetic, aesthetic procedures, treatments, and surgeries.
As for Arci, when her previous pictures were lined up, social media players concluded that Arci has had a nose job.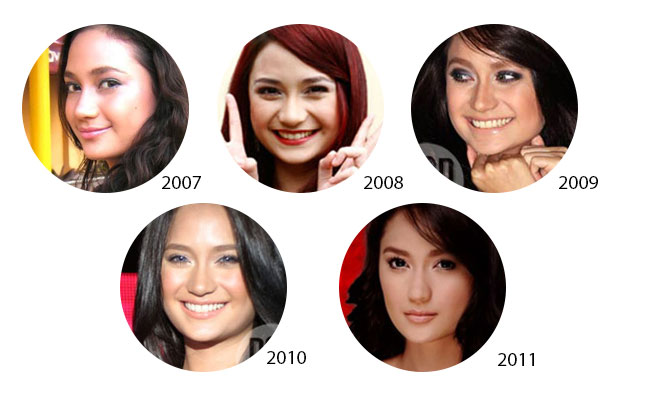 The medical expert used the term rhinoplasty, which "can change the projection of the nose [tangos], lapad ng ilong [Alarplasty/Alar trimming], remodeling of nose tip, making the nose narrower and shortening or extending the nose."
Before elaborating on the process, the medical expert requested anonymity, and made it clear that his/her explanation is simply based on the photos.
The medical expert explained: "These technical maneuvers in rhinoplasty can be done under local or general anesthesia.
"It may require a small incision closed technique wherein you just insert an implant [silicone or Goretex or bone or composite graft]; or, may require a longer incision [open technique] wherein you remodel the cartilage, bone, fats, soft tissue, and may simultaneously use an implant to improve projection, form and results."
Still according to the medical expert, the Kapamilya actress has possibly undergone several procedures from 2007 to 2011.
"With Arci, probably in 2007, she had a rhinoplasty to improve her nasal projection, para tumangos lang yung ilong.
"This was probably achieved using an implant.
"In 2008 to 2010, she probably had an implant change because of the projection changes, based on the photos.
"What is drastic is the nasal changes in 2011... kitang-kita dito na nagpagawa siya ng alar trimming at nasal remodeling and change of implant.
"Kaya naging makitid yung ilong at maliit yung dulo, lahat lumiit. Hindi naman nangyayari 'to na walang surgery.
"Sa tingin ko lang, nasobrahan sa bawas kaya naging sobrang 'narrow' yung ilong at nawala na tuloy ang pagka-natural nito."
Having different surgeons doing the procedure may also affect the result of a transformation, according to the medical expert.
"The goal of cosmetic surgery should be guided by the aesthetic proportions and measurements that make the nose looks good.
"But most of the time, the goals of each surgeon are guided by their subjective or personal preference.
"This is probably the reason, when you allow different surgeons to do repeat rhinoplasty on the same nose, results are always different and may even turn out to be much worse."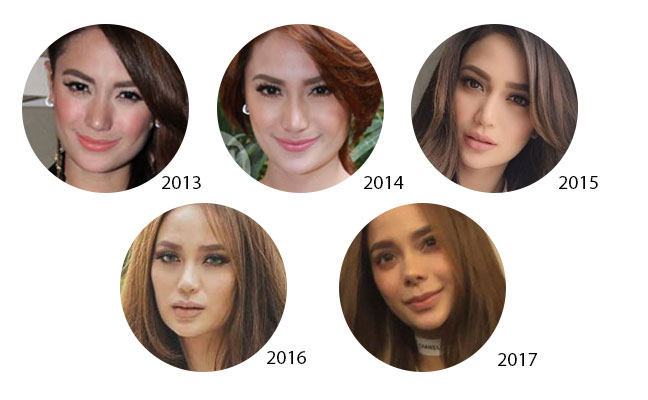 But no matter how different Arci looks now from her original look, it's her choice, added the expert.
"We cannot judge the result because this may be what she wanted..."
And to those who are considering to have another nose job, the doctor would remind: "...Kapag marami nang surgery, mahirap na ayusin dahil sa mga scars.
"Ang scars, lalo na kapag paulit-ulit, nagreresulta na sa complication, tulad ng over-rotation or shortening of the nose tip...
"Over-rotated yung nose and umiksi dahil sa scarring."
The medical expert also warned about acquiring a pig's nose.
"The septal support could collapse, forcing the lateral and tip cartilages to fall backwards, resulting in a pig's nose.'
"Mahirap na ayusin ito, and the more attempts in surgery, lalong nasisira ang ilong.
"Example si Michael Jackson, kahit may pera siya, hindi na mapaganda ilong niya kasi point of no return na siya.
"Unfixable, dead end, kahit ano gawin, at kahit madaming dasal."
But back to Arci's transformation, like it or not, she committed no crime and cannot be crucified for her transformation.