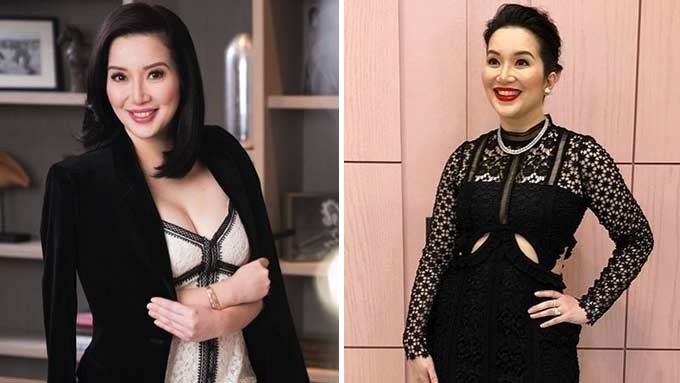 IMAGE Instagram @krisaquino
---
Kris Aquino believes that ageing gracefully is important.
Turning 47 on February 14, she said it's all about taking care of oneself not just physically, but also maintaining a strong core. 
At her solo presscon for Ever Bilena, held at EDSA Shangri-La last Saturday, January 27, Kris dished out 10 life hacks that help her battle not just skin ageing, but even the toughest trials in her life.
1. Appreciate your strengths and weaknesses.
According to Kris, beauty comes from accepting one's flaws, but it's equally important to acknowledge your positive traits.
"Kung alam mo na ito yung mali sa 'yo, tanggapin mo na lang na, 'that's me.' It's really acceptance.
"But it's also highlighting what you know is good about you.
"I acknowledge that there are so many more women who are much more beautiful than me.
"Pero kung labanan ng kutis, wala talaga akong pores!"
2. "Huwag umutang."
Kris elaborated, "Everything that I have, every business that I have, our home and all, has all been paid for in hard-earned cash.
"That was my mom's lesson—have no debts because there's a shelf life for my job.
"It is really dependent on the good will of the people. Yung puwede kang pagsawaan, puwedeng may isang false move and you're gone."
3. Everything is temporary.
Having such a mindset, according to Kris, makes life easier.
"When times are tough, you know na dadaan 'yan.
"But when the times are good also, savor every minute of it because it's really not gonna last forever."
4. Avoid too much sun exposure. 
Kris said that avoiding the sun is a sure way to preserve one's skin.
"Huwag mo naman pabayaan na maging kulubot ka kung puwede namang hindi.
"Avoid the sun. It's so hard to do, pero the worst time is between 10 a.m. to 2 p.m.
ADVERTISEMENT - CONTINUE READING BELOW
" And that's something I really meticulously try to do."
5. Drink lots of water.
Studies say that drinking at least eight glasses of water helps rid the body of toxins.
Kris, for her part, said, "I overhydrate. Medyo malala. I drink at least five liters a day of warm water.
"I drink a lot of lemon water because it's alkaline. Mga antioxidants are really important."
6. Have a go-to makeup that works.

A believer in sticking to the basics, Kris said that powder, lipstick, and "pang-kilay" are beauty must-haves.
"Regarding lipsticks, I love pink. Meron kaming pink dun sa  palette na sinabi ko, 'Ito yung gusto ko talaga.'
"But when you're wearing black, I believe, especially on an occasion like this, iba ang dating.
"Automatic glamor plus points talaga! It's a statement right away."
During the presscon, Kris wore red Ever Bilena lippies in the shades of Red Carpet and Thalia.
She added, "Super allergic ako to many things. And the very fact na hiyang ako sa lipstick nila means maganda siya talaga."
7. Your children come first.
Kris said that she works really hard to be able to give her sons Josh, 22, and Bimby, 10, a secure future.
"It's really hard to balance to become a big success and yet have the time to really focus on the kids, especially if you're a single parent.
"When you are a single parent, you learn what to prioritize."
8. Treat your people well so there will be loyalty. 
In her Quezon City home, Kris said she has a total of 14 staff living with her and her two sons.
"Be really good to the people who work for you and who support you.
"Ask my staff, ask those who live with us in our home.
"Give due respect because it's a relationship that is based on trust."
ADVERTISEMENT - CONTINUE READING BELOW
9. Choose your battles wisely.
Proof of which is the way Kris handles her bashers on social media.
"It really comes from not engaging in negativity. I think you've seen it, and I've tried to live it.
"I said this, every time someone tries to break me down or someone throws rocks at me, it seems heaven strengthens my wings. So I believe in that."
10. Believe in the power of prayer.
Kris cited how prayers helped her overcome disappointment after several failed attempts to make a TV comeback between late 2016 up to the second quarter of 2017.
"Gusto mo na sumuko talaga.
"Actually, my sisters, are telling me, 'You're rich enough. You don't have to do anything anymore. You can just live off your income.'
"And I said, 'No, I still feel I have to prove something.'
"So what I did, I did not stop praying.
"My mom said anytime anything good happens in your life, make sure: One, mag-thank you ka kay God. Two, i-share mo yung blessings na 'yan."