When health food store Healthy Options announced on Twitter last January 23, that it was restocking its supply of the much raved-about skin-care product, Aztec Secret Indian Healing Clay, local beauty addicts dashed to their nearest branch to be the first in line.
The line for Aztec Secret Indian Healing Clay at our Glorietta 2 store as of 8:50 a.m.! We hope there's enough for everyone!???? pic.twitter.com/1gRwYfZMB2

— Healthy Options PH (@_HealthyOptions) January 24, 2018
Long lines slithered across the mall pathways with each person out to get herself a tub of this "holy grail" of facial masks.
Stocks lasted for three days at most because on January 26, the store announced again that they would be restocking their supply of the Aztec healing clay on January 29.
In the post, they noted that 500 tubs would be allocated to nine selected branches around Metro Manila.
Beauty lovers were on high alert.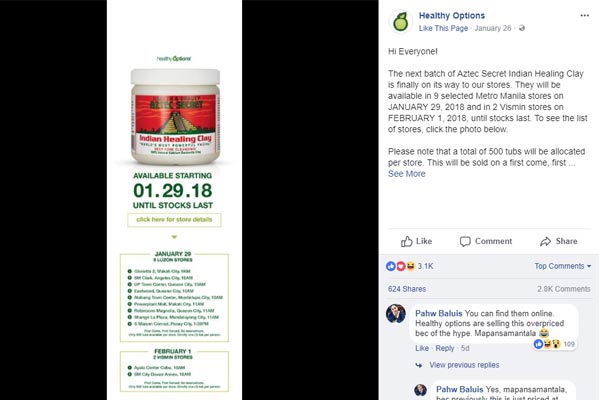 By 7:17 pm on January 29, the Aztec Secret Indian Healing Clay was sold out in four out of nine branches.
#AZTEC SECRET INDIAN HEALING CLAY STOCK UPDATE AS OF 7:17 PM:

UP TOWN CENTER: 24
ATC: SOLD OUT
POWER PLANT: 222
EASTWOOD: 176
S MAISON: 92
ROB MAG: SOLD OUT
GLORIETTA 2: SOLD OUT
SM CLARK: 50
SHANGRI-LA: SOLD OUT

See you there! ????

— Healthy Options PH (@_HealthyOptions) January 29, 2018
So, what's the big deal about this Aztec healing clay?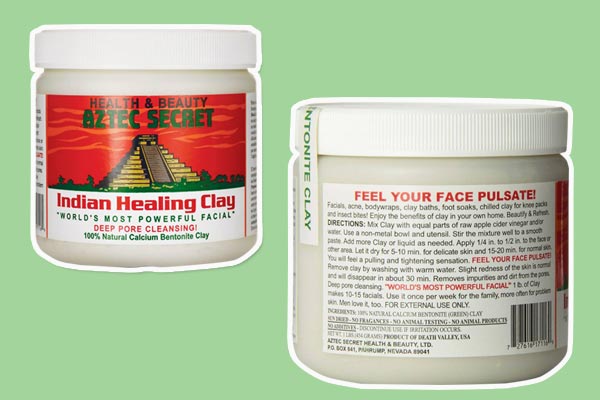 CULT FAVORITE. In 2017, it became the most reviewed beauty product on Amazon.com.
The self-proclaimed "world's most powerful facial" generated a total of 12,942 customer reviews on Amazon with 71% of the customers giving it a rating of 5 out of 5 stars.
Although there were one-star reviews in between, some customers backed up their glowing five-star reviews with before-and-after images.
Most of them were suffering from bad cases of acne breakouts before purchasing the product.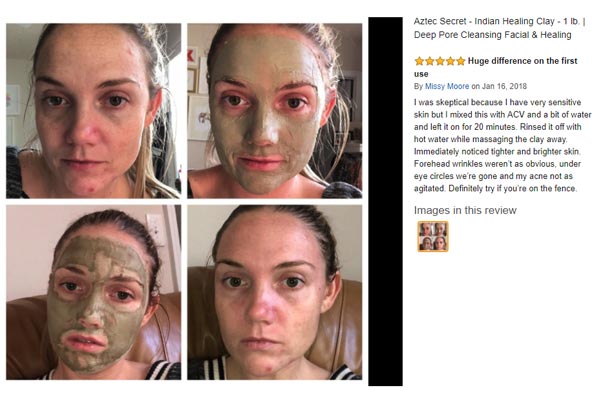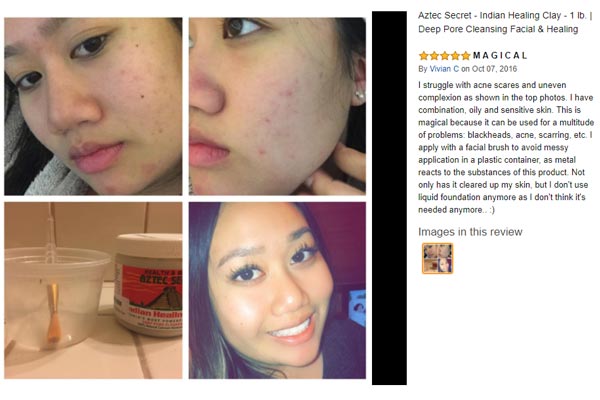 Some claimed that after one use of the Aztec clay, they noticed a difference in their skin.
One review read: "It has changed my skin just two times [after] using it… scars fades, acne shrunk, dark spots faded."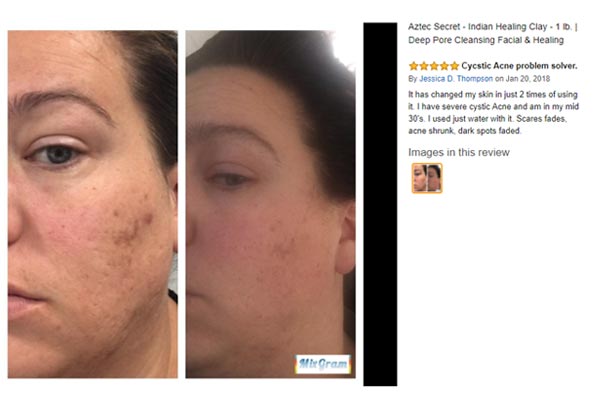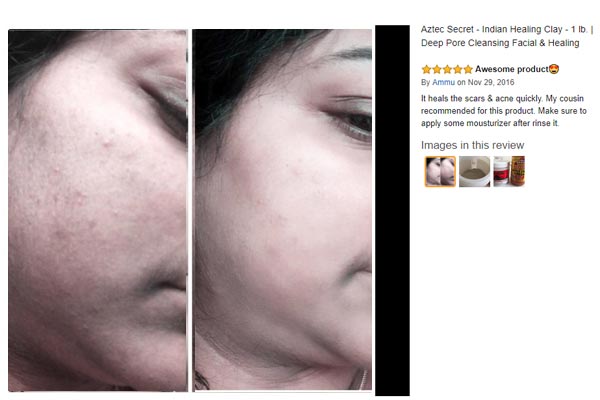 But what could possibly make it special?
BENEFITS OF CALCIUM BENTONITE CLAY. As stated on the product's old-school style label, the Aztec healing clay was made out of "100% Natural Calcium Bentonite Clay."
And according to its equally old-fashioned homepage, the calcium bentonite clay came from Death Valley, California, "where it is sun- dried for up to six months in temperatures that sometimes reach 134 degrees."
Calcium bentonite clay became a common ingredient in commercial clay masks, thanks to its ability to absorb toxins.
According to goodhealthacademy.com, bentonite clay has "many benefits" for the skin and even the hair.
It could "heal acne-prone skin," "ease the appearance of scars," and "control skin sebum production."
How?
For acne-prone skin, it could "help your skin to unblock its sebaceous glands which leads to acne, disinfect the pores which will kill the acne-causing bacteria that loves sebum build-up, and help to dry out and heal up whiteheads, blackheads, pimples, and other types of blemishes."
Bentonite clay could also "draw the blood flow towards the cheeks and T-zones of the face due to constricting the skin and tissues" and because of this, applying Aztec healing clay on your face would trigger a pulsating sensation.
The product's back label even wrote it twice in striking red letters: "FEEL YOUR FACE PULSATE!"
To ensure that the calcium bentonite clay would be "activated," it would be best to mix it with Bragg's organic apple cider vinegar.
ONLINE POPULARITY. While it was unclear when the U.S.-based skincare product entered the market, the Aztec Secret Indian Healing Clay only gained major attention among Americans in 2015.
It reached its peak in 2017 when everyone raved about it online, specifically on Amazon and YouTube.
Several local and international beauty bloggers tested the product on their respective Youtube channels and many of them swore by its pulsating clearing powers afterwards.