ABS-CBN actress Nadine Lustre is the latest celebrity to launch their own make-up line.
She called it Lustrous, a collaboration with BYS Philippines.
The 24-year-old star, who was the first Filipina celebrity to collaborate with the Australian-based cosmetics brand, launched her new products on March 23.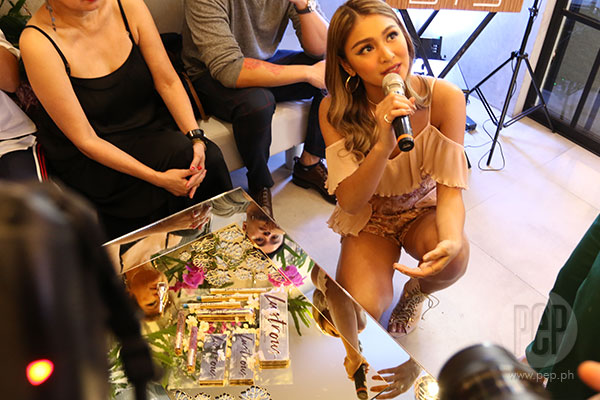 In an interview with PEP.ph (Philippine Entertainment Portal), Nadine thanked Angie Goyena and Tony Chua of iFace Inc., the exclusive local distributor of BYS in the Philippines, for giving her the liberty during the whole creative process for her make-up line.
Nadine said, "I was really excited because BYS is such a big brand...they're very adventurous, very playful siya, and I'm like that also.
"I like trying out new looks, and I like make-up as well, and it's nice to play around with make-up."
Her love affair with make-up began eight years ago.
In her interview before the launch, she recounted, "I think I started getting into makeup when I was 16. That's when I entered in showbiz.
"Because being in showbiz, you always have to look presentable, you have to look nice all the time.
"You have to look good in photos all the time."
LUSTROUS. Nadine worked on this project for almost a year.
It was inspired by the beaches and Mexican artist Frida Kahlo.
Nadine recalled, "Most of the photos I found interesting, most are beach photos.
"Like yung mga editorials, I get them from Pinterest, and then I just put them together.
"Most of them are beach photos of like Frida Kahlo-looking photos. You know, very colorful, vivid colors talaga."
The result was a 12-piece sea gypsy and tropical-inspired collection—eye-shadow palettes, bronzer and highlighter palette, mascaras, lip and cheek tints, eyebrow products, and eyeliners.
She worked with her close friend, graphic artist Soleil Ignacio, for the product's gold packaging.
Nadine resumed, "The packaging, I worked with my friend Soleil, she's the one who made the packaging for my perfume Luster.
"The concepts for the shoots and every thing, the whole look, it came from me."
One of her favorites: An eyeliner in Turquoise, which she wore during the launch.
Nadine explained, "It's nice to know when you go on a summer escapade with your friends, there's a beach party...
"It's nice to put konti lang, like put a bit of color lang to make your eyes pop."
She also liked her two eye-shadow palettes called Luna and Calypso.
She said, "I imagined like mermaid colors, so Luna palette is very colorful, but then if you try it, it's very shimmery and para siyang mermaid talaga.
"The other one naman is Calypso. I think it's more of the land kasi sea gypsy is water and the tropical theme naman is parang Frida Kahlo.
"That's what I imagined, so mga nudes...I have like red na shimmery and mga Earthy colors."
Nadine and her make-up artist Jelly Eugenio assured that her products are perfect even for morena girls who are afraid of experimenting with colors.
By the way, the shades were named after celestial objects and gem stones.
When asked about this, Nadine explained, "We just looked it up and we thought that those words, it fits the colors of the palette."
Nadine hopes that her makeup line would help women be the best they can be.
She said, "This is like a piece of my heart so I want everyone na bibili ng Lustrous na, 'I want this piece of Nadine that's gonna make me feel beautiful.'
"I love inspiring, I love encouraging, so I want my followers to feel empowered 'cause that's my personality."