Is there an ultimate beauty secret?
The three Miss Universe beauties—Demi-Leigh Nel-Peters of South Africa (2017), Iris Mittenaere of France (2016), and our very own Pia Wurtzbach (2015)—all revealed how they maintain their beauty, glamour, and sexy bod at the presscon for GRIT + GLAM World's Strongest Man held yesterday, May 7.
Iris said she works out a lot so she can eat what she wants.
"I do work out, and I eat...I work out a lot because I love food, I love eating."
The French beauty queen gave Jollibee a shout-out.
Smiling, she continued, "I prefer burger. I also eat rice, sometimes, at Jollibee, with chicken...
"I drink a lot of water, and a little bit of red wine."
On the latter, she gave a tip: "Just a little bit of red wine, and you will be glamorous! [Drink] The French one.
"I think it's the way you're living also, just being happy and enjoying life make you beautiful and glamorous."
Demi-Leigh agreed, "I think it is the mind state and to always just be happy."
She also underlined the importance of active lifestyle.
"And to me, I've always been into sports, I used to play hockey in high school and do field athletics.
"So it's always been a lifestyle for me to be healthy and to look after my body, and to give it the nutrition that it needs, and to be able to have it functioning in its best possible way.
"And that's my way of staying healthy.
"And I think what you put into your body is what shows on the outside."
On top of the 22-year-old South African model's beauty routine are these: "Drink a lot of water, and never sleep with makeup on."
Pia said in jest, "Copy paste."
Then she continued with this winning answer, "No, but seriously I agree with the girls that it really depends on where you're at in your life.
"If you're like truly happy, that will resonate in how you look like.
"So the way I see it is you just you need to balance every thing in life, like how, you know, you're working on your career, but you're also working on your personal life...It's really just balance."
The Pinay beauty added that the same thing holds true for her diet.
She said, "I don't restrict myself with anything, just every thing in moderation lang and then trying to keep active despite your busy schedule.
"So it's really just listening to your body, taking care of yourself."
She highlighted, "That's the best beauty product, it's your health."
REUNION. Iris and Demi-Leigh were then asked about the lessons they have learned from Pia.
Demi-Leigh answered first.
"Wow! I think there are so many things that it's hard to pinpoint one thing.
"But I think Pia is just always being such a timeless beauty to me, and she's always just being herself and staying true to who she is.
"And she is just always being so elegant and classy and stylish, and that really is something to look up to.
"And she's just such a phenomenal strong woman and… we don't know each other that well, but I know she is an extremely hard worker and I really look up to that."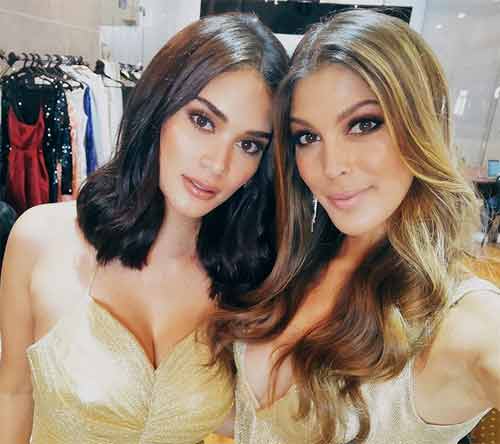 For Iris's part, she witnessed Pia's grace toward all the Miss Universe contestants when the pageant was held here in the country.
Iris succeeded Pia as Miss Universe 2016.
Iris recalled, "I was really impressed by her beauty, but more even by her kindness.
"She's so kind, we were almost 100 girls and she was talking to everybody, giving advices and being nice 24 hours a day.
"She's always nice.
"She never had like a moment down and I know she's working hard, and sometimes she's tired, but she is always smiling and always so kind.
"So I love you, Pia!"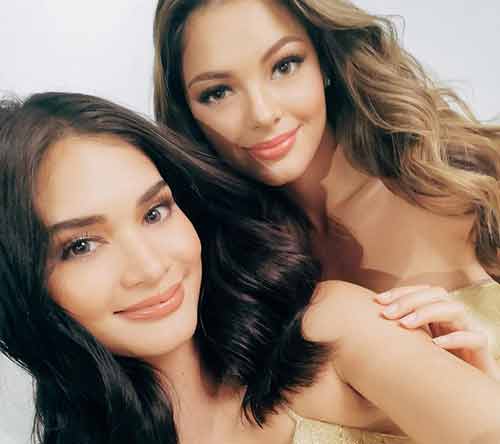 Present at the press conference were Miss Universe Organization President Paula Shugart and Icelandic actor Hafþór Júlíus "Thor" Björnsson, who emerged as the winner for the World's Strongest Man competition held in Manila from April 28 to May 6, and two other WSM contestants.
Sam Versoza, CEO of Frontrow, and Jonas Gaffud, head of EMPIRE.PH, also came.
At 5 p.m. today, May 8, the Miss Universe winners and the World's Strongest Man winner and participants will join forces at the GRIT + GLAM event at Cove in Okada, Manila.