While it is true that lipsticks are handy tools for enhancing your look, wearing them is not as simple as one, two, swipe.
Here are five common mistakes when you apply lipstick, and what you can do instead:
1. CHOOSING THE WRONG SHADE. Picking from a wide array of lipstick shades can be overwhelming, and you can sometimes end up with a shade that looks good in the tube but not so flattering on your lips.
Go for a shade that matches not just your skin tone but also your skin's undertone. Your skin tone is the color you see on the surface of your skin and is classified as fair, light, medium, tan, and dark.
Meanwhile, your skin's undertone can be warm, cool, or neutral. A quick way to know is to check the color of your veins on your wrists.
If you have light green veins, then your undertone is warm. If they're light blue or purple, your undertones are cool. If you have both, then your undertone is neutral.
For cool undertones, steer away from shades that are too light, and opt instead for ones with blue or purple undertones.
For warm undertones, choose red and orange shades. If you have an olive skin tone, try pink nudes or corals.
Most shades look flattering on those with neutral undertones.
Try Careline Kiss Sticks, which come in 12 different shades that cater to different skin tones and undertones.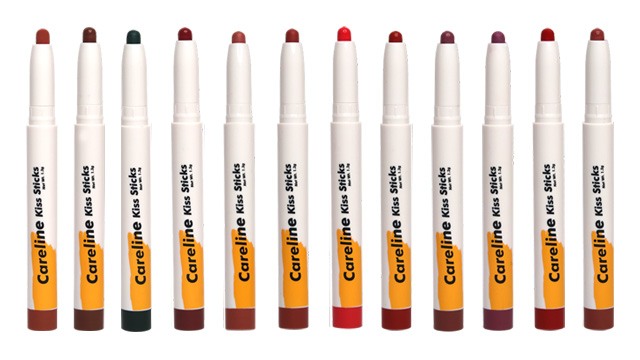 Choose from All Day, GRRRL, Martian, Edge, Vacay, Lady Like, Fruit Punch, Just Better, Lucid, Mantra, Native, and Pinch. Check out what they look like here.
2. NOT USING A LIP LINER. Lip liners make your lips look fuller, prevent your lipstick from bleeding and make it last longer.
Choose a lip liner that either matches your lipstick color or the color of your lips. When you use one close to your lip color, it helps enhance your cupid's bow and create symmetry.
The great thing about Careline Kiss Sticks is that it doubles as a lip liner.
3. NOT USING A LIP PRIMER. Just like a primer for the face, a lip primer makes sure your lipstick glides on smoothly and lasts all day.
Pair it with a lipstick that is easy to apply and is pigmented, like Careline Kiss Sticks, for long-lasting color.
4. NOT SETTING YOUR LIPSTICK. It's tempting to apply your lipstick in a hurry, and oftentimes you don't set it, so it ends up feathering or bleeding a couple of hours later. Remember these three things: blot, powder, and coat.
After applying your lipstick, blot with a tissue to remove the excess oil from your first application. Then you can either apply powder directly on your lips or above the tissue. Next, apply a second coat.
5. NOT CARING FOR YOUR LIPS. When you use lipstick every day, it's a must to exfoliate once or twice a week to get rid of dry skin, which is especially troublesome when you apply matte lipsticks.
The easiest way to exfoliate is to use your toothbrush to gently scrub your lips. You can also make your own lip scrub with brown sugar and honey.
Exfoliate during bedtime, and follow it up with lip balm to nourish your lips while you sleep.
It's also important to choose makeup that won't harm your skin. Careline Kiss Sticks, even if they have a matte formula, are enriched with anti-oxidants that help keep your lips soft and kissable.
Lipsticks are great, but it can also ruin our look when applied incorrectly. Thankfully, these mistakes can be remedied with the right makeup like Careline Kiss Sticks.
Careline Kiss Sticks are available in drugstores and department stores nationwide.
This article was created by
Summit Storylabs
in partnership with Careline Cosmetics.
Read the story? Tell us what you think!
How and where can I get this?
More From Careline Cosmetics