Do you have buhaghag hair? Na kahit suklayin mo, mukhang magulo at dry pa rin? While most women want their hair to be healthy, smooth, and straight, not everyone is blessed with naturally silky and shiny locks. Not everyone has the time and extra budget as well, so having a Brazilian blowout at a salon is not always an option.
But you don't need to spend at least two hours and shell out PHP2,500 (or more!) to enjoy buhaghag-free hair. These budget-friendly tips can help solve your hair problems.
1. CHOOSE A MOISTURIZING SHAMPOO.
Some shampoos are too harsh and can strip your hair of its natural oils. Nakaka-dry at frizzy ito. When choosing a shampoo, pick one that can help nourish your hair and keep it moisturized. The Pantene Silky Smooth Care Shampoo (SRP: PHP109) is a good option, as its creamy formula helps balance your hair's moisture, making it feel smoother and silkier.
2. UPGRADE YOUR PILLOWCASE.
Some hair-care experts say that changing your cotton pillowcase to a satin or silk one can help tame buhaghag. It lessens the friction on your hair—when you're in bed—which adds to the flyaways and frizz. Genuine silk pillowcases sell for about P750. Another option is to wrap your head in a silk scarf before sleeping to achieve the same effect.
3. SQUEEZE EXCESS WATER FROM YOUR HAIR USING A MICROFIBER TOWEL.
After showering, instead of using your ordinary terry cloth towel to dry your wet hair, squeeze out the excess water with a microfiber towel (about PHP250 in some stores). If you don't have one, an old cotton T-shirt will do. Remember not to rub! This will create friction that will just make your hair even more frizzy.
4. USE A DIFFUSER WHEN GETTING A BLOW-DRY.
If you can't avoid using a hair dryer, make sure to use a diffuser attachment. It helps limit the heat you're exposing your hair to when blow-drying. And because the strands of your hair won't be pulled and tugged at, this helps lessen the frizz and creates smoother waves. A diffuser can cost you about PHP180 (attachment only). For a hair dryer-diffuser combo, you may need to spend PHP1,200 or more.
5. CARE FOR YOUR HAIR USING A NOURISHING CONDITIONER.
There's no need to visit the salon if you want to get a hair treatment. You can use a nourishing conditioner specifically formulated to help control frizz, dryness, and buhaghag.
Pantene 3 Minute Miracle Conditioner (SRP: PHP149) helps to smoothen and nourish the hair and contains ingredients that help prevent further damage. It comes in several variants, too: Total Damage Care for damaged hair, Silky Smooth Care to tame frizz, Hair Fall Control to address thinning locks, and Color & Perm Lasting Care to help keep chemically treated hair healthy.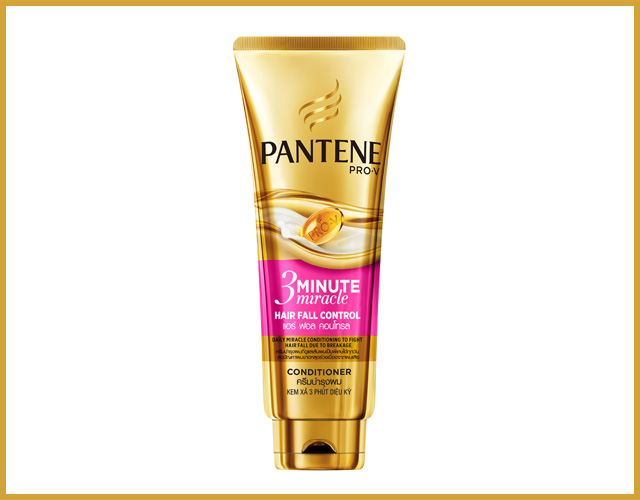 Celebrities like Anne Curtis swear by Pantene 3 Minute Miracle Conditioner and make it an essential part of their daily hair-care routine. It helps keep her hair smooth and straight, especially on days when her schedule is full and she needs to look good and presentable the whole day.
Even artistas know that you don't need to blow your budget to achieve beautiful hair—not when there are affordable and readily available products that can help keep bad hair days at bay.
Pantene 3 Minute Miracle Conditioners are available in leading supermarkets, groceries, and beauty care stores nationwide. To know more about Pantene's products, visit its official website and follow its Facebook page.
Website
https://www.pantene.com.ph/en-ph
Read the story? Tell us what you think!
How and where can I get this?