Women—young and old—aim to have super makinis na kutis that's healthy, smooth, and blemish-free, but not everyone can afford expensive facial and skin treatments to get it. There is, however, an easy and quick solution to have smoother-looking skin—makeup.
Here are six simple ways makeup can be your best friend when it comes to achieving that makinis look.
1. USE THE RIGHT MAKEUP FOR YOUR SKIN TYPE.
Before buying makeup, observe your skin. Is it oily or mamantika? Is it dry? Then test different makeup formulations to see which one will work best with your skin type. Oil-based makeup is more suitable for dry skin, while a water-based formula can manage oilier skin types. 
2. DON'T SKIP THE PRIMER.
Putting on primer allows your foundation to go smoother on your face. It also makes your makeup last longer because it gives it something to hold on to. Primer usually comes in cream and gel types. 
3. PICK THE RIGHT CONCEALER.
Be mabusisi about finding the right shade of concealer. It should be one or two shades lighter than your foundation shade to avoid calling attention to your blemishes.
4. KNOW WHICH BEAUTY TOOLS TO USE.
Fingers, brush, or sponge? Makeup artists and beauty experts say it depends on what you want to achieve with your makeup. Sponges like beauty blenders are porous and allow the makeup to blend naturally with your skin, your fingers give a slightly more concentrated amount of makeup, and brushes give a thicker coverage.
5. PUT ON LIQUID FOUNDATION.
A full-coverage foundation can help make your skin look more makinis. Revlon ColorStay Full Cover Foundation (SRP: P825) delivers a full-coverage, matte finish that can last the whole day. It also has a range of shades that will complement the different skin tones of Pinays—from mestiza to morena. And because it's a liquid formula, it's easy to apply and won't end up cakey.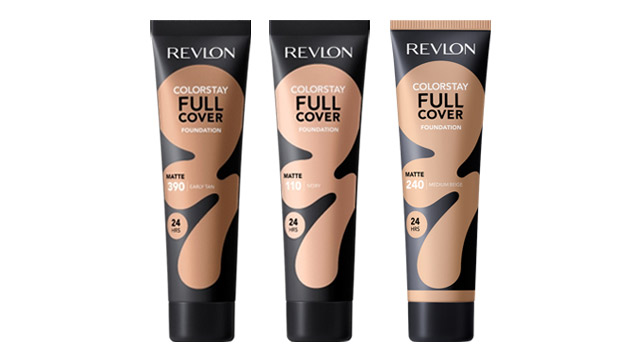 Getting smoother-looking skin doesn't have to cost you weekly trips to the derma or expensive procedures. All you need to do is find the right makeup products that work well for you.
To know more about Revlon ColorStay Full Cover Foundation, follow Revlon Philippines on Facebook.
Read the story? Tell us what you think!
How and where can I get this?