Maria Isabel Lopez proves that it's never too late to say "I do" to the right person.
At 60, the former beauty queen turned actress married her Jewish partner, Jonathan Melrod, in an intimate wedding ceremony held on June 9, Sunday (U.S. time).
The wedding was held at Ranchito Milagro, a farmhouse that sits on a four-acre estate built in the 1850s. Located in Sebastopol, Sonoma County, California, it is also where the couple currently lives.
Here are some details Maria Isabel exclusively revealed to PEP.ph (Philippine Entertainment Portal).
MARIA ISABEL LOPEZ'S BRIDAL LOOK
Maria Isabel stepped out in a long-sleeved mermaid-cut bridal gown made by her good friend Casandra Dy.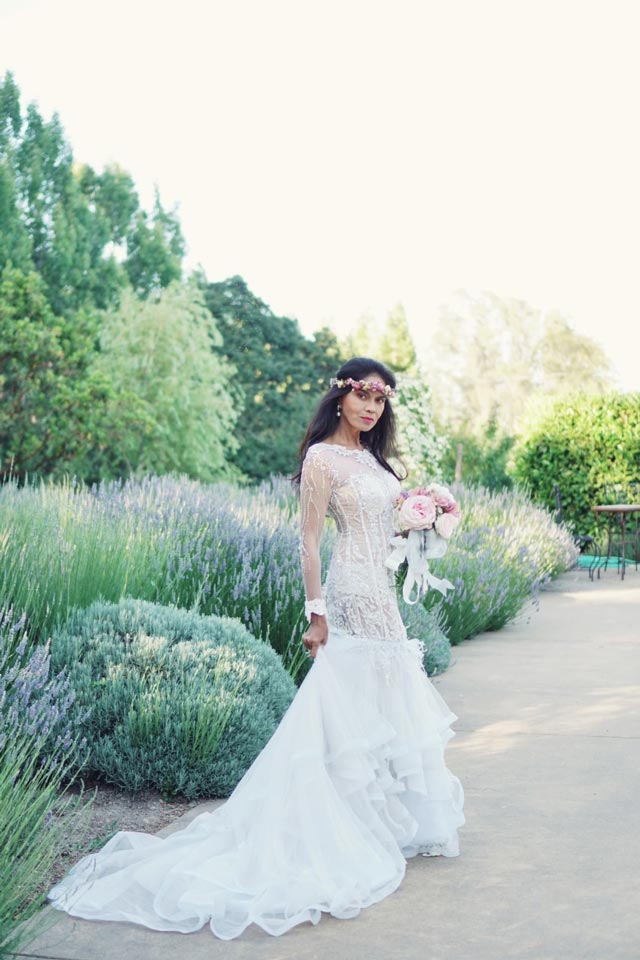 Her hair and makeup were done by Eh Kasi Babae star Debbie Miller.
Debbie now owns a salon called Shear Perfections Hair Studio in California.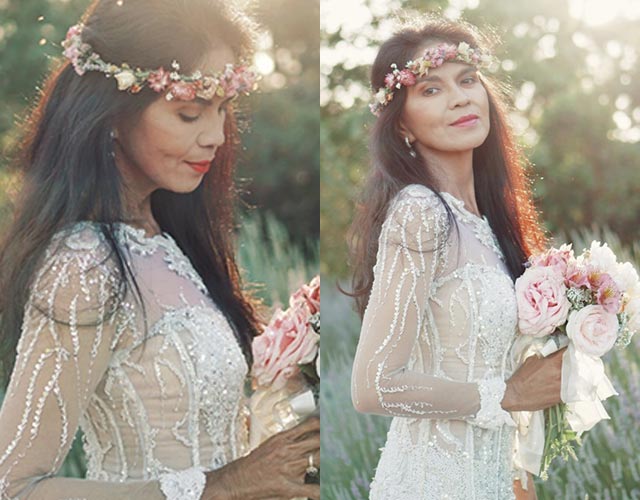 MARIA ISABEL'S "NON-DENOMINATIONAL" WEDDING
In an interview with PEP.ph via Instagram's direct message, Maria Isabel described their wedding ceremony as "non-denominational."
She explained, "The ceremony is non-denominational which is the universal religion whether you are a Christian, Jewish, Buddhist, etc."
Former Hollywood actor Michael Larrain officiated their wedding, which, Maria Isabel said, was two years in the making because she had to fulfill her showbiz commitments here in the Philippines.
She continued, "It took me two years because I was busy with my soap operas (Haplos, Ngayon at Kailanman), film Lola Igna, and producing a film called Bai Bibyaon, etc."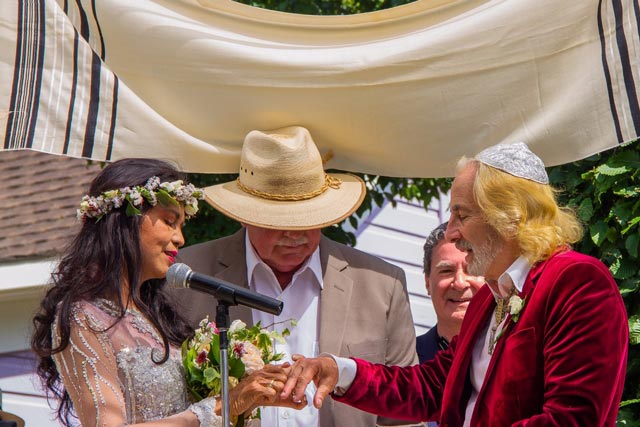 The couple's dearest family members did not miss the chance to witness their wedding.
Jonathan's sons Noah and Eli Melrod (both on left) and Maria Isabel's children Ken and Mara Yokohama (both on right) stood by their side as the bride and groom recited their wedding vows.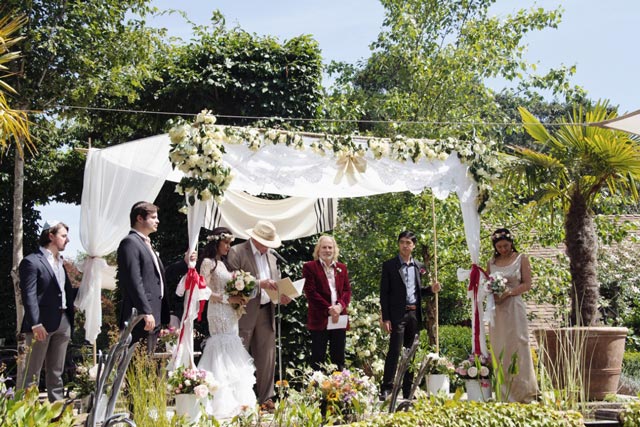 Here's Maria Isabel with her son Ken (left) and her stepsons Eli and Noah.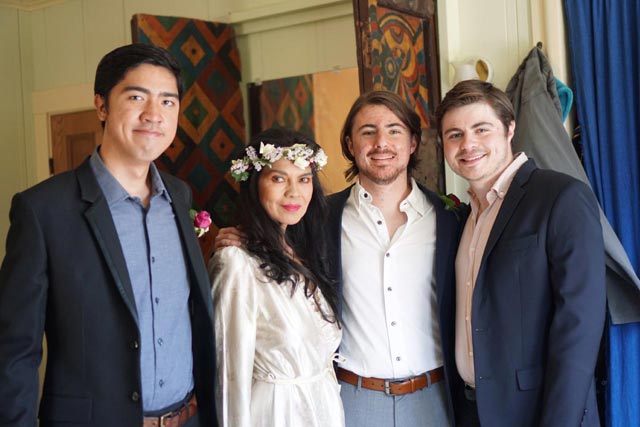 Asked how her children reacted upon learning that she has fallen in love again, Maria Isabel said she has their full support.
She elaborated, "They love Jonathan. And vice versa.
"If you marry, in the olden days, we listen to our mothers.
"In this generation, you listen to your children.
"If they're happy with your choice, everybody's happy."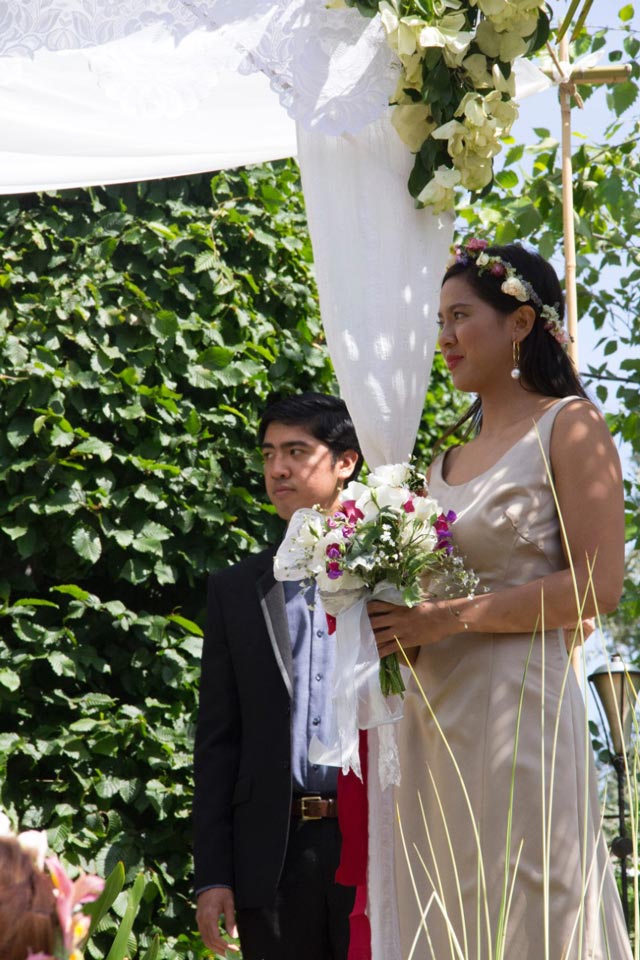 Maria Isabel's 93-year-old mother, Crescencia Lopez, also went to witness Isabel's second wedding.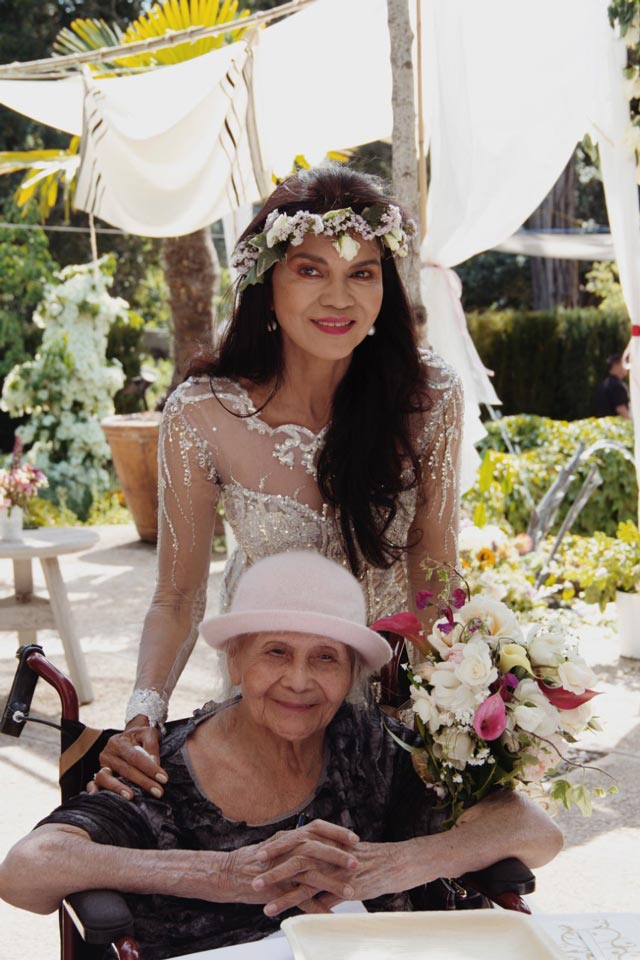 The wedding's concept merged Filipino and Jewish traditions.
Maria Isabel told PEP.ph, "We maintained Filipino traditions such as the cord, the usual pronouncement, but there will be the breaking of the glass, Jewish."
According to the book The Jewish Way in Love and Marriage, this custom was practiced as early as the 14th century as a reminder of the destruction of the Temple in Jerusalem, and that even at the height of personal joy, the newlyweds would remember the pain suffered by the Jewish people.
Aside from traditions, Maria Isabel also chose to marry the two cultures through music.
She wrote, "This is a Jewish-Filipino wedding so we had the Complicated Magic band, an all-Filipino band based in Sacramento (with my sister Estela as one of the singers), which will do the traditional money dance, and a klezmer band in San Francisco.
"Proceeds of this money dance is for the benefit of the Lumads," referring to a group of indigenous people in the country.
The couple also did the traditional Jewish dance called the Horah.
She narrated, "The traditional klezmer band had the Jewish dance where the bride and the groom are being carried on a chair."
Meanwhile, her wedding cake was made by Liza Gino, her runner-up at the 1982 Binibining Pilipinas pageant.
After the wedding, is she going back to the Philippines? Is she going to leave showbiz for good?
Maria Isabel replied, "Do some traveling, Burning Man in August, September is at the Melrod house in Martha's Vineyard etc.
"To focus on my art (he is my art patron) and build my studio here in Sonoma county.
"I will shuttle back and forth between Manila and U.S. and will only choose projects worth doing."
Burning Man is an annual art event held in Las Vegas, Nevada.
MARIA ISABEL AND JONATHAN'S LOVE STORY
How did the two of them meet? The actress said their romance bloomed unconventionally.
She shared, "We met 2014 in an online site called Match.com in the United States.
"(Due to some Pinoy Scammers) FYI This site is blocked in Philippines.
"So my sister, Estela, manages and screens the men who show interest."
And what was her first impression of Jonathan?
Maria Isabel answered, "First impression was he looks like a hippie. Long hair. Dirty rubber shoes but I had to see the inner heart—he is a man of character."
Nonetheless, she gave Jonathan a chance, and discovered more about him as they chatted online.
She learned that her Jewish-American husband is a retired human rights lawyer who also shares her passion for the arts.
"He's very smart with golden heart-very loving, deeply principled man and compassionate.
"We share the same advocacies, human rights, fighting for the indigenous people of the Philippines."
Maria Isabel added, "He produced the film Bai Bibyaon with Liza Maza [activitist].
"He is also an art enthusiast supporting my artist life in California setting up my art studio."
How did their first meeting go?
Maria Isabel said her then-boyfriend flew all the way from the U.S. to the Philippines.
"We met in Manila and first meeting, he handed me a bunch of lavender flowers."
Their first date happened at the Cinemalaya premier of Kna, the Dreamweaver.
Three years after they started dating, the couple decided to take their relationship to the next level.
The former beauty queen told PEP.ph, "We communicated on Facebook, and Skype.
"We've been dating for 5 years and then he proposed in Vietnam in 2017."