Maria Isabel Lopez, 60, and husband Jonathan Melrod, 69, prove that falling in love has no age limit.
All eyes were focused on the blushing bride as she walked down the aisle for the second time in a Jewish-Filipino wedding ceremony held on June 9, Sunday.
Their closest friends and family gathered to witness their union at Ranchito Milagro in Sebastopol, Sonoma County, California.
In an interview with PEP.ph (Philippine Entertainment Portal) via Instagram messaging on Tuesday, June 18, Maria Isabel said their exchange of wedding vows was one of her favorite moments during the ceremony.
MARIA ISABEL LOPEZ'S WEDDING VOWS
The beauty queen turned actress started her two-page wedding vows by looking back at their five-year journey as a couple.
She also expressed her gratitude for having Jonathan in her life.
She said, "In 2015, on this place, I wrote the wish list for 2016.
"Written are the words 'an engagement ring, and a wedding date with Jon.'
"It DID happen after 1 year and 1 day.
"For on New Year's Day, 2017, in Vietnam, you proposed, in our hotel room, with my hands sticky—full of mangoes I was cutting.
"I am so grateful that God has granted all the desires of my heart.
"I look forward to being ONE with you.
"Until now, I ask myself, what have I done to deserve you?
"I must have done something good?
"Or you just worry about my future in the Philippines because Health Insurance stops when you're 60.
"And this marriage is based in compassion of me not having a health insurance when I needed it most.
"Or is it because you are in dire need of a caregiver after 2 surgeries last year?
"Whatever is your motivation in marrying me, I want to say that I look forward to becoming Mrs. Melrod."
Toward the next half of her speech, Maria Isabel listed down all of the promises to her husband for the rest of their lives.
She wrote, "Therefore, I vow to watch more Netflix series with you... while I bake and serve your diabetic friendly cakes and pastries—sugar free, low fat, Hi-Protein, Low Carb, and Guilt free.
"To walk hand in hand in fighting for what we believe in, giving a voice to the indigenous people in the Philippines.
"To harvest and create beautiful flower arrangements as I know this is your source of joy...
"FYI, Jon spent a fortune on this garden costing him tens of thousands of dollar, more than this wedding, to continue my diet and fitness routine, and other anti-aging regimen. Because I know that men are very visual, and you might drive me away if I don't look like your daughter anymore…
"To continue to force you to eat well—eat more greens, salads, and smoothies. Be by your side as monitor your blood sugar and your blood pressure.
"I vow to add more years into your life, to keep you healthy and strong until 10 years and 1 day, when I can already claim my Social Security Benefits. Joke!!
"Seriously, I vow to give you the tender loving care of a Filipina—known to be the world-class caregivers around the World.
"To learn more of the Jewish Culture, and to experience Shabat and Passover dinners together.
"To wean you off your medicines, and substitute laughter, for I look forward to waking up next to you for the rest of our lives, and building great memories till the end of time.
"I promise to sometimes take cannabis with you, even though I am not a big Cannabis fan, as we go through life's journey together—in good times and bad times."
To end her speech, Maria Isabel promised, "I know that you are indeed human, prone to making mistakes, and drastic decisions at times… but I have to say, that you have one of the most fertile, and beautiful minds I have seen with the biggest heart in the planet.
"I vow to make this last marriage of ours the most beautiful, and the happiest ever.
"Indeed, Fairy tales come true."
JONATHAN MELROD'S VOWS
For his part, Jonathan had his wedding vows written on 26 index cards.
The retired human rights attorney only had good words for his wife as they begin another chapter in their lives.
At one point as he was reciting his wedding vows, he said, "Every model wedding vow on Google repeats the same hackneyed refrain, but in this case I truly mean it.
"I can honestly say that I've found the love of my life, my best friend, and my life partner.
"It may have taken 68 years—actually as of tomorrow 69—but I'm there now.
"Believe me, I've had plenty of time to practice, and I've made most mistakes that can be made. I've heard it said that marriage is based on sacrifice and compromise.
"But my 68 years have taught me that in fact, marriage is a foundation, a mutual foundation or growth and understanding that will make us infinitely stronger and bring us infinitely closer as a couple.
"I now know that as I grow older there will always be someone there for me and I for her."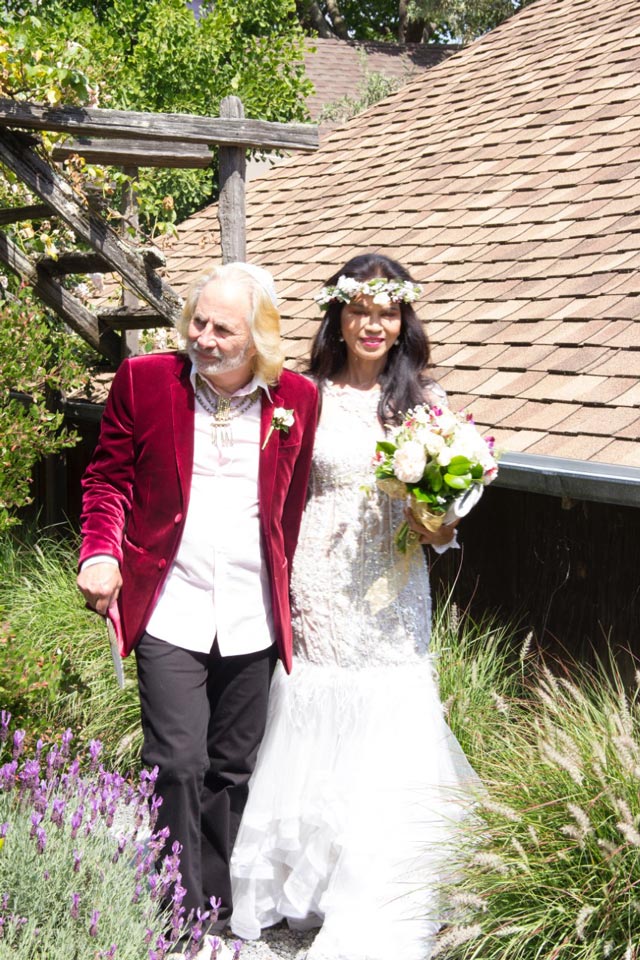 On the latter part of his vows, Jonathan expressed how happy he is to be sharing the rest of his life with Maria Isabel.
He said, "Looking over at my bride dressed in a designer gown with Swarovski crystals—a step above the $125 gown I bought her on ebay—I feel like I must be in a dream.
"I feel truly blessed to be marrying Isabel today.
"I only hope that I can be there for you as our kids grow up and we get older.
"I hope that I can be there for you as you've always been there for me over the past 5 years.
"As I gaze over at you, I feel blessed that today and forever I will wake up next to my very own beauty queen.
"And I promise no one will ever threaten to take your crown away again."