Andi Eigenmann's three-month-old daughter Lilo is now baptized.
Andi and partner Philmar Alipayo hold an intimate ceremony in a church in Siargao.
Ellie, the actress's seven-year-old daughter with former boyfriend Jake Ejercito, is present.
The celebrity mom shares some snaps of the intimate affair on Instagram Stories.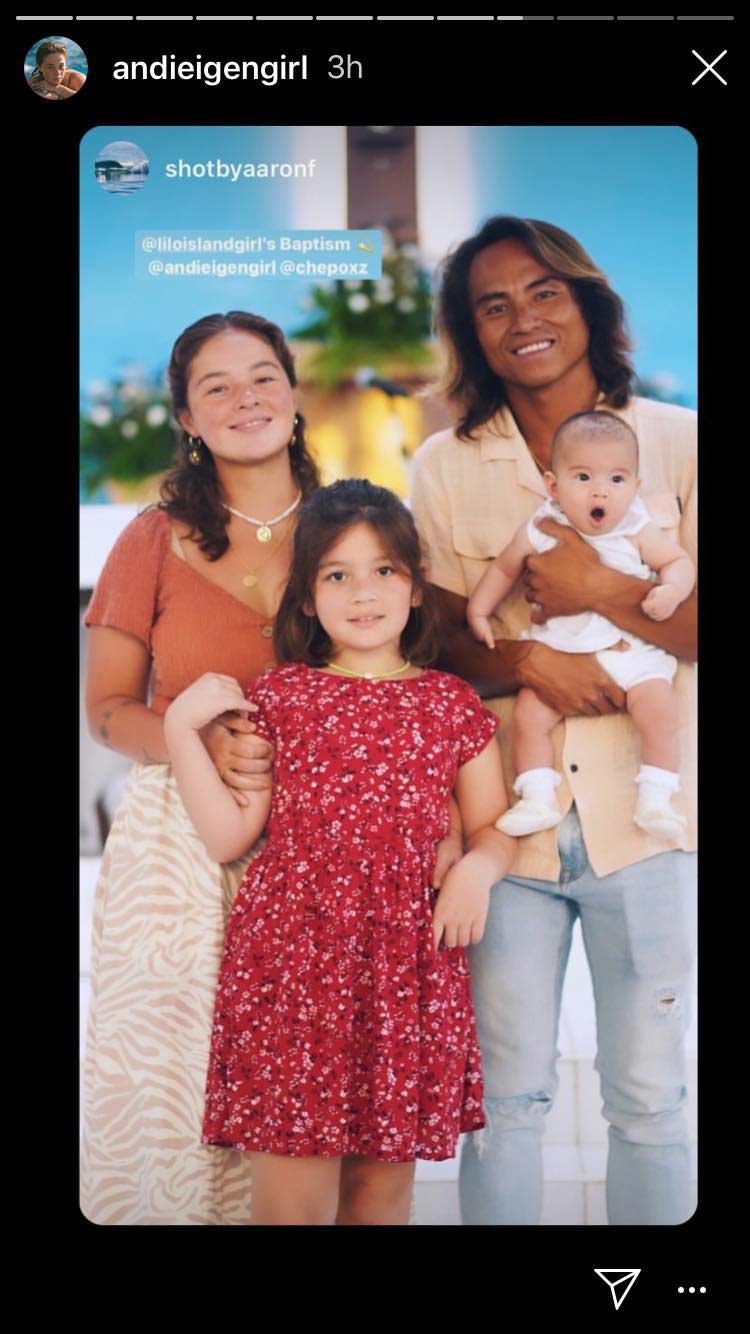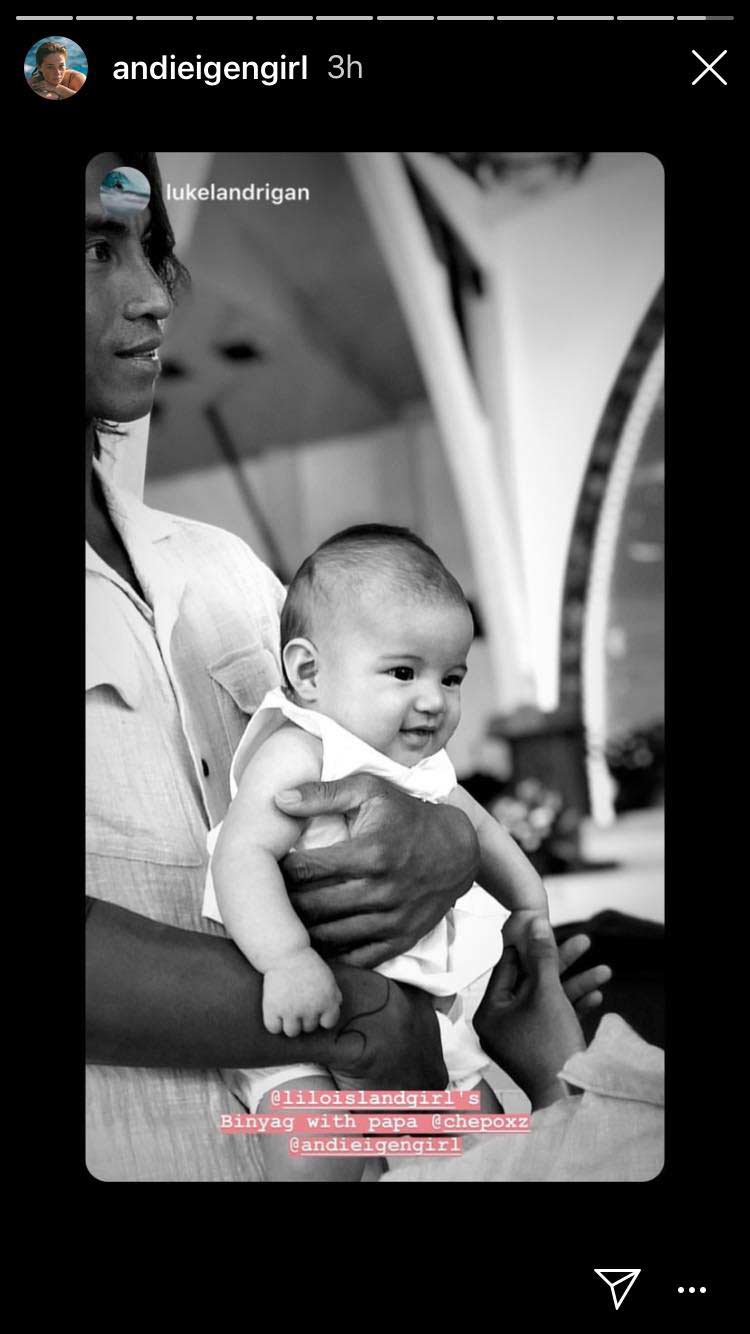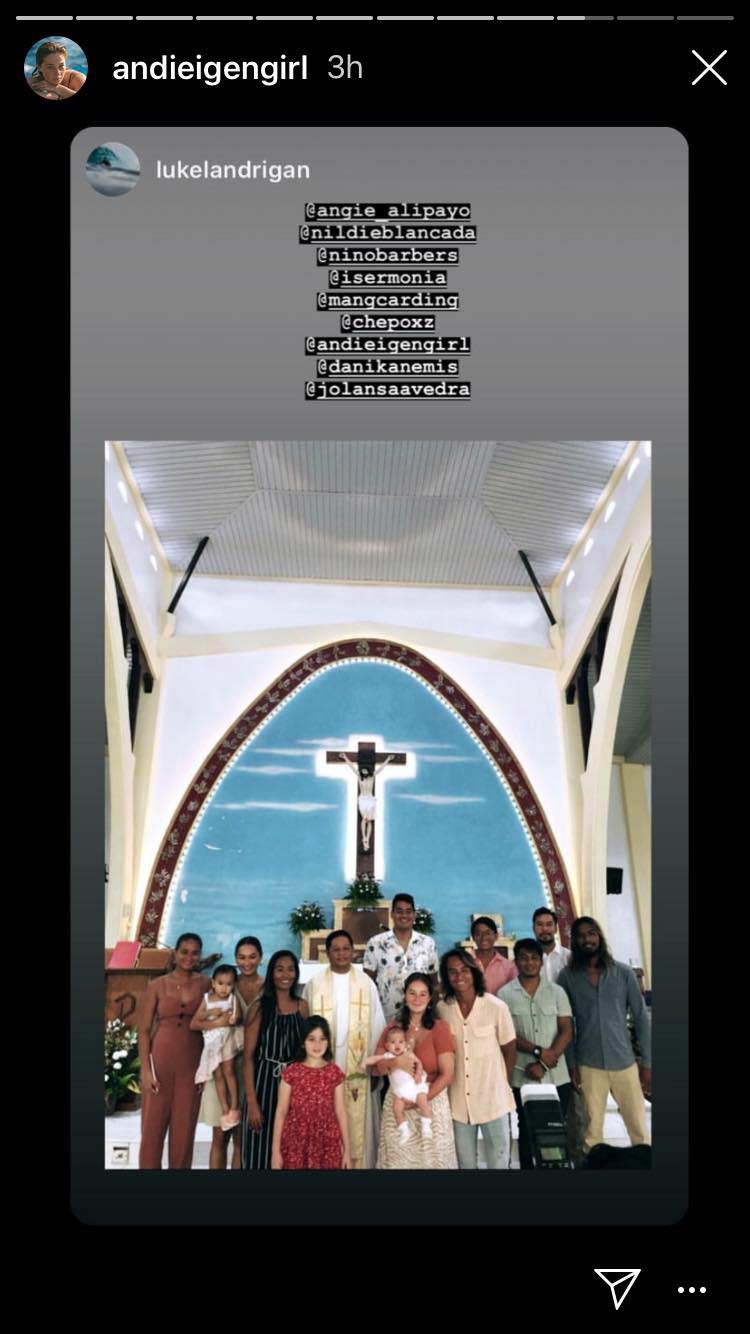 MOTHERHOOD: A whirlwind of emotions
Andi often takes to Instagram to muse on her experiences as a mom.
As she relearns to take care of a baby, Andi discovers new ways to cope with the ups and downs of motherhood.
The Siargao-based actress writes in one of her Instagram posts (published as is), "Just put Lilo down to sleep after her usual 5-9 whine. Pretty much every day around these hours, she will wail at the top of her lungs and nothing will seem to soothe her for a while. This never fails.
"You'd think I'd get use to it but it never gets easy. Though recently I've discovered that in situations like this, meditation is my best friend.
"Whenever she is hysterical I've learned to be at my most calm. It's difficult. It's so difficult. That's no secret. But I also know how rewarding it is...
"Motherhood has actually managed to make me feel so many different types of emotions in such a short span of time. It's amazing. How in the world could it be that all of a sudden we are so capable of such great big love? (Love, that in my case, even divided into two could not get smaller.) It is so amazing.
"All of a sudden I am capable of so many things, feeling so many things, doing so many things I never imagined I could or would ever do.
"I don't mind being forever tired, never getting enough sleep, and all the other bits of motherhood that make us go crazy, because motherhood has also made me more fulfilled, more driven, more grateful, more compassionate, more whole than I thought I could ever be. That to me is worth it."
Andi adds in a separate post how her current life as a mom of two has taught her to appreciate life's simple joys more.
Her caption reads: "Seeing Ellie run around the beach with her friends, just playing outside all day wearing that precious smile of hers. The undying connection and respect Philmar and I have for eachother (and everyone else), that only keeps on growing. And Lilo. Just having our little Lilo island girl in our lives. That, to me, that's true love."