Megan Young and Mikael Daez surprised their fans on Saturday, January 25, with the news about their intimate wedding ceremony held at San Roque Chapel in Subic, Zambales.
But here was another surprise: It was their second wedding.
Mikael and Megan first tied the knot on January 10, in Calaruega Church in Nasugbu, Batangas. It was attended by only ten people.
In an exclusive interview with PEP.ph (Philippine Entertainment Portal) on January 20, the couple detailed their preparations for their wedding in Subic.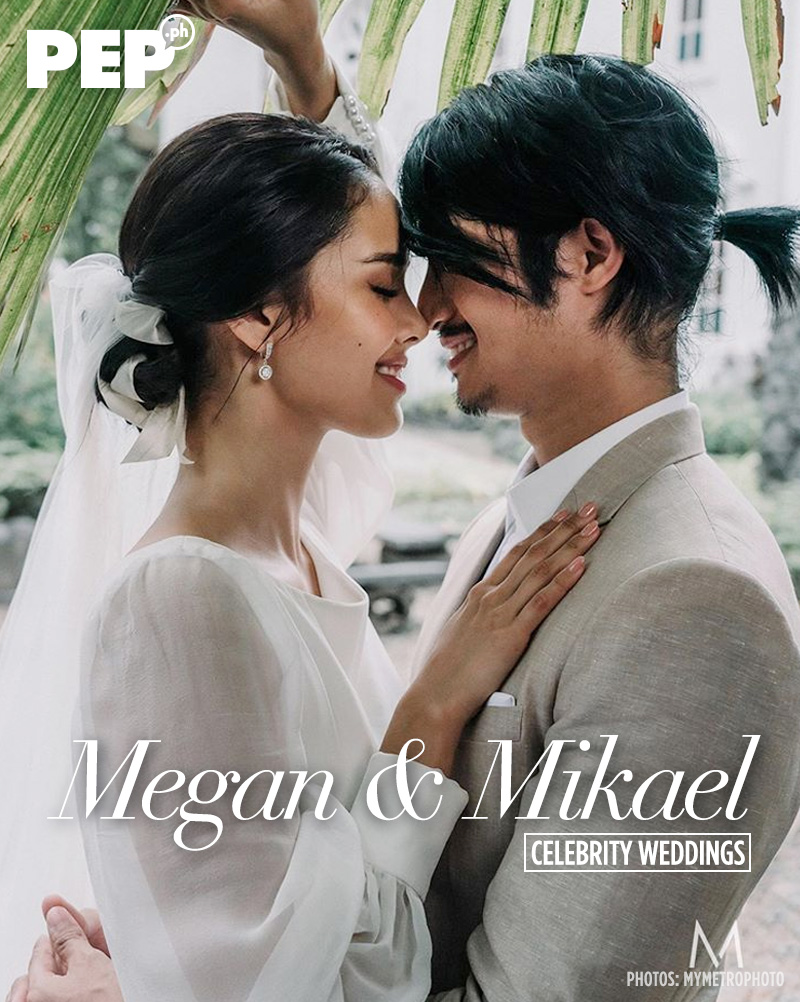 THE BRIDE AND THE GROOM
Megan's simple beauty and natural elegance shone as she walked down the aisle wearing a custom-made sheer empire-waist gown designed by Patricia Santos.
Megan had always imagined herself as a minimalist bride.
So, no beadworks, multi-layered tulle, nor fine lace detailing were her instructions for her wedding gown.
The former Miss World titleholder said, "My only direction for them was no beads, no sparkly stuff. Gusto ko plain lang.
"Classic silhouettes lang kasi I'm very into function over fashion. Gusto ko comfortable ako."
Megan's best friend, the celebrity stylist Adrianne Concepcion, was with her throughout the whole process of deciding on her dream wedding gown.
Meanwhile, make-up artist Anthea Bueno and hairstylist Renz Pangilinan teamed up to achieve Megan's "morning bride" beauty look.
Her major accessory was a bouquet of bleached, dried, and fresh flowers prepared by florist Gideon Hermosa.
Megan changed into a no-fuss, no-frills halter dress by Boom Sason for the weding reception.
Mikael, on the other hand, looked extra dapper in his three-piece beige suit from Suit It Up Manila.
Like Megan, Mikael also wanted to keep his wedding outfit as simple as possible.
He explained, "Initially, I wanted to get a suit off the rack, but some friends were like, 'No, we're gonna get you something!'
"Then we got Suit It Up, which I've used suits from and they're amazing at making suits.
"I'm very chill about it. I'm happy either way. Sabi ko nga, 'If you allow me to go in pajamas, I'll go in pajamas.'"
The Kapuso actor added, "Very clear sa akin yung importante na I love her, we're happy together, and anything that happens after that, that's cool, that's fine."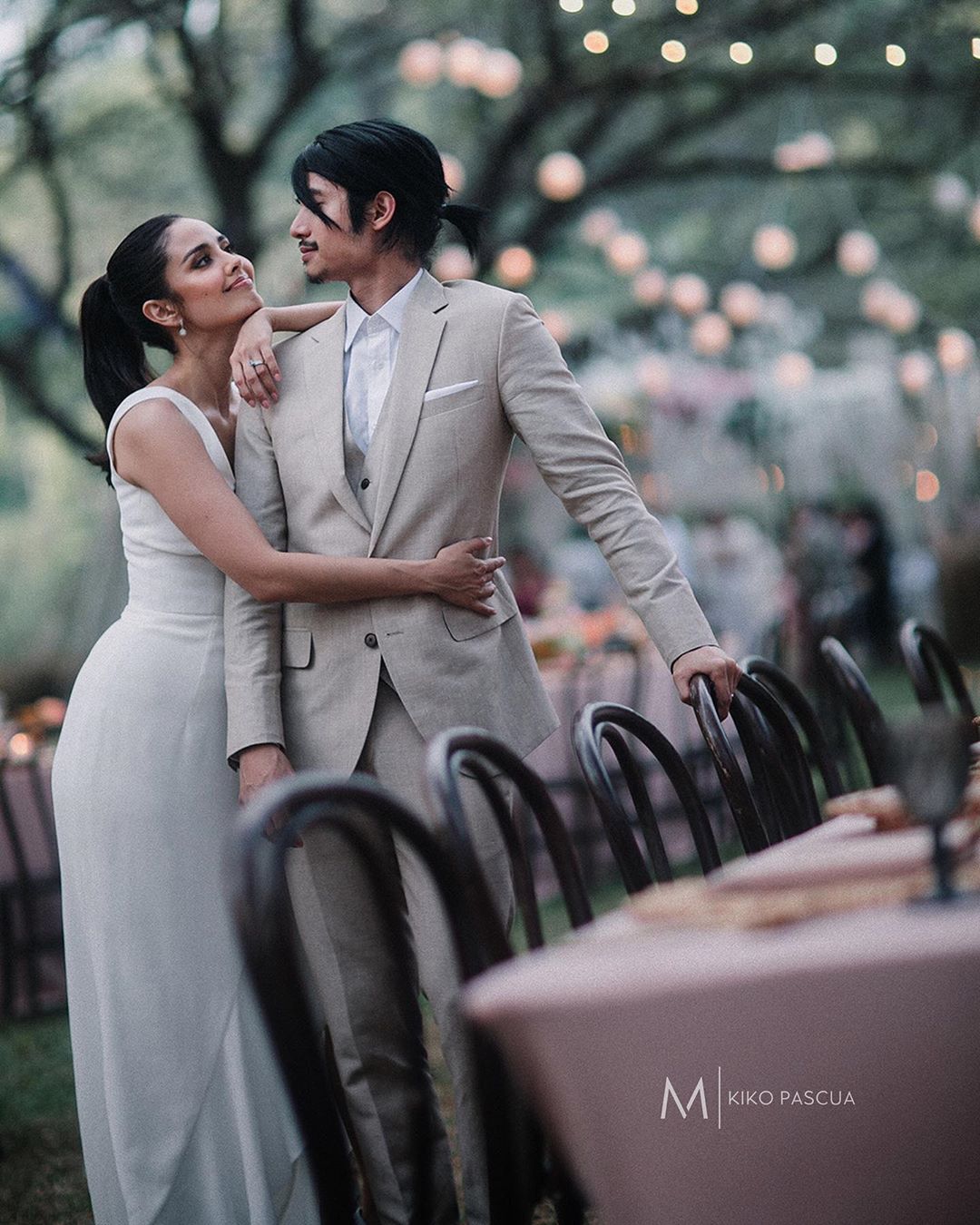 For their first wedding in Nasugbu, Megan donned an asymmetrical "Baja" silk wrap dress from Zoo Label, which can be bought for PHP3,590. Mikael wore a tan-colored suit.
the PLANNING
It took Megan and Mikael around eight to ten months to make their dream wedding come true.
Megan explained, "Mik and I are not planners, like we hate planning things. We're very on the whim. So, we like doing things in the last minute."
They sought the help of La Belle Fete Weddings to organize every important detail of their wedding.
Megan said, "We have a coordinator 'cause we needed one, but I feel like other people are stressed for us with how chill we are and with parang, 'Ano, dapat tapos na lahat ito 'tapos chill lang kayo about it?'
"That's just really our personalities. We don't let things like that get to us."
But being "too chill" also became a challenge for the couple.
Megan told PEP.ph, "The only challenge would be getting things done on time kasi medyo matagal kami sumagot sa e-mails."
Mikael added, "Ayaw lang naming gumalaw. The planning part of things is not something that excites us particularly.
"I think na it's good na naa-accept mo yun para at least alam mo i-counter nang konti or at least alam mo kung saan ka maghahanap ng tulong."
Megan also recalled becoming frustrated with all the tiny details that had to be finalized.
"It was funny 'cause when we started planning, like in the first few months, I was super frustrated. I was like, 'Ayoko na! Mag-elope na lang tayo!'
"I could not handle like planning on everything, deciding on what color to do, the invitation.
"What mattered to me was that we were gonna get married, and we're gonna celebrate with friends and family.
"The little details didn't matter to me, but, of course, to put up an event, you need to decide on certain things.
"Hindi ako sanay with deciding for stuff like that so I got a bit frustrated."
But, as always, there was Mikael to the rescue.
Megan continued, "He had to calm me down. That was the beginning of bride-chilla, after he talked to me.
"When he said, 'Hey, we're gonna get married, we're gonna get surrounded by friends and family, we're going to enjoy so let's just enjoy the process together.'
"Ayun, bride-chilla was born."
It was Mikael who started calling Megan "bride-chilla" and began referring to himself as "groom-chiller."
From that moment on, the Kapuso couple resolved to simplify a lot of details about their wedding.
Mikael expounded, "We like simplifying things para madali lang intindihin or isipin kung paano i-achieve kung ano yung gusto mo.
"For the wedding, we just said we want good food and we want our loved ones to enjoy and have a party. Yun lang talaga.
"So lahat ng mga extra rituals, ceremonies or mga performances, back seat iyan.
"Kahit mawala lahat yun as long as there's yummy food, and hindi kailangan delicious five-star food, ha.
"Kung kaldereta ni lola ko yung sinerve nila, happy na ako dun kasi masarap yun."
THE GUEST LIST
For most couples, putting together their wedding's guest list was the biggest challenge.
Megan and Mikael, however, had theirs figured out years before they got married. The guest list was one of the first things they planned after they got engaged in 2015.
They invited their closest friends and family members who witnessed how their relationship blossomed since they became a couple.
Mikael recalled, "That was the first thing that we did after I proposed. We actually have a guest list for a couple of years already."
To trim down their guest list, Megan and Mikael chose only two godparents, and told their guests not to bring kids to the wedding.
Megan said, "We wanted less ninangs and ninongs. We only have two ninangs.
"They're two people very close to us. And what was the most important was kilala nila kami and they know our relationship."
Mikael later explained, "That was the minimum requirement by law, 'cause two witnesses."
Megan said they were able to shorten their list to over hundred guests.
"I guess, the important thing was our really, really close family members and friends who know about us and our relationship together.
"That was the deal. It's an all-adult event, so no kids. We made sure na we wanted people to enjoy and not worry about the little ones."
Expectedly, they could not invite all their relatives and friends to their wedding.
Mikael rationalized, "Of course, in anything you do, you can't invite every single person that you love. Let's admit it.
"Graduation mo, lahat ng mahal mo ba nandun? Baptism, birth of whoever, di ba?
"It never happens so why is the wedding an exception to tell everyone, 'You have to come here.'
"Just because you aren't there or you aren't invited or you can't make it, but you are invited, it doesn't mean we love less.
"For me, kung yun ang basehan ng isang relationship... Maybe we don't really have that relationship na malakas talaga."
Megan added, "We have so many friends who aren't invited, but we still have such a great friendship with them."
Mikael ended, "And when we see them, they'll be so happy for us and we'll be very happy to talk to them."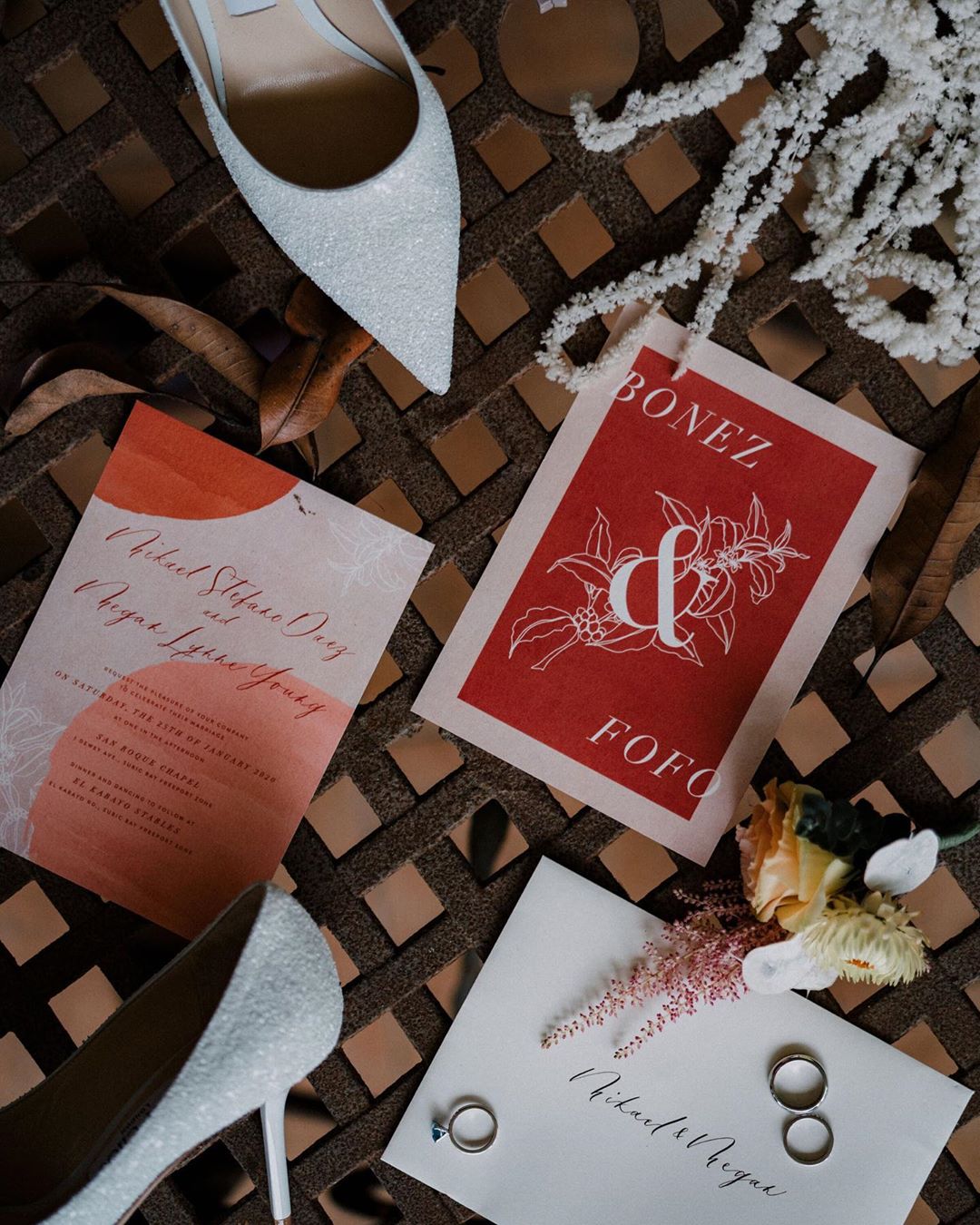 Mikael and Megan also decided not to have an entourage.
Megan said, "No groomsmen. No bridesmaids. Our secondary sponsors are all our siblings."
Mikael further noted, "My eldest brother, I made him the ring bearer para maiba. Di ba usually yung ring bearer, bata?"
Mikael was referring to his older brother Nicky Daez.
Megan also told PEP.ph, "Kasi we don't have children in the wedding. Even my sister Lauren and my brother Victor, they're flower girl and boy.
"So we're gonna make it fun. We wanted to play with things up a bit."
Celebrities spotted at Megan and Mikael's wedding were Lauren Young, Saab Magalona, and models Janna Tee and Brent Javier.
THE WEDDING DETAILS
La Belle Fete Weddings shared their inspiration behind the couple's laid-back wedding.
In an Instagram post, La Belle Fete Weddings said Megan and Mikael wanted something subtle and relaxed; thus, they went for the wedding theme "bohemian meets organic."
The caption read, "Creating a bohemian spin to the organic theme, the ceremony scene of #BonezFofoWedding in this very quaint chapel is made of natural elements with dreamy feel. @gideonhermosa follows a curated direction without losing the subtle, relaxed vibe that @meganbata and @mikaeldaez wanted."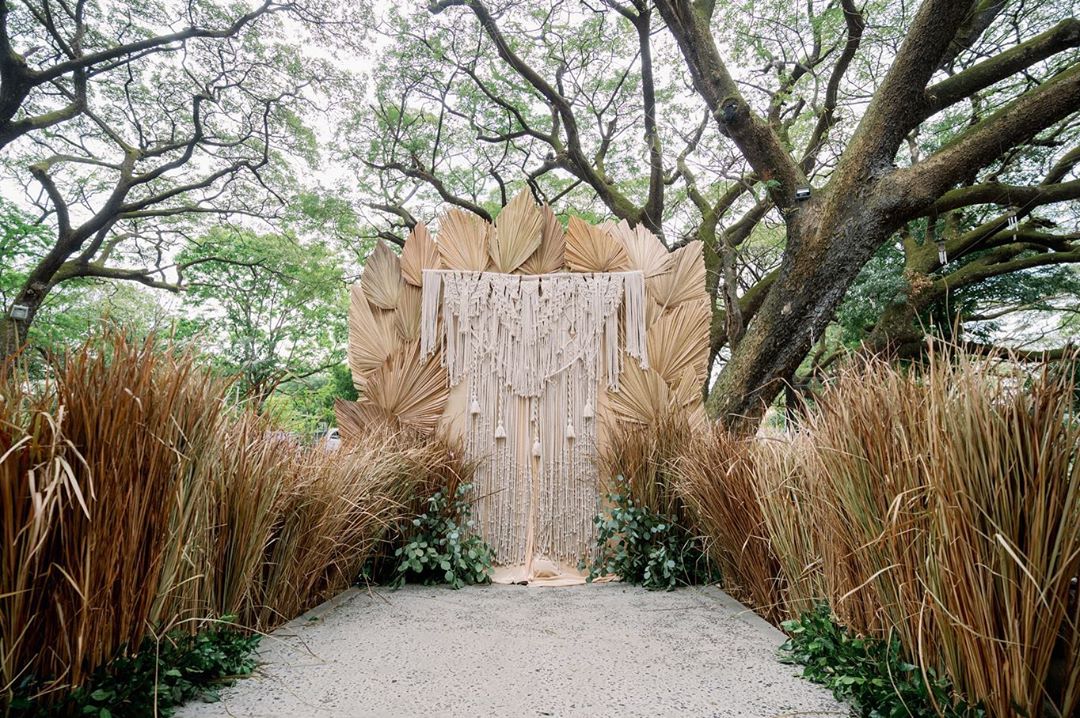 Guided by the couple's preferences, the florist Gideon infused a rustic vibe to their wedding by surrounding the chapel and the reception venue in El Kabayo with tall dried grasses and macrame curtains.
La Belle Fete Weddings wrote on Instagram, "Short aisle and no door reveal, well, no problem. @gideonhermosa extended the aisle outside by creating a path decorated with tall dried grass.
"The macrame curtains served a dual purpose—reveal and backdrop. What a beautiful and heartwarming ceremony."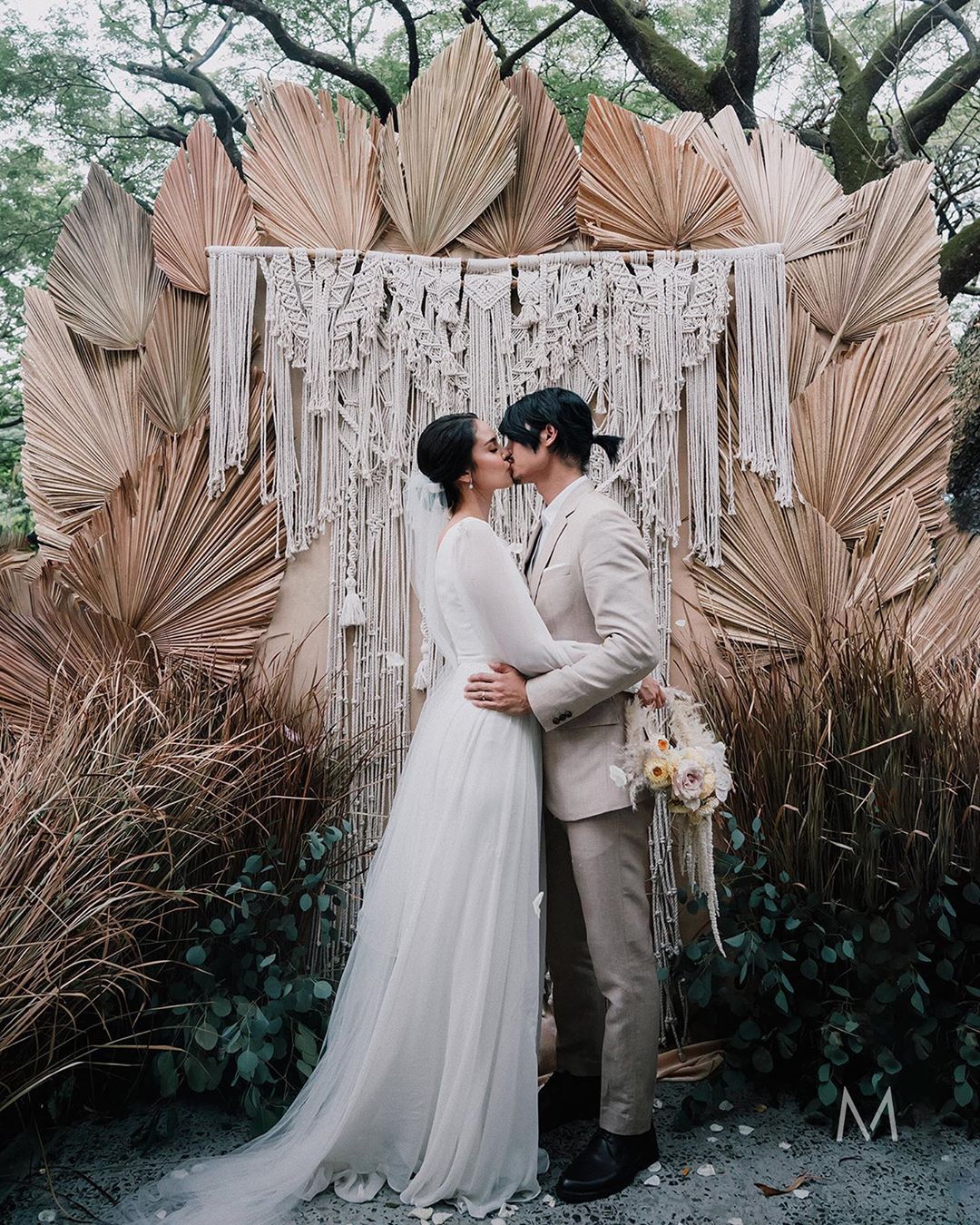 In a separate post on Instagram, Gideon said he filled the reception area with "natural elements giving off a chill and very intimate vibe that really matches the personality of our couple."
The night turned magical with glimmering candles that "mimicked the long, ascending and spreading branches."
Mikael and Megan both wanted natural light to fill the reception venue.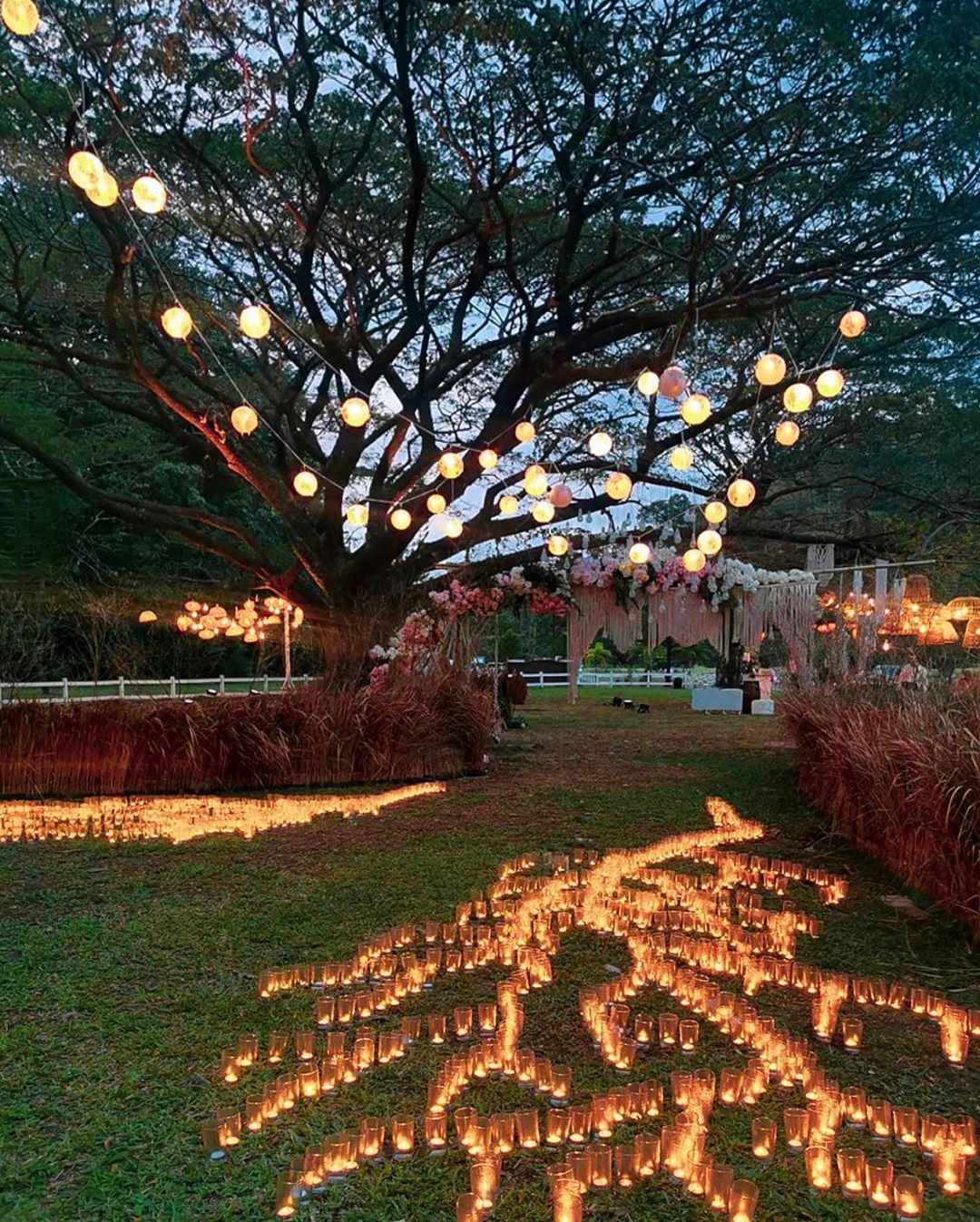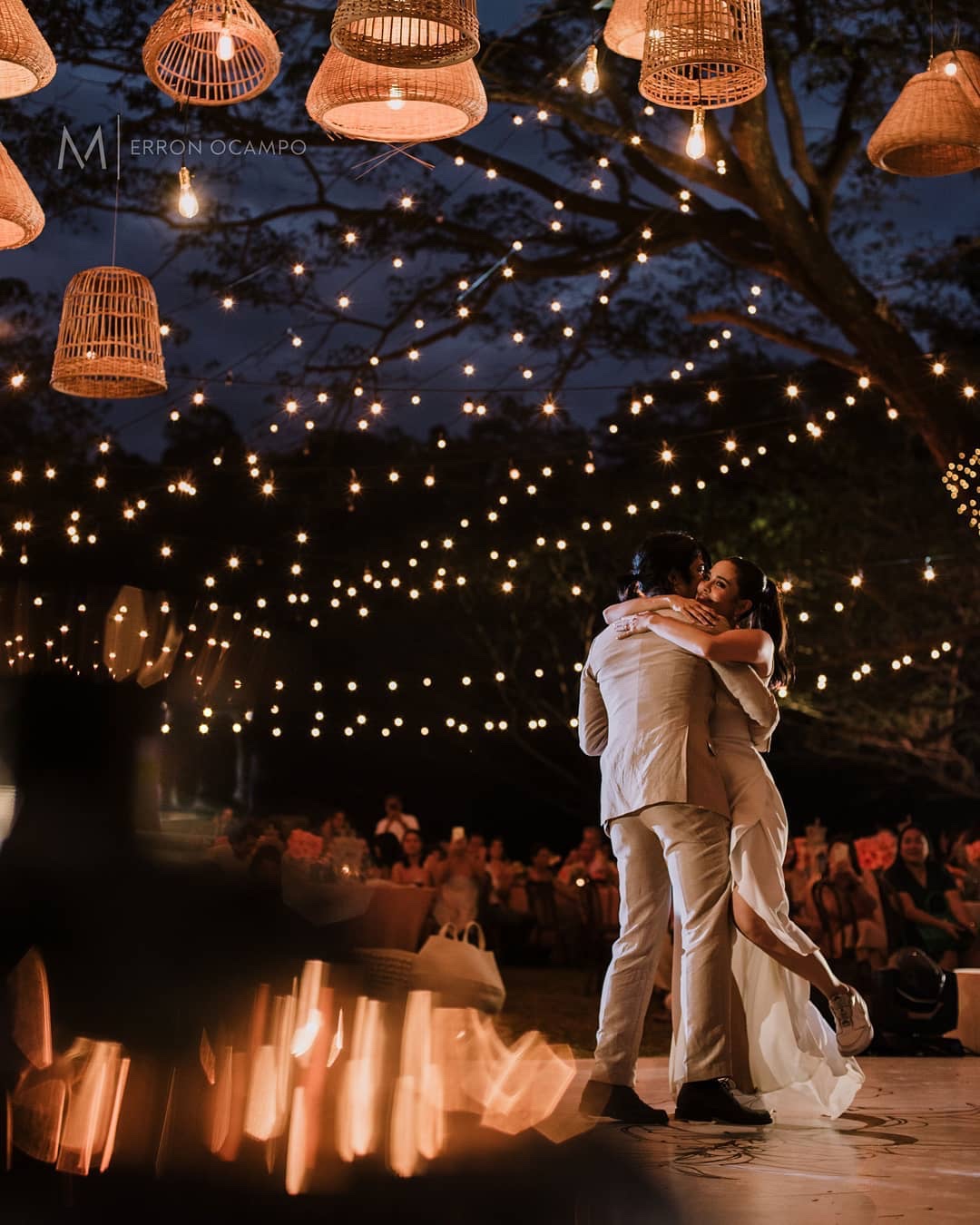 They also shared two quirky details they wanted to have on their wedding. Both coffee lovers, the couple made sure to have a coffee station in their wedding reception.
"We have two non-negotiables. One is may coffee cart kami, a mobile coffee station. Ito yung ano, parang nasa coffee shop ka talaga, specialty-coffee level.
"So we really asked a friend na, 'Dude, kailangan mo mag-set up talaga, gawan mo ng paraan, kami nang bahala diyan.'"
Instead of the usual champagne toast of the newlyweds, Mikael and Megan went for a "coffee toast" with their favorites from Chapter Coffee, a popular roastery and cafe in Quezon City.
Chapter Coffee uploaded a photo of the couple's toast on its Instagram page.
Part of their caption read, "Here they are on their first toast as newlyweds, as they've decided to switch from the usual champagne, to two glasses of our very own 'Coffee Milk Floater'! A wise choice for these two coffee lovers!"
Mikael also wanted a halo-halo station for their guests.
He said, "My other non-negotiable was Halo-halo with the Bingsu shaved ice, yung pinung-pino na masarap. Yun lang."
Bingsu is a popular Korean dessert similar to Halo-Halo.
Here is the list of the couple's suppliers:
Photographer: Metrophoto
Videographer: Bob Nicolas
Cake and Caterer: Bizu Catering Studio
Event Stylist: Gideon Hermosa
Invitations: Papillon by La Belle Fette
Musician: Frigora Acoustic
Lights and Sounds: LX Events Pro
Mobile Bar: Proof Mobile Bar
Coffee Station: Chapter Coffee PH
Souvenirs: Messy Bessy