Sarah Abad and Jake Contreras have a touching gift for their daughter Isla: a "complete" family on her 12th birthday.
The couple, whose breakup was made public in May 2020, were both present at the birthday girl's beach celebration.
Sarah uploaded one of their family photos on Instagram last April 5, 2022.
Her caption described how Isla has taken the big change in stride.
She wrote (published as is), "I know the past year has been hard for our family. and although you don't really talk about how you feel, I know it's not easy for you.
"But with all the changes happening, always remember that one thing never will—your Daddy and I will always be here for you no matter what.
"We are proud of many things about you, but what we're proudest of is how you've accepted our situation with so much understanding, love, and maturity.
"We've been honest with you ever since we made the decision and you, not once, showed hatred or resentment but instead remained the loving daughter you've always been. I am amazed at how strong and resilient you've become.
"Whatever happens and whatever other people might say about us, continue to focus on yourself, goals, and dreams. We'll always be here for you, to love and support you.
"We'll always be the best team ever!
"Happy birthday, Isla! We love you always."
The Kamikazee frontman, for his part, posted three black-and-white versions of their family photos.
The first photo was accompanied by a sweet greeting and a promise that he and Sarah will always be there for the birthday girl.
The caption read, "Happy 12th birthday sa prinsesa ko, thank you for being the sweetest and the smartest. Always remember na kahit anung mangyari at kahit anung dumating nandito lang kame lagi ng Mommy mo for you, we love you so much @isl4contreras"
The second photo was captioned with another birthday greeting.
Here's the third post.
"@isl4contreras sana naging masaya ka sa Birthday mo, sulit lahat ng pagod para sayo…mahal na mahal na mahal kita. To more weirdness!!! Hahaha!"
Isla was ecstatic. In her caption, she wrote: "Happy together"
One of Isla's well-wishers was Sarah's sister Kaye Abad.
Parokya ni Edgar frontman Chito Miranda and Melai Cantiveros also dropped their birthday greetings in the comments section.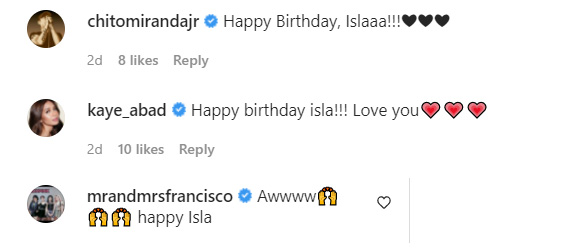 Sarah and Jake's marriage lasted for 11 years. They have two kids, Kidlat and Isla.
Sarah announced the end of their marriage on May 14, 2020 via an Instagram Story.
"I appreciate all the love and overwhelming support people have sent and continue sending our way, most especially to all my friends who have tried to reach out. Soon, I might have the courage to talk to all of you,"
"Please know that Jay and I will remain good friends and loving parents to our kids. It would be a new journey for both of us.
"This has been heartbreaking and painful, but always praying for strength and acceptance. Thank you."
Before this, Sarah's reply to Jake's Mothers' Day greeting on May 10, 2020, preempted her breakup announcement.
She told Jake, "It may not be the same between us, but I'll be forever grateful for giving me 2 wonderful angels. Thank u."