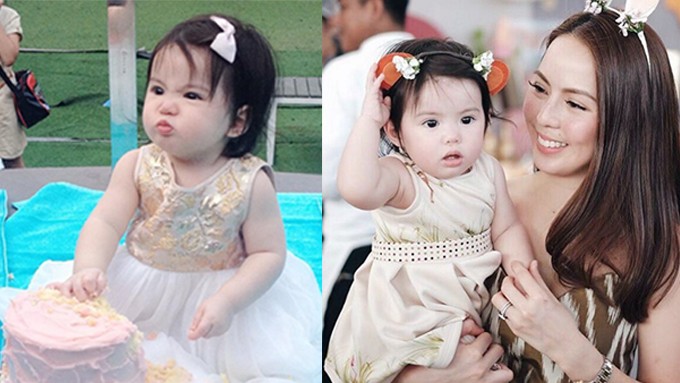 ---
Baby Olivia, the adorable daughter of Andi Manzano and GP Reyes, celebrated her first birthday with a Party Animal-themed party on March 20, at The Palace Pool Club in Uptown Bonifacio, Taguig.
The venue was turned into a pretty jungle by Teddy Manuel and Te Amo Floristeria Manila.
It was filled with greens, plush, flower crowns, cotton candy, cakes, and animals (yup, some are real!).
Cheska Garcia and Doug Kramer's adorable kids Kendra, Scarlet, and Gavin were all present.
Kendra enjoyed decorating the plush toys.
Mikaela Martinez's daughter Noelle and son Tyler joined the "Adopt A Pet" activity.
The pets were walking animal-shaped balloons.
Meanwhile, the birthday girl had so much fun in her petting zoo station.
There were actually two live goats and an improvised hippopotamus.
The guests were also able to try the animal-shaped cotton candy by Pouf Cotton Candy, the red-velvet milkshake, and the Fruity Pebbles Sammie ice cream sandwich by Cupcakes by Sonja.
Dessert table
Right after the guests sang the "Happy Birthday" song, and wished Olivia a happy first birthday, she did some cake smashing!
Mom Andi's first birthday message to her baby Olivia: "Every time I look at her, I can't believe how God has been so good to me.
"She's made me a much better person, a better wife, a better friend, a better mom.
"She really is the greatest blessing and the gift.
"I love you from the bottom of my heart (happy one year of breastfeeding to me too)."