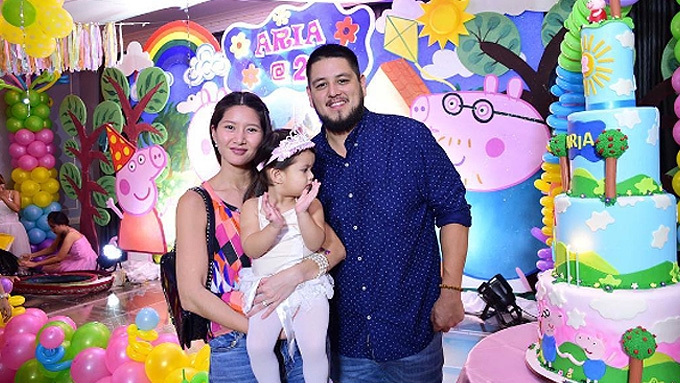 IMAGE @niceprintphoto on Instagram
---
The Gutierrez family celebrated the second birthday of the youngest member of their clan, little Aria.
She is the daughter of Alexa Uichico and Elvis Gutierrez, the eldest son of Eddie Gutierrez and Annabelle Rama.
Aria turned two years old last September 28, and had an intimate birthday party at home.
On October 3, in McKinley Hill, Taguig City, she was given a Peppa the Pig-themed party.
On Instagram, her dad Elvis posted this touching message, "Feeling a bit sentimental because today is the birthday of our Aria. She is growing up to be a respectful and smart little girl always saying 'please' and 'thank you.'
"I will always be in love with you Aria. Happy Birthday, baby."
Meanwhile, her mom Alexa wrote, "Today, Aria is 2 years old, she is lovingly possessive, says please and thank you quite often, she's shy but also loving, loves to eat broccoli but loves eating ice cream even more.
"Pink is obviously her favorite color, certainly a Daddy's girl.
"We love you more and more each day. Happy birthday baby girl ARIA, love you."
That explained Aria's pink ballerina outfit.
Who came to the party? Her grandparents Eddie and Annabelle.
Tita Ruffa Gutierrez and cousin Venice, while Lorin had to stay home due to a flu.
Aria's cousin Zion was at the party with his dad, Richard Gutierrez.