Lara Quigaman and Marco Alcaraz's son Noah turned four on November 10.
In her blog laraquigaman.com, the beauty queen related how she prepared for his birthday party.
She wrote, "As moms, for some reason, however stressful, exhausting and time consuming—and no matter how busy we are— we love preparing for our kids' birthday whether it's just a small or big celebration."
In her case, she only had a month to "prepare and think things through." How did she pull it off?
With the help of this list...
1. Choose a theme.
Of course, the birthday celebrant will be the deciding factor.
Let your kids think and have what they want, because as Lara said, "...they have their own ideas, sometimes a lot of ideas."
Noah personally chose dinosaurs since he loves them.
2. Decide on the number of guests then venue.
Lara asked these question:
"Where will the party be, how big?
"Will it be able to accommodate the number of your guests?
"How much will it cost to rent?"
3. What are parties without food?
Some moms allocate if not most of their budget to this item.
4. What's a birthday party without a birthday cake!
This must be treated as a separate item especially if you have specific requirements for the design or type of cake you will order.
Lara opted to have a pull-apart cake since it does not need a knife to slice or divide it.
She advised, "It's very handy for preschoolers where they can just pull their own slice of cake."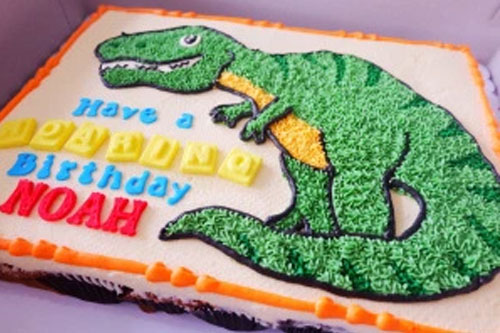 5. Make sure the celebration will be extra fun with games and decors.
One doesn't have to spend much on the latter since there are tons of do-it-yourself (DIYs) videos on YouTube.
With regard to game choices, make sure the mechanics are easy and the duration is not more than three to five minutes.
Remember, kids have less attention span.
6. Though unnecessary, loot bags are almost always expected during kiddie parties.
The celebrity mom shared, "For Noah's party we bought Arlo of the Good Dinosaur, and I printed tags to put on them and a loot bag that contains sweets—candies, lollies, chocolates, and marshmallows."