The Philippines is ready to host Miss Universe 2016.
The official announcement was recently made at the Rizal Ballroom in Makati Shangri-La, after the Miss Universe Organization and the local partners from the private business sectors officially sealed the deal.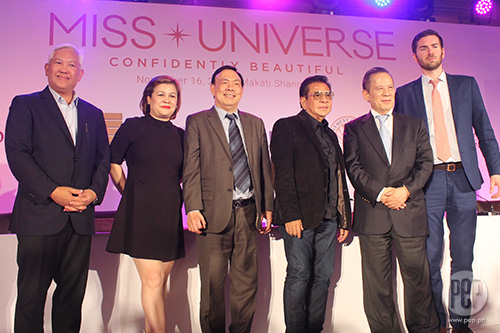 (L-R) Department of Tourism Assistant Secretary Frederick Alegre; Vice President, Corporate Marketing of SM Lifestyle and Entertainment Inc., Ruby Ann Reyes; CEO and President of Solar Entertainment Inc., Wilson Tieng; President and Chairman of LCS Holdings, Luis "Chavit" Singson; CEO and President of Okada Manila, Kazuo Okada, and Miss Universe Organization Vice President for Business Development Shawn McCain.
Before the official launch, the Philippines almost lost its chances due to some hesitations from the owners of the organization.
Chavit didn't delve into details, but he said there was some politics involved.
"Ako, hindi puwede ikansela iyan dahil bayad kami, fully-paid, and we signed a contract.
"It's a breach of contract.
"Sabi ng may-ari, babayaran namin pati iyong mga damages.
"Well, sumulat ako na hindi ako magdedemanda maski fully-paid kami. Sabi ko, wala namang gastos iyong gobyerno. Tumutulong lang kami. Please reconsider.
"Even if you'll cancel it, we won't file any charges.
"Although kasalanan nila dahil fully-paid tayo, hindi ko naman pinakita na gusto natin kumita ng pera, magdedemanda tayo, hindi.
"We'll not file any charge."
In August, it was revealed that Singson already pledged 12 million U.S. dollars to the project.
READ: Chavit Singson pledges $12M for Miss Universe 2016 pageant
He told the press, "Well, parang sinection naming lahat iyong 12.9 million. Pero marami naman tumulong so hopefully, baka malugi lang nang konti.
"But it's good for the country."
Now that it's pushing through, Singson expressed his gratitude to the Miss Universe Organization for choosing the Philippines as the next host.
"Our country has been trying very hard, waiting so long for the chance to win the honor of hosting the most prestigious beauty pageant in the world one more time.
"The long wait is finally over.
"Miss Universe is home."
The last time Miss Universe was held here was in 1994, the year when Charlene Gonzalez was hailed Binibining Pilipinas Universe.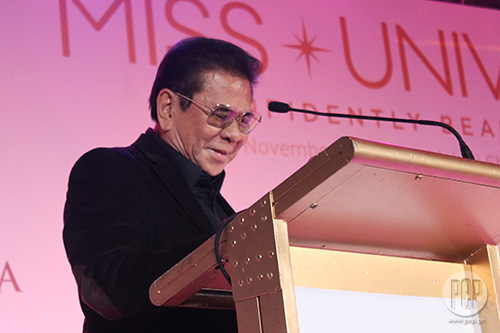 Shawn McCain echoed the excitement. He was well-aware of the massive following the Miss Universe competition has had over the years.
In an interview with the media, he remarked, "They're [Filipinos] the most energetic fan base, and for Miss Universe to have that as a backdrop is fantastic, it;s gonna be a great show.
"There's gonna be a lot of natural beauty to show. So many beautiful people."
On stage, McCain promised to help our country attract more visitors.
"What we're going to do with our expertise is to highlight the Philippines.
"We're going to help boost tourism and help them put a positive focus on everything that the Philippines is, what it stands for, and will be in the future."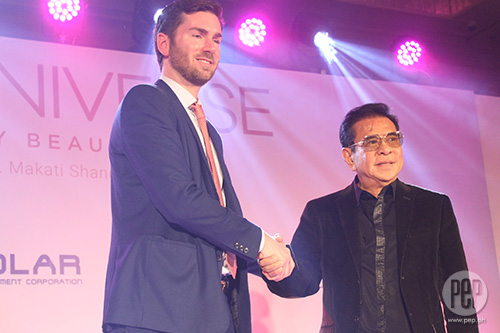 With its telecast reaching over 500 million viewers worldwide, this global event is expected to have positive effects on the economy.
Through a letter read by DOT Assistant Secretary Alegre, the government expressed its optimism for the country.
He read, "The coming together of the private and public sectors in endeavors as big as this one is definitely a big step to taking the country to the global stage.
"I would like to assure our Filipino and global audience that the Department of Tourism will give its solid support in making this Miss Universe pageant among the most beautiful and most memorable."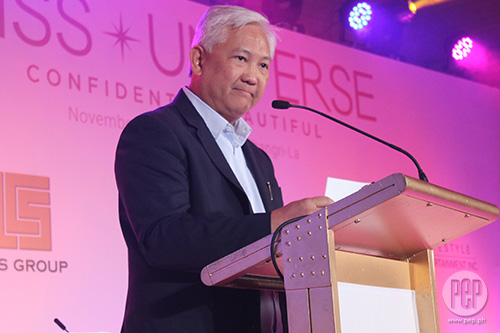 The official launch for the 65th Miss Universe competition was hosted by Miss Universe 2013 third runner up Shamcey Supsup.