Twitter user @johnpoe_ posed an interesting question that got the Internet buzzing: What's the point of Same Day Edits?
Same Day Edit or SDE videos are best known for their cinematic reinterpretation of special events such as weddings, debuts, and engagements.
SDEs have since become a common practice among celebrity weddings that fans look forward to.
But @johnpoe_ still couldn't fathom the logic behind it.
He tweeted in all caps, "SINO BANG NAG-IMBENTO NG SAME DAY EDIT NA YAN LMAO 'GUYS PANOORIN NATIN ETONG VIDEO NA NANGYARI KANINA LANG NAAALALA NYO PA RIN BA'"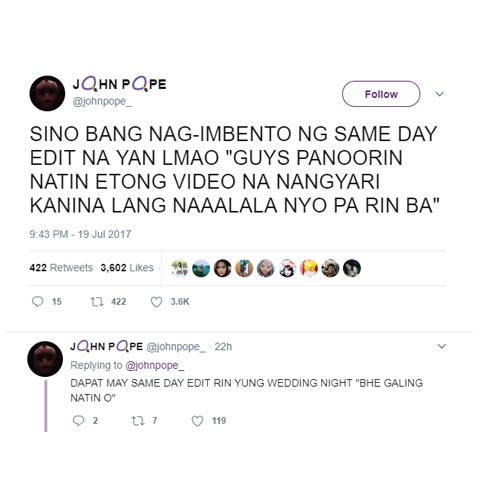 Netizens quickly tagged celebrity-favorite videographer Jason Magbanua who pioneered this art in the country.
Jason responded with a short history of how SDE came to be.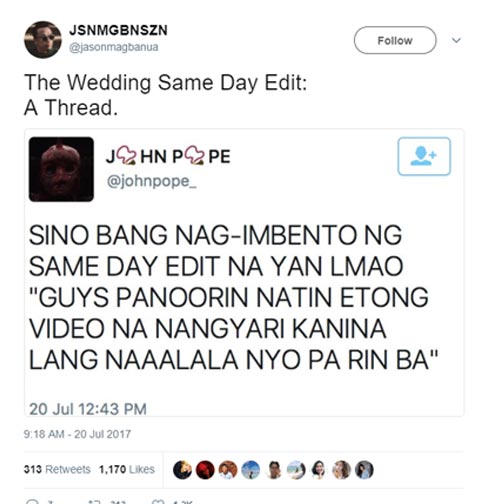 He began, "A bit of perspective. 15 years ago. Weddings were at the bottom rung of video prod.
"You were the sh*t if you did ads or film. Music videos and corporate.
"If you did events—dito ka sa side—upo ka."
Jason further recalled, "The wedding videographer was the stereotypical manong in jeans and polo with a big ass camera and glaring light.
"No respect was accorded to wedding videographers. Not to the people. Not to the craft.
"Rightfully so because there was no artistry in weddings then. It had very low prod values, used cheap effects and were terribly long.
"It was always IKAW by Sharon Cuneta, or Silhouette by Kenny G. Basil Valdez. Enya…
"Remember the Wonder Woman shot? Linda Carter hindi Gail Gadot, besh. Iikot kung bride naka-robe, pag turn naka-gown na…
"Format was VHS. It was a two-hour-long format. Para masulit, two hours din ang wedding video.…
"And last shot DO NOT DISTURB sign, naka-hang sa door ng hotel room. 'Yan ang mga tropes nun."
The famed wedding videographer underlined the basic problem back then, "NOBODY KNEW WHAT A GREAT WEDDING VIDEO LOOKED LIKE…"
"These tapes were watched once and stowed away to collect dust or used on the 10th anniversary."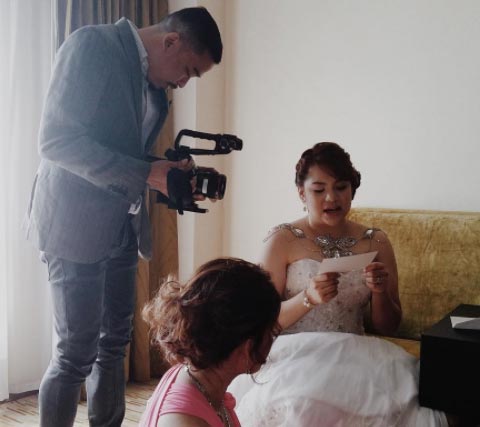 At the end of the day, people perceived wedding videos as no good, not least because they were produced "dirt cheap."
But in 2003, Jason made a breakthrough.
He related, "There was this bride, her name was Michelle, and she asked me if I could edit the preps and church footage and show it at the reception. So, the guests can watch something.
"I didn't have a laptop then but I said yes anyway."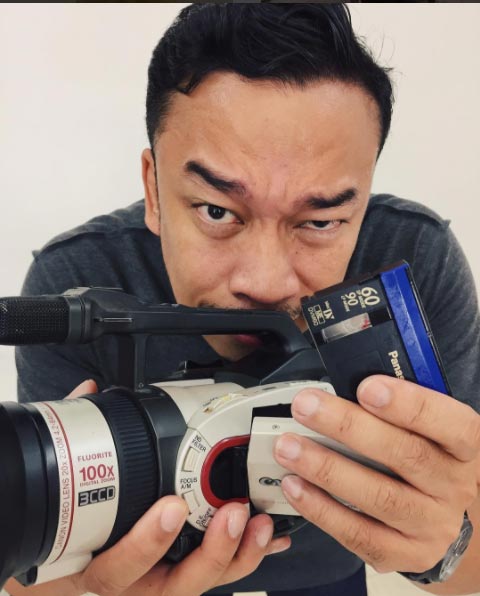 Laptop didn't have any video editing capabilities yet, thus Jason had to go home with the tapes to work on his desktop and play it back on the same day.
"I took a cab back to Shang Makati where the reception was and play it back - BOOM - 800 collective jaws dropped.
"Puwede pala yun?!? Everybody was astounded. (kahit euro slow, Nearness of You - Norah Jones)."
This was the solution Jason had been looking for to change people's perspective on wedding videos.
These videos "can be BEAUTIFUL… can be moving, artistic, cinematic, arresting, emotional!"
Since then, no wedding reception is complete without those dramatic and moving SDE videos.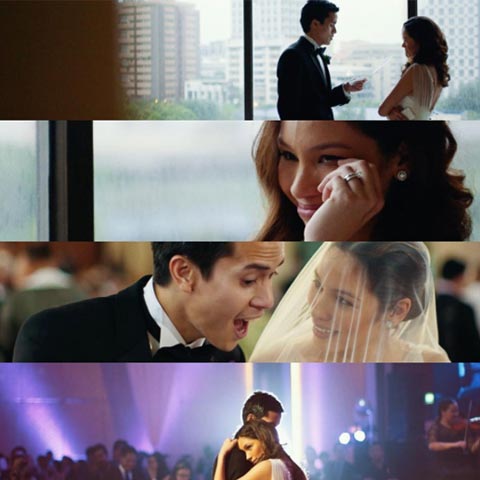 Back to @johnpoe_'s question why SDE videos matter?
Jason's response, "Bakit kailanangan panoorin ang isäng bagay na kakatapos pa lang mangyari? - DAHIL - kung magaling ang gagawa ng SDE, mabibigyan ang kasal ng isang creative interpretation galing sa videographer.
"An interpretation which will take the wedding film to a level beyond mere recording.
"Y am I triggered? Mahal ko industriya ko. Mahal ko ang ginagawa ko."
Read the full thread here.