Dra. Vicki Belo and Hayden Kho may have already completed their civil union two months ago, but wedding bells continue to ring for these love birds—after all, they still have a church wedding in Paris to look forward to this September!
Of course, given that it's going to be a romantic wedding in the City of Lights, you can guess that only the most stunning bridal gown will do for the doctor to the stars.
And when it comes to the subject of couture at its grandest, she trusts none other than designer Michael Cinco.
On her Instagram account, Dra. Vicki—as the famous doctor is known—just recently shared video clips of the Dubai-based designer making a personal delivery to her house, plus a sneak peek of the intricately beaded Michael Cinco creation, which she'll be wearing when she walks down the aisle.
And, just so you know, Michael not only prepared one, not even two, but four absolutely breathtaking dresses made especially for the ultimate #BeloBride!
Excited? So are we!
In an exclusive interview with Preview, Dra. Belo tells us more about what it means to her to wear a Michael Cinco wedding dress (or four) on her special day.
Read on.
Why Michael Cinco?
"I've always wanted a Michael Cinco dress. I've dreamt about it, but it was always too expensive for me—I felt it was. And I'm very proud. [But] since my wedding is in Paris, I wanted to have a Filipino world-class designer to do my dress, and that's Michael. They're really beautiful, and I'm so happy with the dresses."
Why did you ask Michael to do four dresses?
"I didn't ask Michael to do four dresses. He just surprised me by giving me four dresses kasi he got carried away daw with the excitement. The four dresses all look different. I will wear two or three to the wedding and one for a photo shoot."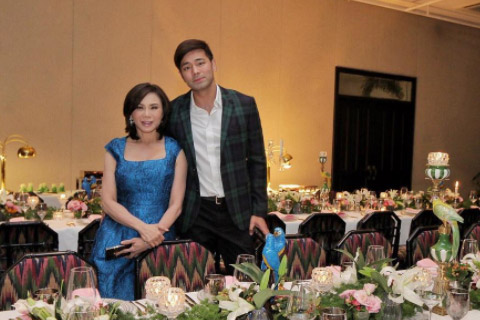 How did you feel when you first saw your wedding dress and when you first tried it on?
"It's everything I imagined, hoped for, and more. Because, of course, I think one of the fantasies you have when you were a little girl is to be a princess. And I never had this kind of dress. I saw 12 people working on it, beading it—hand-made. So I'm really so excited and I was not disappointed at all. I was so overwhelmed by his kindness. And for him to come all the way [to Manila] to fit me—he's such a perfectionist!"
This story originally appeared on PREVIEW.PH.
* Minor edits have been made by the PEP.ph editors.