Juliana Gomez, who is presently having a grand time in Paris, is celebrating her 17th birthday today, September 8, 2017.
Four days after the grandiose wedding of Drs. Vicki Belo and Hayden Kho Jr., the birthday girl and her parents—Richard Gomez and Lucy Torres—together with some friends had dinner at Mai Do.
The Gomez family visited the same Vietnamese restaurant seven years ago.
Tim Yap posted a groufie via Instagram Stories.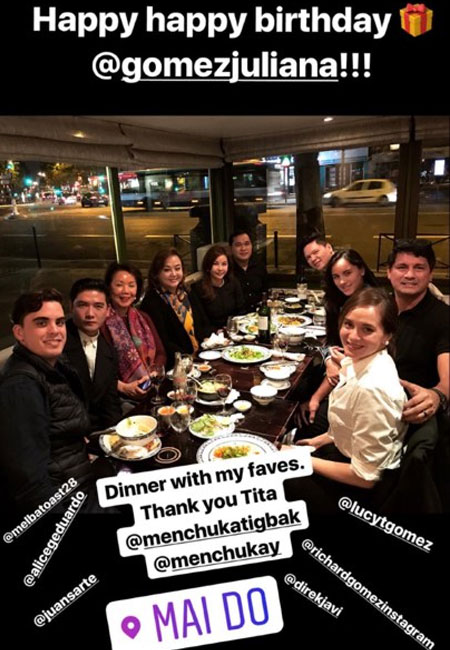 Meanwhile, Juliana's ever-supportive mom penned a lengthy birthday greeting for her unica hija.
The actress-turned-politician began, "Time and again I get asked what I want you to be when you grow up.
"But from the day you were born seventeen years ago, I had already whispered to God for Him to train my heart to only want what He wants for you.
"And so with every birthday that rolls by (and every day, too!) my prayer has always been /always will be the same—for you to become the person God designed you to be, whatever that is.
"Because only then will you be able to reach your full potential, only then will life be at its most beautiful."
All the same, Lucy took the chance to tell her daughter a few things: "to gently remind you that over and above being the best or the greatest (whatever those words mean in today's world now), I want you to be kind.
"And compassionate.
"The way you already are.
"Keep your heart soft, and beautiful. Always.
"I love you very much. [rose emoji]"
She added, "Your third name is Beatrice, which means bearer of happiness and blessings (according to the book of baby names we read through back then).
"Know that you are all that, plus more.
"And somewhere, somehow, you must have 'funny' in your name, too.
"Thank you for the bundle of joy (and laughs!) that you are. Every day...
"Cheers to many, many more beautiful, happy, and healthy birthdays to come!"
Referring to their candid photo taken by fellow celebrity mom Marjorie Barretto, Lucy said, "[it] perfectly captures another thing I want to tell you—that I will always be your cheerleader, and your biggest fan."
The birthday girl posted the same photo and captioned it, "my personal photographer for almost every trip."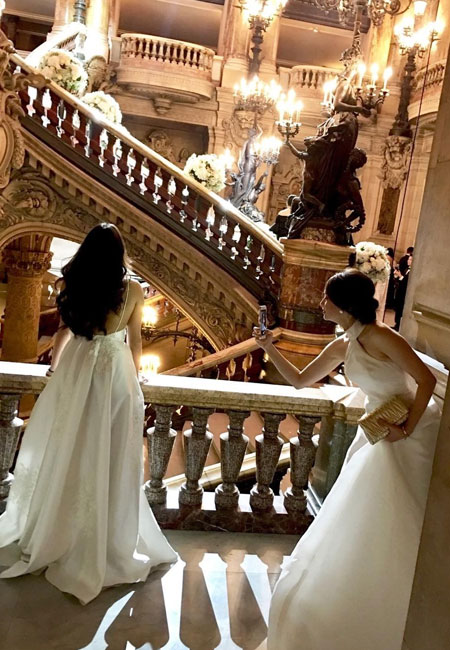 For his part, the proud father kept his greeting simple.
Richard said, "You are my love.
"Continue to bring joy and happiness to people especially to your friends and family.
"Continue to be a blessing to others.
"I wish you the best in life and the best of health. Iloveyou!"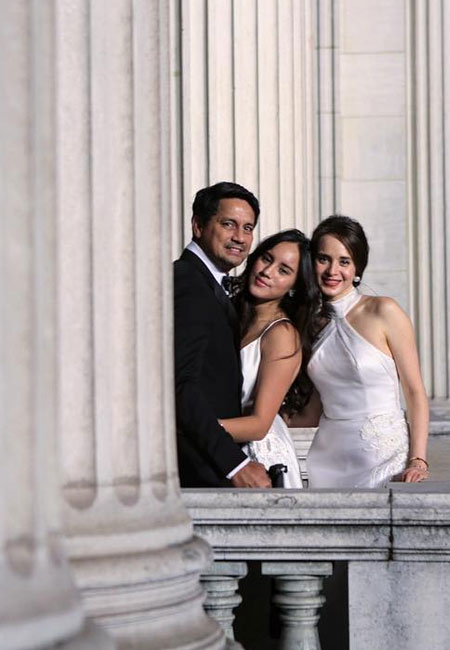 Happiest 17th birthday, Juliana Gomez!